Recently, Emily Markley, a member of ACE 29 and a middle school math teacher at St. Charles Borromeo Catholic School in Oklahoma City, gave the keynote address at a Saints and Scholars dinner for the Archdiocese of Oklahoma City. 
---
Good evening administrators, teachers, and friends of the Archdiocese of Oklahoma City. It is my honor and privilege to have been given the opportunity to speak to you all tonight as we celebrate our continued mission in Catholic education and Catholic schools to prepare students for their own God-given missions in life. 
One of the pillars of Catholicism is the incredible example set by saints who embodied courage and love for Jesus by sacrificing their lives for Him. 
And so I routinely ask myself, "Am I willing to walk the path of sainthood?"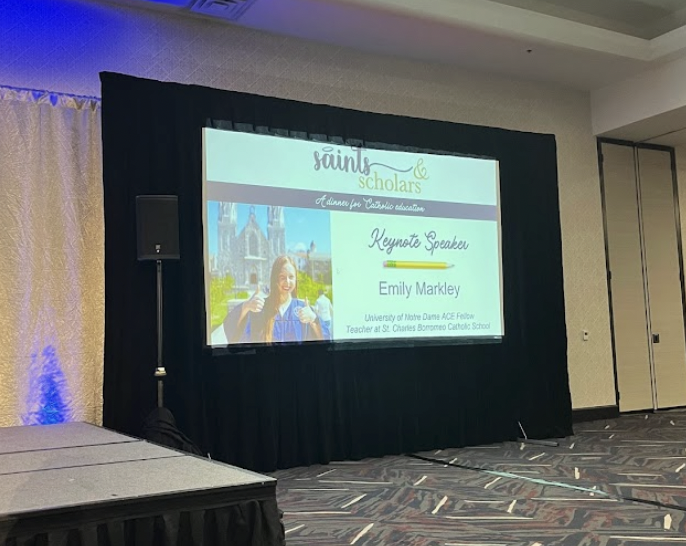 My spiritual journey began when my godparents presented me for baptism, a bold decision on my behalf to set me on a course toward the Lord, to wipe my soul clean of the scars of original sin. 
In the formative years that followed, I was brought to the doors of a Catholic elementary school, St. Mary Magdalen in Media, Pennsylvania, to begin my formal education in faith. Perhaps an unpopular option, but I always LOVED school.
At the end of every summer as a kid, I found immense joy shopping for a fresh box of crayons, sharpening pencils to perfection, and labeling bright colored folders and notebooks for each subject. I looked forward to September and the opportunity to kickstart another year of learning, 
I loved beginning and ending each school day with a prayer, reading Bible stories about Jesus and his apostles in class, and attending Mass with my classmates on a regular basis. Receiving the sacraments of penance,  communion, and confirmation introduced me to the very personal responsibility that my faith requires.
I am grateful to my parents who modeled for me and encouraged me to be a diligent student, coachable athlete, and selfless friend. One could conclude that aside from being an avid Jonas Brothers' fan, my greatest passions during my childhood and young teenage years included helping others and being a lifelong learner. 
As I now work in Catholic education, I realize how impactful it is to have engaged and well-formed parents teaching children in the home. These routines, along with a firm belief that Jesus is fully present within all of us, were instilled in me at a very young age. Thanks to my parents, my Catholic faith is the foundation of my being.
My spiritual habits continued to blossom with the guidance of devoted high school teachers who led conversations about religion, coaches who encouraged prayer before play, and ministers who introduced me to the beauty of praise and worship music.
I went on to study business at Villanova University (Go Cats!) and eventually found myself as a college graduate yet only at the very beginning of my life. During those months shortly after my graduation, I realized that I could channel my love for being a student into a career in academia. 
I began to imagine myself at the front of a Catholic school classroom, teaching cursive or multiplication, or explaining concepts through song or pneumonic device. The prospect of having a role in educating the next generation of leaders felt like shopping for a fresh box of crayons once again. Bliss.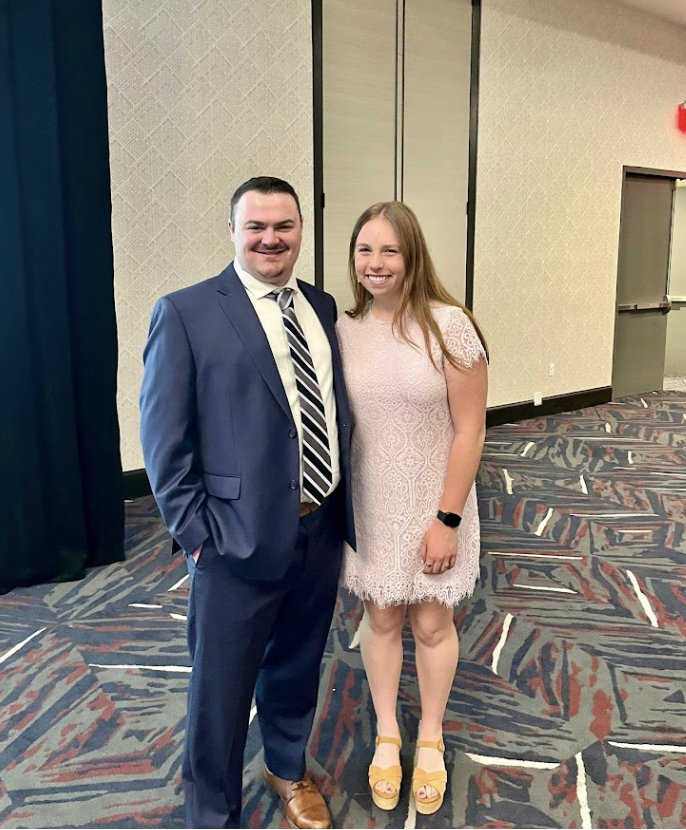 And so I asked myself again, "Am I willing to walk the path of sainthood?" 
St. Augustine wrote in his Confessions, "Our hearts are restless until they rest in You." My heart is indeed restless - to lead, to teach, and to build community with ACE Teaching Fellows and at St. Charles Borromeo Catholic School in Oklahoma City.
Since beginning my teaching journey here in OKC, I have felt humbled to give back to the Catholic education system which largely shaped me into the person I am today.
At Saint Charles Borromeo, each of my classes begins the same way. The students come in and right away begin the bellwork problem of the day. Once they have completed this, I turn off the lights, and they know it is time to rise from their seats to say "The Math Prayer."
The prayer is concluded when I exclaim "God is good!" and my students respond, "All the time!" I then say "All the time!" and my students say (pause, raise hand to ear and let the crowd say…"God is good!") 
In a very short amount of time, a quite meaningful interaction takes place between me, my students, and with God. I see their enthusiasm for learning and acknowledgement of their faith come to life, and this sets the tone for the rest of class.
I am grateful for the opportunity to offer academic support to students, give advice for how they may grow in faith, and bring life into a classroom with my can-do attitude and eagerness to help others succeed. 
It has been a true blessing to call myself a Catholic throughout my life and now, be given the chance to put my faith into action as an ACE teacher at St. Charles.
My Catholic education has without a doubt given me the tools to navigate my journey to Heaven; and what a privilege it is to be working to make the same impact on the lives of so many of my students!
Thank you.