At times, a hectic air hangs in the ACE Philly community. Located just south of City Hall, the hustle and bustle of Center City seeps into our rowhome. Daily, we each return from teaching, from afterschool tutoring, from riding the Broad Street Line, from coaching cross-country, or from circling the block an untold number of times for parking. The cumulative stress of our days can hang on our shoulders just as much as the backpacks and totes full of the routine prep for tomorrow's classes.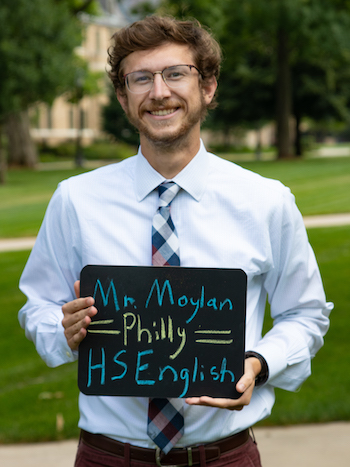 Most days, that dynamic carries into our kitchen. Between six and seven, the available real estate on our countertop is scarce to say the least. Veggies are chopped and meat is seasoned on any free surface. Each burner holds a different bubbling dish, and all pans are tilted slightly forward due to the cant of our stove that's not quite flush with the floor (which makes for some interestingly uneven omelets). Tuesday nights are the welcome exception to this trend, when we gather for community dinner.
We kicked off the year with a Labor Day potluck, giving each person a chance to make their culinary debut: barbecue chicken from Caroline, a berry salad and sourdough bread from Whitney, roasted veggies from myself, baked apple turnovers from Ryan, and quesadillas from Grace. The wide-ranging smorgasbord all came together on "The Slab" – our concrete backyard of maybe 150 square feet. It set the tone for a year where each dinner becomes an opportunity to uncover new ways to know each other. Flavor preferences, family staples, go-to recipes, and cooking strengths (and weaknesses) all emerge during meal prep.
More regularly, teams of two are responsible for community dinner. As a duo, the fusion of each person's talents and efforts makes the meal that much more meaningful. For a recent Pad Thai, I took the back seat as Ryan's sous chef, dutifully chopping broccoli and onions, while he brought his family recipe to the Philly table. It really was a team effort as Ryan's mom sagely guided us step-by-step through the almond butter sauce over FaceTime.
Cooking can sometimes match our school day's level of chaos, but once the table is set, all the busyness of the day dissipates. We each sit down, and general comments are made on how good the food looks. Then, there's always distinct pause right before we pray over our meal, an instance of quiet grace. Something sacred occurs in this moment.
I think of how, after the walk to Emmaus, it was the breaking of bread that caused those two disciples to finally recognize Christ in their presence. Amid our daily stress and fatigue, coming together at table creates what Wendell Berry calls "a blessing of another kind." (credit to Whitney for pointing that line out to me!) It forms a needed and marked shift from our normal routine.
The dinner and conversation that follows is always cathartic: we laugh, eat, and commiserate until our plates are clear. But I treasure most that small pause before we pray and dig in. It is there that I most hear God's "still, small voice," where the Spirit nudges me to see Christ the Teacher in my community members a little more clearly.
---
Learn more about ACE Teaching Fellows at ace.nd.edu/teach