"Yo, that's Physics!" Mike shouted triumphantly after his throw went about 40 yards downfield. He had just experienced firsthand how adjusting the angle of a projectile to approximately 45 degrees increases the range. Mike was representing the football team at our open house and throwing passes to prospective students. What's that? A student of mine excited about class content outside of the classroom? I couldn't help but smile.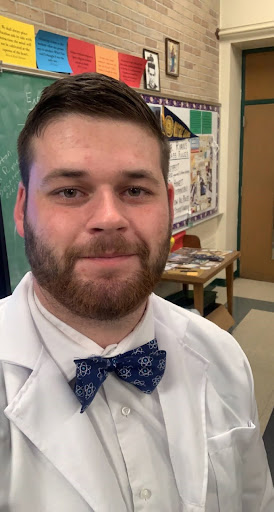 I fit the stereotype of nerdy science teacher in many ways, especially if you catch me on Bow-Tie Fridays (which are of course every Friday). My nerdiness is on display when I explain how things work to kids. I have always loved being curious, particularly about why things happen the way they do. For me, that is what science is all about: asking questions, followed by the thrill of discovery. Indeed, my own academic pursuits–engineering and Latin, a classic "Oh, what are you going to do with those majors?" combo–stem from my curiosity. Getting to share this with my students in physics and physical science is a tremendous blessing. 
One great joy of mine as a STEM teacher is interacting with the students outside of the classroom. Like Mike on the football field, so pumped about physics. Witnessing students tie the content to their daily lives or extracurricular activities is simply amazing. From time to time I'll be at practice after school and hear, "Oh Mr. Ryan, did you see that? That's a projectile!" It's like the unbridled joy of a child, except on the face of a young man in high school. Or a student will explain how he baked cookies and in his explanation, unprompted, will list why it was a chemical change: the odor released, the color change, and the fact that the baking cannot be undone. Last year I began a unit-by-unit project with my students in physics class to build on this everyday curiosity for science. Dubbed "Physics in the Wild," students find and explain the physics of something they do or see that is related to the unit material. 
Another great part of any day is when the kids ask something completely off the rails. Well, not completely off the rails, but enough that answering the question would mark a distinct departure from planned material. Sure, a good lesson plan is important, and yes, the time working toward a clear and specific objective is valuable. But what a joy it is to hear students ask questions that they care about! When students ask good questions, I don't have to say no. Perhaps they believe they are getting away with something by dragging me off topic. But when a juicy question comes along, I enjoy spending a few minutes detouring through a route that sparks student interest. At the end of the day their curiosity is what I hope to foster; if my students forget everything about free fall or forces or states of matter, I want them to go on with an abiding sense of wonder to ask questions and seek solutions.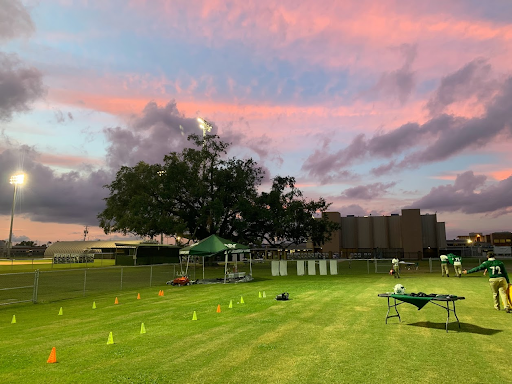 Whether I am in the midst of a busy day of instruction about introductory chemistry or AP-level physics, or I am out on the track coaching a cross country workout or on the field running baseball drills, the students' excitement gives me energy. I want to bring about as much of that excitement as possible–even if it comes slowly and only in brief flashes. Being curious can lead to excitement about discovery, and being curious in the first place means caring enough to ask good questions. Thankfully when it comes to STEM, there is no shortage of fascinating questions to explore. 
---
Learn more about the life of an ACE Teacher at ace.nd.edu/teach.