"As disciples of Jesus we stand side by side with all people. Like them we are burdened by the same struggles and beset by the same weaknesses; like them we are made new by the same Lord's love; like them we hope for a world where justice and love prevail." - Constitutions of the Congregation of Holy Cross 2.12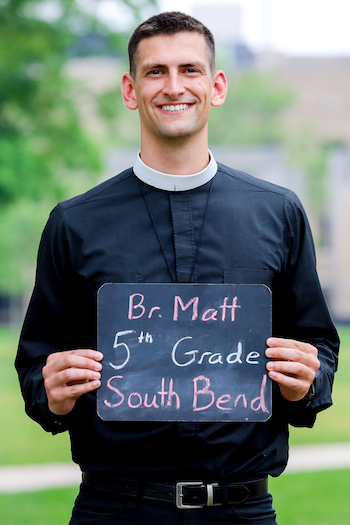 Intense.
If I had to describe my first summer as a member of the ACE Teaching Fellows, it would be intense. From the classroom to the teaching practicum sites to the basketball court to the chapel, the community experience of ACE summer was all in, and I absolutely loved it. As I begin my first year of teaching, I look back on the summer with so many great memories. None sticks out more for me than the renewal of my vows. Surrounded by an electric community in Dillon Hall's chapel at the University of Notre Dame, I culminated my spiritual journey this summer by renewing my vows as a religious brother in the Congregation of Holy Cross.
Spirituality in ACE is rooted in the belief that we are called to embrace the role of Christ the Teacher for the students we serve. This spirituality that promotes the value of accompaniment and the importance of Catholic education—especially for those on the margins—was made tangible for me in our communal prayer, classroom instruction, and our daily celebration of the Eucharist. If we are truly called to model our lives as Christ the Teacher for our students, our lives will be demanded from us every day. Simply put, if we are modeling our lives on Christ, we realize that our lives are not our own. We are dedicated to serving God and standing in solidarity with all of God's beloved children. This is true for all ACE teachers and disciples of Christ, and I have the unique privilege to embrace this role as a Holy Cross Brother.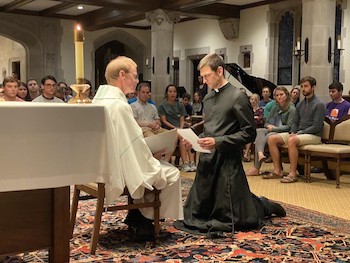 Within my vocation to be a brother in Holy Cross, whose charism it is to be educators in the faith, I have heard the call to teach. I was educated and formed by the School Sisters of Notre Dame, the Christian Brothers De LaSalle, and the priests and brothers of Holy Cross, and words cannot express the personal impact of these religious sisters, priests, and brothers in my life. Now as a Holy Cross Brother in temporary vows, I have the privilege to show the same love of God to the students in my own fifth-grade classroom. Yet I cannot give what I do not possess. The love of God is fostered in personal encounters and relationship, and my journey with the Lord has led me to the Congregation of Holy Cross and my profession of the vows of poverty, chastity, and obedience. These vows help me to model my life on the poor, chaste, and obedient Christ and help me to serve lovingly and generously in his mission.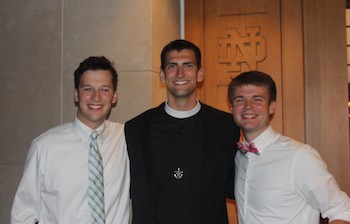 While in formation in Holy Cross, seminarians and brothers renew vows one year at a time before we profess our vows forever. It was a joy to renew my vows with the ACE community at a daily Mass. I was able to feel the zeal—the burning desire to make God known, loved, and served—radiating from the chapel as we ended our summer together. My vows mean so much to me because it is a sign of my love and commitment to Jesus, who has given me everything. I will always remember concluding that liturgy with a local favorite: "The Canticle of the Turning." We enthusiastically echoed the words of Mary as we sang, "Though I am small, my God, my all, you work great things in me." I get goosebumps thinking about how many great things the Lord is working through the ACE community currently serving around the country right now. Our mission is truly the Lord's, and so is the strength for it.
It's all for God!
---
Learn more about the experiences of ACE Teachers at ace.nd.edu/teach