"From the end of the earth will I cry unto Thee when my heart is overwhelmed; lead me to the rock that is higher than I."
- Psalm 61:2
---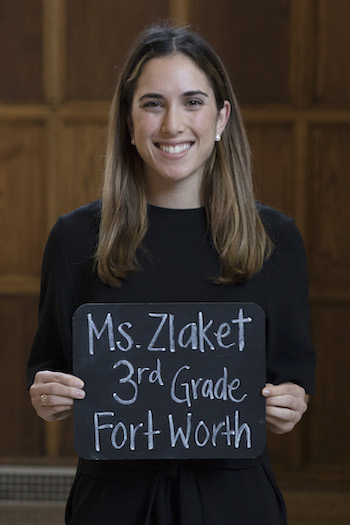 At the beginning of my first semester of teaching, I remember being energized by the newness of it all. "My second graders are full of hilarious commentary!" I thought. "Man is it fun to be called 'Miss Z'!" Classroom supplies were shiny and clean and the hallways were filled with a familiar buzz of anticipation for what was to come.

This anticipation reminded me of some wisdom that Pat, a good friend of mine and a 25-year veteran teacher, once shared with me when I made the decision to join ACE in the spring of 2019. He explained that there can be a first year of teaching "roller coaster," or cycle of emotions, that goes something like this:

anticipation → survival → disillusionment → rejuvenation → reflection → anticipation

So I guess it was appropriate that I was full of eagerness and hope during those first few weeks! But then, right on schedule, late October came and fatigue started to replace the excitement of the early fall. Why wouldn't my kids just STOP chatting in the hallways? I'm sick of the smell of pencil shavings. Will lesson planning ever get easier? In this season, I didn't love teaching - the newness was wearing off, and I could feel myself edging towards stage two: survival. And to top it off, we weren't even to Thanksgiving!

The thought of an entire second ACE summer and school year overwhelmed me because I knew that what I was feeling was unsustainable. But it was in the midst of this worry that -- preparing to lead our Monday night community prayer in the living room -- I came across Psalm 61:2: "From the end of the earth will I cry unto Thee when my heart is overwhelmed; lead me to the rock that is higher than I." The aforementioned rock is commonly interpreted as an allusion to God, who is a stronghold for many in times of crisis. To me, the rock was indeed God...but the more I reflected on the psalm, the more I realized that it was also many other things before me.

When I felt uninspired, I looked around our living room at the photos of ACE communities that came before us, and I took refuge in our common mission. When my patience wore thin from second-grade antics, I held on to the laughter of my housemates as we swapped unimaginable student stories around the dinner table. Tearful phone calls with family gave me a safe space to process my busy and chaotic days. In each of these encounters, my loved ones offered me stability and strength. 

The people around me, it seemed, were the rocks that led me to higher ground. With their help, my spirits were lifted and my perspective widened.

Take a look around your house, peek into the classroom next to yours, or reflect on the recent calls made from your phone. Chances are if your heart is overwhelmed, there's someone there that is willing to be steady for you in times of uncertainty. And if you're feeling steady, look around for someone to whom you can be a rock. For it is through the strength and steadiness of the rocks around us that we can reach new heights and appreciate greater, rejuvenating views.

Dear God, we give thanks for your steadfast love during this season when we may be feeling unsteady. Help us to offer support and allow ourselves to be supported, knowing that through one another, we can reach higher ground. Amen.
---
Learn more about ACE Teaching Fellows at ace.nd.edu/teach.