This year, a group of teachers in ACE 27 will be giving us regular glimpses into their experiences as teachers and community members. We'll see snapshots of their classrooms and cities, and we'll learn more about the day-to-day lives of ACE teachers across the country. Meet the newest members of the ACE blog team!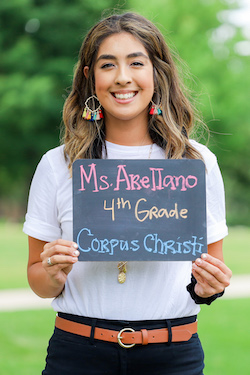 Celeste Arellano
Hi, everyone! My name is Celeste Arellano, and I am teaching fourth grade at St. Cyril & St. Methodius Catholic School in Corpus Christi, Texas. When I am not teaching my wonderful students, I get to coach girls volleyball and basketball and oversee the Robotics Club. My favorite thing about Corpus Christi has to be all of the local community spots, such as coffee shops and restaurants. It has been great exploring the city and getting to know members of the community!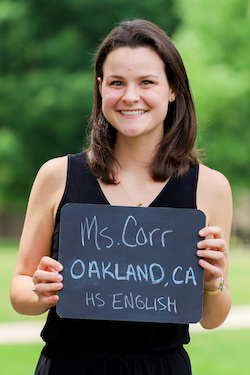 Maria Corr
My name is Maria Corr, and I teach high school English to grades 10 and 12 at Salesian College Preparatory in Oakland, California. Outside of the classroom, I supervise Salesian's Writing Center and monthly sophomore class events. In Oakland, you can find me running alongside the San Francisco Bay, exploring new hiking trails, and baking lots of sweets for my beloved community members! Besides the beautiful views and fantastic food, my favorite part about being in Oakland is the close proximity to other ACE communities in NorCal!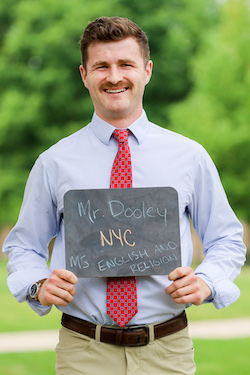 James Dooley
My name is James Dooley, and I'm originally from the Boston area. I teach middle school English and sixth-grade religion at Saint Mark the Evangelist in Harlem. My favorite thing about teaching in New York is the diversity of experiences that I've encountered amidst the hustle and bustle of the city—that and the number of Catholic churches! While I teach middle school, I had the privilege last year of tutoring struggling elementary school students at my school. I hope to get even more involved this year as sports and other community events slowly make their way back!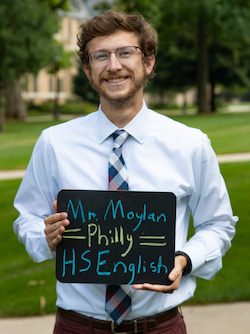 Raymond Moylan
Hi everyone, I'm Raymond Moylan and I teach ninth-grade English at Cristo Rey Philadelphia High School, where I also moderate our literary magazine and help coach cross country and track and field. Day by day, exploring Philly has made me a more adventurous pedestrian, whether by taking SEPTA to school or jogging through the row homes and neighborhoods of South Philly. In my spare time, you can find me on the Schuylkill River Trail or reading on our community's spacious back patio.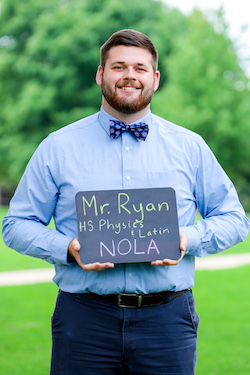 Jimmy Ryan
I teach physics and Latin at Archbishop Shaw High School in New Orleans. I wish it was less humid here, but I love to explore the many parks anyway. In addition to crossing departmental borders, I also split time between the youngest and oldest students at Shaw, from the eighth graders in Latin to seniors in AP physics. Outside of the classroom, I help coach the varsity cross country team alongside fellow ACErs Joe Crowley (ACE 26) and Eric Budd (ACE 28), as well as help coach for junior high baseball team. I love the ice cream at Creole Creamery as well as several rounds of spikeball and Unstable Unicorns with my New Orleans community.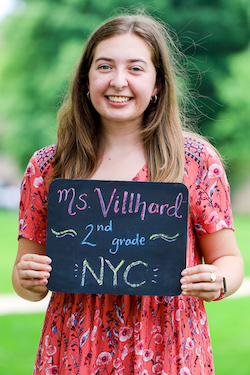 Danielle Villhard
I am blessed to teach a class of very energetic and extremely bright second graders in the Bronx, New York. Our class enjoys recess races, art projects, stories about inspiring people, Fun Fridays, and sharing jokes. Outside of school, I love to explore New York – especially museums and coffee shops – with my ACE community members!
---
Learn more about ACE Teaching Fellows at ace.nd.edu/teach.