The Program for Inclusive Education (PIE) is blessed to collaborate with incredible inclusive education organizations across the country. The FIRE Foundation supports the inclusion of students with diverse learning abilities in the Kansas City, Missouri (KCMO) region. Executive Director Lynn Hire serves as our guest author for the September PIE Blog and outlines the good work of the foundation. We are grateful for FIRE's generosity as they support two participants in the fifth cohort of PIE. Thank you, Lynn, for your tireless commitment to welcome, serve, and celebrate all students in KCMO Catholic schools and our collaboration!
~Christie Bonfiglio, Ph.D.; Director of the Program for Inclusive Education
---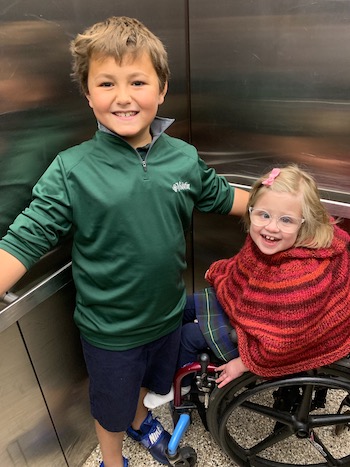 Can you imagine the heartache of being told your parish Catholic school was not able or willing to welcome your child because he or she has an intellectual or developmental disability?
A lack of resources and knowledge are sometimes cited as reasons for turning away students with disabilities. It shouldn't be that way at Catholic schools. And it doesn't have to be.
The FIRE Foundation, based in Kansas City, Missouri, is a nonprofit advocacy and funding organization committed to helping Catholic schools create welcoming, supportive, and successful learning environments for students diagnosed with a wide range of learning challenges. FIRE awards grants that partner schools use to help hire special educators and para-professionals; acquire technology, curriculum and adaptive equipment; and offer professional development so educators can effectively meet students' unique learning needs.
We believe in the potential of all learners and we embrace the notion that all children who are baptized in our faith, including those diagnosed with learning differences, deserve the opportunity to experience the blessings of a Catholic education – right alongside their siblings, friends, and neighbors.
Pope Francis calls us to "build an educational relationship with each student, who must feel welcomed and loved for what he or she is, with all of their limitations or potential." How wonderful is that? Inclusive education not only enriches the academic, social, and spiritual learning landscape - it can and should be a distinguishing feature of all Catholic schools.

FIRE Foundation is celebrating 25 years of supporting inclusive Catholic education this year. Back in 1996, FIRE's founders stepped forward with a bold invitation to try something new. Their belief and persistence, fueled by the grace of the Holy Spirit, gave way to a new way of living our Catholic faith and bringing the Gospel to life. In 1998, for the first time ever, three young boys with significant disabilities were welcomed as students at their parish schools in Kansas City. Moved by Jesus's words to "let the little children come to me, and do not hinder them, for the kingdom of heaven belongs to such as these (Matthew 14:19)," more parish and school communities caught on to FIRE's mission of inclusion. No one knew then with this little spark, that thousands of lives would be impacted by FIRE's special mission. Nor did anyone realize that inclusion would soon become the new normal for many parish and school cultures.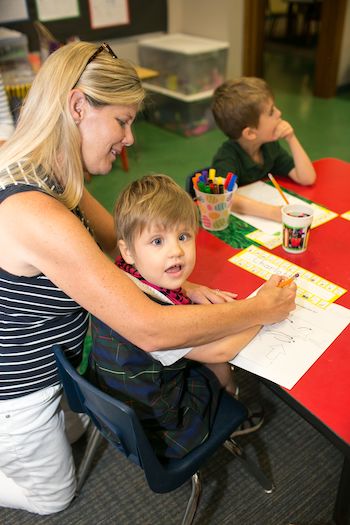 The journey has not always been easy, but there has never ever been any doubt that we're on the right track. We're passionate about FIRE's mission: To provide children with special needs the opportunity for an inclusive education in the Catholic schools they attend. And our stakeholders have been generous in the support they provide. So generous, in fact, that since 1998, FIRE has been able to invest over $6 million in support of inclusive education at partner schools.
As we celebrate our 25th year, we welcome new opportunities to ignite inclusive Catholic education in the Diocese of Kansas City – St. Joseph in Missouri, as well as across the nation. We're still learning, but we know our model for supporting inclusion works. It's currently being replicated by FIRE affiliates operating in eight other U.S. dioceses. 
FIRE's long-term vision is a world where parents will never need to wonder or worry about whether their child with disabilities will be "wanted" at their parish school. We've come a long way, but we're not there yet. That's why we keep FIRE's flame burning brightly – as a beacon of hope and a symbol of all that is possible when everyone – including clergy, school leaders, educators, families, funders and students – comes together on behalf of our kids. 
---
To learn more about the FIRE Foundation's approach to inclusion advocacy and funding, please tune into A Little Slice of PIE on September 14, 2021 at 7 pm EST.