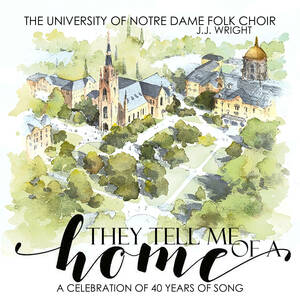 After rescuing the rogue mail, I opened a small brown box and found a carefully wrapped glass jar etched with the words, "Notre Dame Folk Choir" and a CD. The enclosed letter explained that the candleholder and CD were a gift to all Folk Choir alumni in celebration of the group's newest album.
Suddenly, I was high in the choir loft in the basilica, the gleaming blue and gold of that sacred space illuminating my sheet music. I could cry out of pure thankfulness that I was in such a place, a feeling that catches in my throat even now. It's the kind of appreciation maybe only someone who was denied admission as an undergrad can have.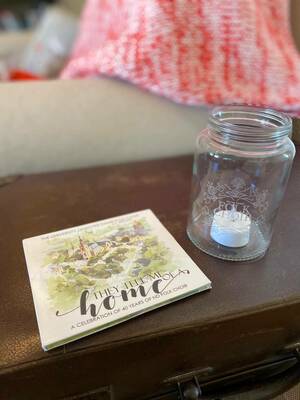 The next week we flew from Waikiki to Denver, where the Army shipped our car and where my roommate from ACE summers just happened to live with her family. I hadn't seen her for almost six years. The reunion, now with double the kids, was good for the soul. When we were pulling out of her driveway, I showed her my CD. Little did I know it was going to provide the perfect soundtrack to our drive, and memories to boot.
From Denver to Moab, Utah, to see Arches National Park; to the Grand Canyon; to Phoenix; to our final destination of Albuquerque, New Mexico, we listened to the Folk Choir.
My daughters, ages 8, 6, and 3, can sing along — which delights me to my core. After living on Oahu for three years, the southwestern landscape was like another planet. Even my husband and I were viewing mountains, mesas and canyons with childlike wonder.
The scenery was like another surprise package, filled with hope for the future. The hymn "An Unclouded Day" (my girls thought it was going to be "She'll be Comin' Round the Mountain" the first time it started to play) begins:
O they tell me of a home far beyond the skies,
O they tell me of a home far away;
O they tell me of a home where no storm clouds rise,
O they tell me of an unclouded day.
Thinking again now about the expansive blue out the window, I am struck speechless. A gift. It's all an undeserved gift.
Thank you to the Folk Choir for accompanying us on our drive through this wondrous world, for putting music to my memories and for singing us to a new home, which is just a pit stop on the way to an eternal home where God willing, "mine eyes shall behold / Where He sits on the throne that is whiter than snow / In the city that is made of gold."
---
Michelle Fuller is a wife, mom and writer living in Albuquerque, New Mexico (for now). Learn more about ACE Teaching Fellows at ace.nd.edu/teach.