The Program for Inclusive Education (PIE) is happy to share the following piece by Mary Desmarais, the inclusion specialist and expanded services teacher at Bishop O'Connell High School in Arlington, Virginia. Mary has lived the inclusion journey for a very long time. Her experiences have shaped who she is, how she sees Catholic education, and what she will do in the future to impact the lives of all students. We are grateful for her willingness to see the gifts in every student and open doors to welcome, serve, and celebrate them. Please join me in thanking Mary for her contribution to inclusion in Catholic schools and learn more about the ripple effect of inclusion at November's A Little Slice of PIE!
           ~Christie Bonfiglio, Ph.D.; Program for Inclusive Education-Director
---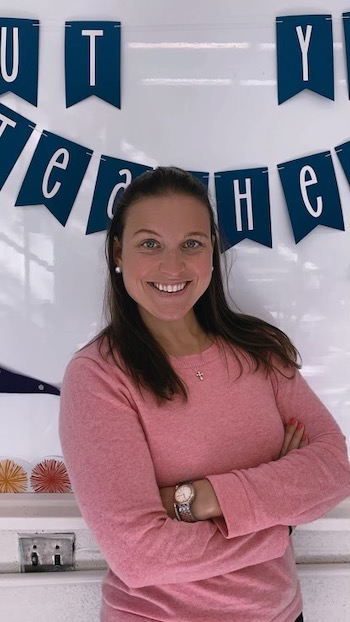 When making my decision about which high school to attend, I had no idea it would impact my life the way it did. Sure, I thought I'd meet new lifelong friends and have the best four years of my life. Maybe I'd make the varsity tennis team by sophomore year. Little did I know that the peers I would encounter and the experience of inclusion would lead me to my career today.
The high school I attended—Saint Paul VI Catholic High School—was one of the first Catholic schools in the country to have an inclusive program for students with disabilities, which utilized peer mentors to support the inclusive services. By my sophomore year, I became a peer mentor without too much thought as to why...I just did it, and continued each semester for the entirety of my high school career. Accompanying my peers through their academic journeys, supporting and helping them navigate social situations, and seeing that they simply have the same desires for belonging and acceptance as all other high schoolers do, led me to my desire to continue to work with this population in my career.
While in college, I worked as a counselor at Therapeutic Recreation, a day camp for participants with disabilities. This experience was vastly different from peer mentoring in the academic setting, as I was working with elementary-aged kids in a recreational setting with a wider range of disabilities and capabilities. The next summer, God graced me with another new opportunity through Therapeutic Rec, working with participants with both physical and intellectual disabilities. By junior year of college, I had a variety of experiences that each left me feeling fulfilled and energized. I had peers with different abilities who I went to high school with, who I saw achieve academic success when given appropriate support. I learned the importance of routine and structure from some of my elementary participants with autism. I learned the value of patience and wait time when communicating with people with physical disabilities using assistive technology.
Each of these unique learning experiences led me to seek a master's degree in education and then teach in an inclusive Catholic school. Now I work as a special education teacher at a Catholic school that offers inclusive Catholic education for students with intellectual and cognitive disabilities, supported through peer mentors. I think I bring a unique perspective to my current position because I am a product of inclusive Catholic ed, and I know many others from my high school who have gone on to work at other Catholic schools that offer inclusive education. 
However, I know the ripple effect of inclusion is not limited to peer mentors becoming teachers. We are educating future doctors, nurses, architects, designers, lawmakers and engineers. I can only hope that the inclusive experience we provide will inform their practices when they enter their professional industry, wherever they may find themselves. It might mean a little bit more wait time for a patient expressing their symptoms, designing buildings with Universal Design at the forefront of the plans rather than just the minimum ADA requirement, or employing a person with a disability because they've seen the capabilities and skills that people with disabilities possess. I hope that as every school that opens their doors to inclusion, the ripple effect grows larger and the world as a whole becomes more inclusive. One diocese, one school, one class, one student...One ripple at a time!
---
Interested in becoming a more inclusive educator? Applications for PIE 6 are now open!