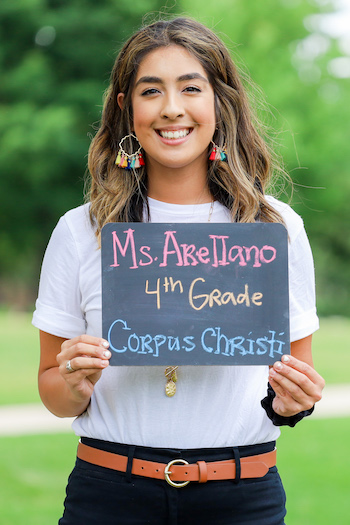 Celeste Arellano is in her second year teaching fourth grade at Saints Cyril & Methodius Catholic School in Corpus Christi, Texas. Before school started, Celeste gave us a tour of her classroom as she prepared to welcome her fourth graders on August 12.
Welcome to our classroom! This year my students will be embarking on a secret mission with the classroom theme, "Learning is a mystery! Let's crack the code using our faith!"
When they first arrive at the classroom, they are greeted by a welcome board and door that are both decorated according to our theme so that they will embrace their role of being a secret agent this school year. Many of my students enjoy "scanning" into the classroom, and I often say, "Access is granted" so that they know they are always welcome into the classroom. I found that anytime we can fully dive into a theme together, my students let their guard down and know that in this classroom they are accepted for who they want to be. I also believe that when my students can feel comfortable in the space they are learning, they will be able to concentrate on the material we learn and not the environment. 


I am blessed to be able to put my students in groups this year with desks in between them. This arrangement has allowed my students to have their table groups, or headquarters, to work with during partner work and share time. I have also added a morning meeting carpet, which is where students spend 30 minutes in the morning getting to know each other. In the back of the classroom, my students have their reading center where they can spend time reading in the classroom library. 
Our religion class is centered around the quote, "We walk by faith and not by sight." I wanted to include this on our bulletin board, as this year we are going to explore where we see Christ in our lives. My students completed an "All About Me" sheet and learned about the different gifts and interests they have in common. We realized as a class that we can see Christ all around us, especially in our classmates. To the left of the picture is my prayer center, where students can spend time in prayer when they feel like talking or listening to God. 
This year, I want to focus on my students' gifts and talents in the classroom. For the first week, we learned about our multiple intelligences and how we can all share our different intelligences with the class. My students created an Instagram picture and caption to share about their multiple intelligences, which will be posted on the board above. 
I then used this information to talk about the topic of  growth mindset with my students, which is the focus on the board below. This bulletin board gives my students the sentence stems to use when using a growth mindset. For example, if a student finds something challenging, they can use the sentence stem, "I want to learn this but I do not know how to do it yet." or "I can learn how they do this in another way." We read the book My Fantastic Elastic Brain by JoAnn Deak and played a neuron relay game to learn about how the brain works! 
On the left, I celebrate my student's birthdays and all their hard work. I often display new work once a week to highlight their achievements. On the right is our accountable talk wall where students can find sentence stems to use during group work or when asking for help. These sentence stems help students have productive and positive conversations in the classroom. 


At the front of the classroom my students are able to see some of the books we will be reading that week, their homework, and any school reminders that are important for the week. My students love to be able to come to the board and use the expo markers when we have chalk talk!  I have also included a bulletin board that includes some of my favorites and highlights all of the student art pieces that a student will make throughout the year.