This article originally appeared on azpreps365.com.
---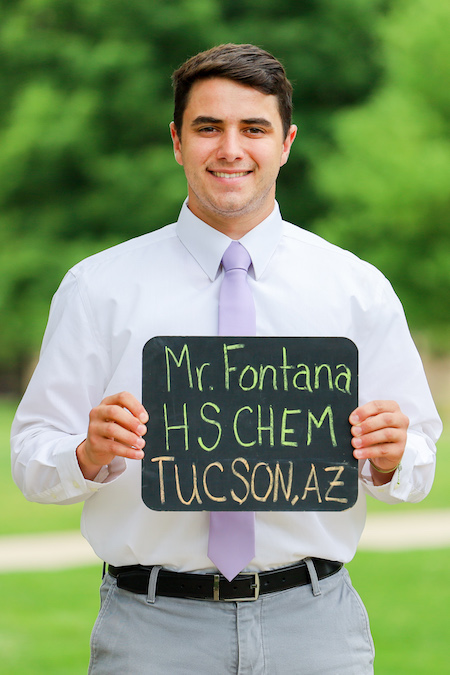 There's nothing in the Arizona Interscholastic Association and maxpreps.com's record books showing St. Augustine ever having a winning season, owning a region championship nor ever reaching the playoffs.
Zero. Zilch. Nada.
In 2020, the program even had to cancel a good portion of its season due to lack of players. And the 2016-2019 seasons are missing from St. Augustine's maxpreps' boys soccer page.
So how in the world does a program with little to no history go from nothing to earning a high state tournament seed with two girls starting and a 24 year old as its coach? Only in Hollywood.
But this Tucson tale is actually true. St. Augustine soccer is one of the feel good stories of the 2021 fall high school sports season.
It begins with a University of Notre Dame grad, Michael Fontana, assigned to St. Augustine, a Catholic school with about 250 students that's located about 25 minutes east of University of Arizona. Fontana is enrolled in Notre Dame's Alliance for Catholic Education (ACE) program, which serves under-resourced Catholic schools serving low income families.
ACE sends its students to over 120 schools around the nation.
"It fell into my lap," said Fontana about the St. Augustine assignment.
When he arrived at St. Augustine last year with no coaching experience, Fontana asked the athletic director if he could help coach the sport he grew up playing in Baltimore. A coach was already in place, but there was a sudden change of plans when the AD saw Fontana in a school hallway a couple of weeks later and called him "coach."
What Fontana lacked in experience he made up for it with his eagerness to learn about his sport and his players. From the sounds of it, he also has a big heart.
"I care a lot about these kids and their health and well-being," he said. "They act mature and compete. How we treat each other and opponents with respect, it matters."
But all the compassion in the world couldn't keep the pandemic away and enough players on the roster last year.
So after playing just seven games, St. Augustine blew the final whistle on its season earlier than expected. But, despite last year's struggles, Fontana noticed the start of something special.
"It (2020) ignited something," he said. "The kids were very dedicated. They were eligible throughout the season. We saw a glimpse of something, especially with the younger players, that something was happening."
It didn't take long for the 2021 Wolves to prove it.
In its first game, the team scored nine goals, four more than it scored the entire 2020 season and wound up winning the program's first region championship.
St. Augustine, which was 0-6-1 in 2020, will head into Tuesday's first round of the playoffs with a 9-0-2 mark.
"Compared to last year, this year it's taken a lot more effort," Fontana said. "As a young coach I've learned how to conduct practices and set expectations. I won't lie, we thought we'd be a .500 team, and we exceeded that pretty quickly. We doubled our roster size to 24, and we have depth with the freshmen and sophomores."
Making sure the foundation of St. Augustine's new soccer era is strong is a group of players who frustrate opponents with their physicality and unselfishness.
Good soccer teams tend to have solid leadership from the back to the front along the middle of the field, and St. Augustine boasts just that with center midfielder Ramon Serrano, center back Cristian Vasquez and striker Alejandro Baltier.
More often than not Serrano, a sophomore, is the center of attention for St. Augustine.
"We had fun at times last year, and we powered through," Serrano said. "This year we've improved our shooting, passing and communication."
Supplying the leadership for St. Augustine is Vasquez, one of the best center backs in the state.
"Cristian holds the kids to a high standard," Fontana said. "He's a great leader and teammate."
Up front is a player who can start anywhere on the field for the Wolves, Baltier.
"Alejandro is a machine in front of the net," Fontana said.
Fontana's squad also features role players who inspire their teammates.
Helping St. Augustine earn the No. 4 seed in the 2A fall state tournament are two female players who have started since Day 1, Fiorela Miranda and Litzy Salazar. In fall soccer, girls are allowed to play on boys teams, and a warning to opponents who think they'll push Salazar and Miranda over.
"Both of them are sophomores with menacing attitudes," Fontana said.
Brining the joy to the pitch is Chris Mugisha.
The starter and straight A student is overachieving despite his parents living more than 9,000 miles away in Rwanda. Mugisha lives with a brother.
"I'm incredibly proud of Chris," Fontana said. "He's a great kid to mentor and to be a part of his success. He has a really bright smile."
Managing 24 teens is a tough task for any coach.
So this season Fontana was allowed to hire an assistant who's as motivated as the head coach, Clay Jaskowski, Fontana's roommate and fellow ACE teacher.
St. Augustine will to need all the help it can get from the outset of the 2A state tournament.
It first opponent is two-time defending champ Blue Ridge, the No. 5 seed. Blue Ridge has reached a final 14 times in the past 20 years.
But St. Augustine will have a community that's had its back from the beginning when the Wolves for the first time host a soccer state game. Regardless of the first round result, Fontana and his boys and girls have left their mark this season and will continue to do so with the starters returning next season.
But the big question is will Fontana return?
The chemistry teacher has the option to leave St. Augustine if he so desires after this school year. He wouldn't say if he's staying or leaving when asked, but it appears that Fontana is leaning toward continuing to build something that's blooming in the desert.
"I love this team with every ounce and every ounce is reciprocated," he said. "It overflows in the love and energy and respect that this team gives me. It makes me want to do more.
"I really enjoy this school. The St. Augustine community revolves around faith and persistence and academics. It rallies around common ground. It has small class sizes and a caring faculty. I would definitely say I have to weigh some options, but I don't see myself coaching anywhere else."
---
Learn more about the ways you can impact the lives of Catholic school students at ace.nd.edu/teach.