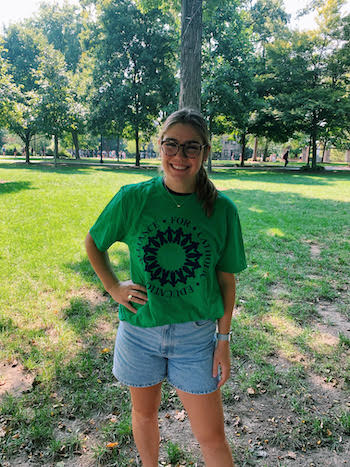 As a senior, I have experienced the anticipation of spring's arrival on Villanova's beautiful campus three times, but this year feels somehow more significant. The physical signs of spring on our campus will look similar: the melting of the snow, the budding of new flowers, and excitement surrounding basketball's March Madness. But having just celebrated "100 Days Till Graduation" with my classmates and receiving my cap and gown in the mail, something different is in the air. Knowing these are my last months on campus has inspired me to reflect on what brought me home to Villanova.
I come from a family of incredible and passionate educators and a wonderful school community that loved, challenged, and brought out the best in me. This community saw and shaped my gifts from a young age and in turn pushed and challenged me to use and share them during my years as a high school student. The values of faith, service, and leadership and the overwhelming love of the community that formed me holistically led me ultimately to a campus tour of Villanova University. Our tour ended in the St. Thomas of Villanova Chapel. Standing teary-eyed in the Narthex of the church with my parents, I knew in my heart that Villanova was home, it felt like the perfect fit, and exactly where God was calling me to be.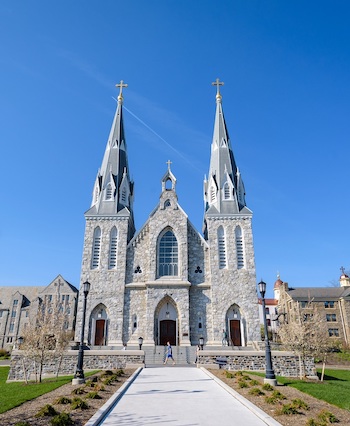 I walk by that same beautiful chapel during my last semester at Villanova with classmates and friends, each of us grateful for our time on campus, all of us wondering how the past four years could have gone so quickly. Our conversations this spring ultimately leading to the big question, "What comes next? What are your plans for after graduation?"
While this question understandably causes apprehension for many of the class of 2022, it is my most favorite to answer. I am excited and confident that God is calling me to be an ACE teacher, and am overjoyed to share that with others. I know the best way to honor the incredible educators and communities that shaped and loved me into who I am today is to give of myself fully to another community where I can help shape, form, and challenge young lives.
As I prepare to embark on this journey as an ACE teacher, I find myself imagining myself this time next year. At this point, I don't know where I will be, what I will be teaching, or who I will be walking with in community, but I know in my heart how it will feel. It will feel like the culmination of the excitement and joy I felt as a senior in high school, knowing Villanova was home, and the confidence and peace I feel now as a senior in college, knowing I will be part of ACE's mission as an educator myself in just a few months.
---
Could ACE Teaching Fellows be next for you? Learn more at ace.nd.edu/teach