Mentor principals have played a critical role in the success of the Latino Enrollment Institute (LEI) since the program's inception in 2012. The experience, accountability, and personal attention that these leaders provide has been a defining characteristic of the LEI, helping Catholic school principals—and their teams— institute lasting changes. 
After schools attend the LEI summer conference, mentor principals maintain regular contact with the 4-6 school leaders in their group through monthly video conference calls. These conversations, which focus on various themes related to Latino outreach, recruitment, and enrollment, are an opportunity for school leaders to learn from one another and receive real-time consultation and feedback from their mentor on some of the things that they're doing in their school. 
The commitment of our LEI mentors, most of whom are still active Catholic school principals themselves, is truly the engine that drives the LEI. These Mentor Spotlight pieces are intended to be a fun way to help you get to know these incredible school leaders—both professionally and personally—who dedicate so much of their lives to this mission.
This month, we highlight Charlene Krushinsky, who first became involved with the LEI as a member of the third cohort in 2014. At that time, she was serving as the principal of St. Louis the King Catholic School in Glendale, Arizona. After attending the LEI, her school quickly experienced notable enrollment gains that continued for four straight years, seeing the school's total enrollment increase by 35 percent, and Latino enrollment by 53 percent. Since 2018, in addition to her service as a mentor for the Latino Enrollment Institute, Charlene's unwavering commitment to Catholic education has led her to a number of different roles in Catholic school administration. Most recently, she made a cross-country move and now serves as Assistant Superintendent of Catholic Schools for the Diocese of Scranton. We invite you to get to know a little more about Charlene and what drives her in this work to make Catholic schools affordable and accessible for all families.
---
After many years of being a principal, you recently accepted a leadership position in a diocesan catholic schools office. What do you enjoy most about this new role?
When I accepted the Assistant Superintendent position in the Diocese of Scranton, I took a leap of faith! The last thing I wanted to do was move across the country, but as the saying goes, "When you leave things in God's hand, you see God's hand in everything." This is most definitely true! It is a true blessing to work with a dynamic Catholic Schools Office staff and amazing principals. One of the best aspects of this new position is the ability to visit all the school campuses, meet with teachers, and spend time with students. It keeps it real, and provides insight on what is most important – always striving to do what is best for children.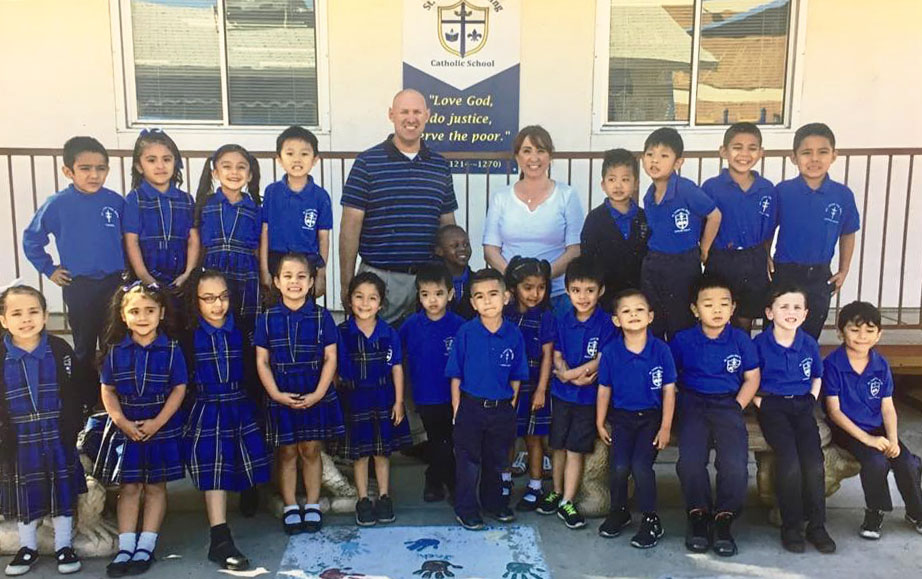 Before becoming a Catholic school principal, what was the most unusual or interesting job you ever had?
I grew up in a family business that my grandfather started in 1965, which my father eventually took over in the early 1980s. One of the facets of the company was designing and installing lightning protection systems on commercial and industrial buildings, so, during the summer while I was home from college, I would go with my dad to job sites and help install lightning rods. This was in Phoenix so it was a bit hot on those rooftops!

 
Describe a powerful moment in your LEI journey.
There are so many little LEI stories I could share that deeply touch my heart. However, there is one moment that is undeniably the most powerful in my LEI journey that changed my life forever. When our school family lost one of our own, a 1st grader, Briana Cabrera, through a fatal hit-and-run accident during a parish Fall Festival, I realized then how deeply rooted Christ was in our school. The outpouring of love from school families and the community at large was overwhelming. With Briana's mother in the hospital and her father recently deported back to Guatemala, it was up to the school office staff and I to raise funds, organize, and plan Briana's funeral Mass. The few relatives that lived here locally were too devastated and were afraid of being deported to come forward to plan and help. Within four days, our school raised $11,000 and we were able to fly her father back to Phoenix for Briana's funeral Mass. It was a time I will never forget and I pray it will never happen again.
Can you recall a time when you have found great joy in doing the work of the LEI?
With a student enrollment of 265 students, our school families represented 24 different countries, which was amazing! To bring these families together also presented a bit of a challenge. Even though a large percentage were from Spanish-speaking countries, they didn't necessarily share the same culture. However, in time, the staff and I realized there was one universal thing they did have in common besides the Catholic faith - soccer!
Our diocesan schools did not have any formal soccer program so we created our own soccer teams, all the way from preschool through the eighth grade. We did not have any trouble recruiting parent volunteers for coaches.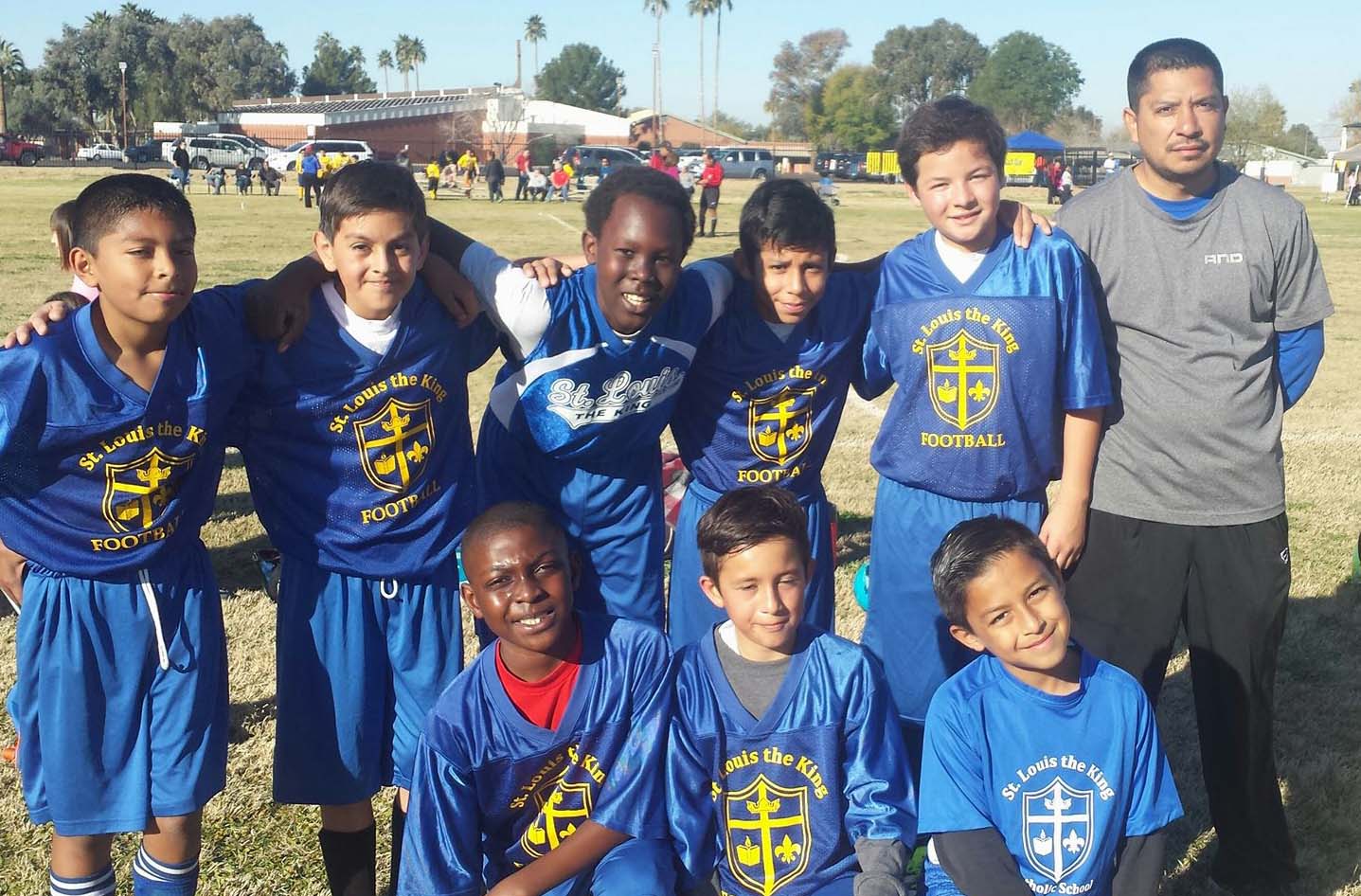 One late afternoon as I was the last one leaving the school office, I looked out the window and noticed the parking lot was packed with cars. I thought to myself, "There must be a funeral." I turned off the office lights and locked up. As I walked out to my car, I stopped by the church and I saw there was no funeral mass. I wondered, "What are all these cars doing here? There's no one inside the church."
My curiosity piqued, I walked around the perimeter of the church building towards the back part of the property. I began to hear children's laughter, Latin music, and smell some wonderful food cooking. As I turned the corner, I looked upon the grassy school fields and it was packed with school families, shouting and laughing, sitting along the makeshift soccer fields of different sizes.
I walked through the fields saying hello to parents and suddenly realized our school families were bonding! As parents cheered their children on, they began to connect with one another even though they didn't speak the same language. They did, however, understand the game of soccer and could connect in that way. There was laughter, sharing of food, and in time, friendships were made. It brought so much joy to me to see families come together. There was no longer a cultural barrier. We were becoming one family.

 
At St. Louis the King Catholic School, my team and I were most proud of getting the message out to families that a Catholic education is affordable and accessible. As a result of our success, we were able to increase our student enrollment over a five-year period from 148 to 265 students.
What is one thing that you and your team accomplished during your time as principal that you are particularly proud of?
At St. Louis the King Catholic School, my team and I were most proud of getting the message out to families that a Catholic education is affordable and accessible. As a result of our success, we were able to increase our student enrollment over a five-year period from 148 to 265 students. In doing so, our team saved St. Louis the King Catholic School from closing, which would have had a significant negative impact in a predominantly low-income, immigrant neighborhood.
Who is someone that has been a hero to you and why?
My parents are definitely without a doubt my heroes! Although not perfect, they have always tried to live their Catholic faith and emulate the words of St. Francis of Assisi by "preaching the Gospel at all times, and when necessary use words." I distinctly remember as a young child walking with my parents during the first march at Arizona's state capitol, peacefully protesting the 1973 Supreme Court Roe v. Wade case. From that point forward, my parents became activists for the rights of the unborn and marginalized people. Growing up, there were times that unwed pregnant, primarily Latino or Native American women would live at our house. During their pregnancies, my mother would take them to their prenatal visits. Once the baby was born and was adopted, the young woman would leave and go back to wherever home was. Our neighbors, MaryAnn and Richard, who lived across the street, adopted two babies, and naturally, my parents became their Godparents.
From teaching religious education classes to serving on Parish Council, being involved in some type of parish ministry has been a big part of my parents' life. A ministry close to their heart was going out to the citrus groves or cotton fields and physically distributing food, toiletries, and clothing to migrant farm workers and their families. The majority of the workers, if not all, were undocumented, living in the shadows, and some needed medical attention. Nurses or doctors would usually accompany these visits as my parents would assist in helping to provide treatment. These experiences and stories greatly influenced me and have helped shape the person I am today.
Can you tell us something interesting about your childhood?
An interesting tidbit about my childhood is that I was blessed to have grown up being close to all four of my grandparents. They each played an active role in my life, and they all led very interesting lives. Stories of their youth and how the world was throughout different periods of their lives were like mini history lessons that I have tucked inside my mind. I still recall New Year's Eve, 1999, sitting on the couch with my grandmother and asking her what the most shocking event that happened in her lifetime was. Her reply, "The Hindenburg disaster."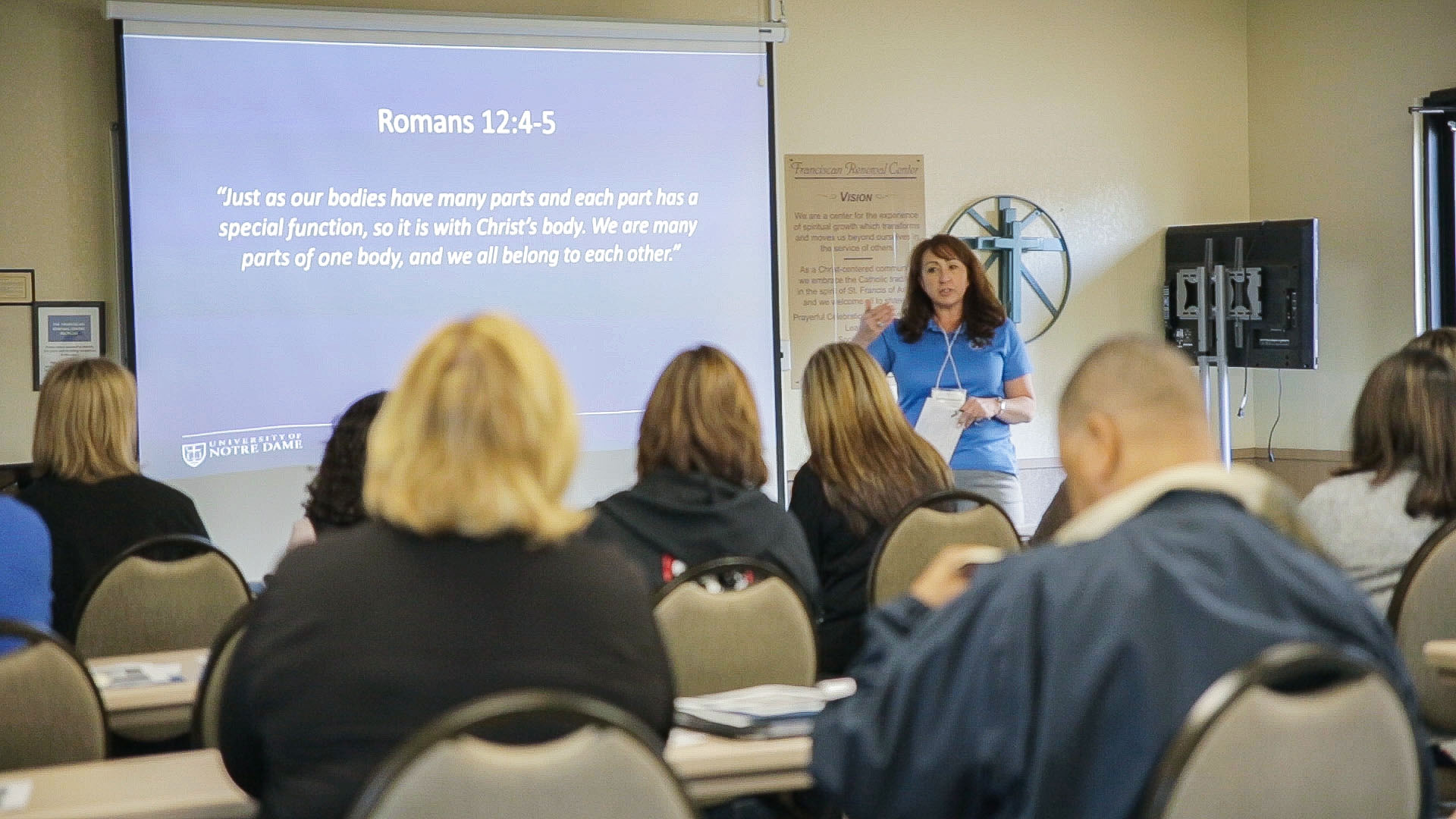 What motivates you in your role as LEI mentor?
Listening to principals, whether it be their success stories or issues they are facing, I am motivated to help and want to make a difference in any way I can. Being a Catholic school principal is a tough job and not one for the weary. It can be such a lonely job. I relish the Irish saying, "Two people shorten the road." It totally helps when you know there's someone out there you can trust and lean on for support.


Where is the best place you've traveled to and why?
The best place I have traveled to is visiting family, most importantly my children. I've never been to Europe, nor have I traveled much around the world, but nothing on this planet will ever replace spending time with your loved ones.
 
What advice do you have for Catholic school leaders hoping to welcome and retain more Latino families in their schools?
The best advice I could give in inviting more Latino families is to make sure they feel welcomed. Greet them with a smile, try to learn some simple Spanish phrases, and reassure the parents that you really care about their children as much as they do. If possible, a huge plus would be to hire a bilingual Spanish speaker in the office to put parents at ease when they call or stop by the school.
---
More about Charlene Krushinsky...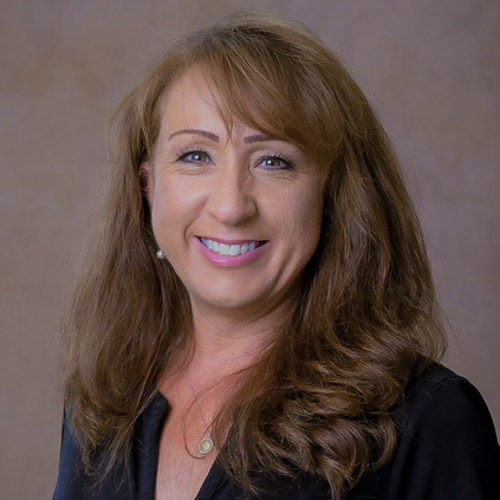 Charlene Krushinsky has been in education for 30 years, most recently stepping into a new role as the assistant superintendent of Catholic schools in the Diocese of Scranton. She has spent the last ten years as a Catholic school administrator, most recently, in the Diocese of Phoenix at Christ the King Catholic School. She has a track record of success where she, along with a committed staff, was able to save St. Louis the King Catholic School in Glendale, AZ, from closing by increasing its enrollment by 85 percent. Charlene has a Master's degree in Educational Leadership from Northern Arizona University and a certificate in Effective Catholic School Administration from the University of Notre Dame. She has taught grades at the elementary level, as well as high school and college. She attended her first LEI conference in 2014 as a member of Cohort 3, and she credits much of her success to what she learned there. She is excited to be part of the LEI team as a principal mentor and loves working alongside other Catholic school leaders dedicated to the same mission. Charlene is a proud mother of three grown, amazing daughters, all products of a Catholic education.
 
If you're interested in learning how to recruit, enroll, and better serve Latino children in your school, as well as work with an incredible mentor like Charlene, consider joining the LEI!