Mentor principals have played a critical role in the success of the Latino Enrollment Institute (LEI) since the program's inception in 2012. The experience, accountability, and personal attention that these leaders provide has been a defining characteristic of the LEI, helping Catholic school principals—and their teams— institute lasting changes. 
After schools attend the LEI summer conference, mentor principals maintain regular contact with the 4-6 school leaders in their group through monthly video conference calls. These conversations, which focus on various themes related to Latino outreach, recruitment, and enrollment, are an opportunity for school leaders to learn from one another and receive real-time consultation and feedback from their mentor on some of the things that they're doing in their school. 
The commitment of our LEI mentors, most of whom are still active Catholic school principals themselves, is truly the engine that drives the LEI. 
This month, we highlight one of those mentors, Jo Jones, former principal of Corpus Christi Catholic School in Holland, Michigan, and now the Executive Academic Director at Notre Dame Prep in Towson, Maryland.
---
What has been the biggest blessing of being part of the LEI for you and your school?
The biggest blessing of being part of LEI for me and for Corpus Christi has been framing our work. We had one dedicated, self-appointed madrina who worked tirelessly to spread the blessing of Catholic education to our Latino families. Joining forces with other schools from around the country and listening to the transformations reaffirmed our commitment to expanding the blessing of a Catholic education. A simple beginning—honoring traditions and gathering for family meals instead of meetings—transformed our school culture. We became a more inclusive school and all benefitted.
What is the best part of being a mentor?
The best part of being a mentor is being part of a group of leaders moving in the same direction – sharing the challenges and successes along the way. Each year the new group begins farther down the road than the last group. The work is more intentional, and the results are stronger. I learn as I lead.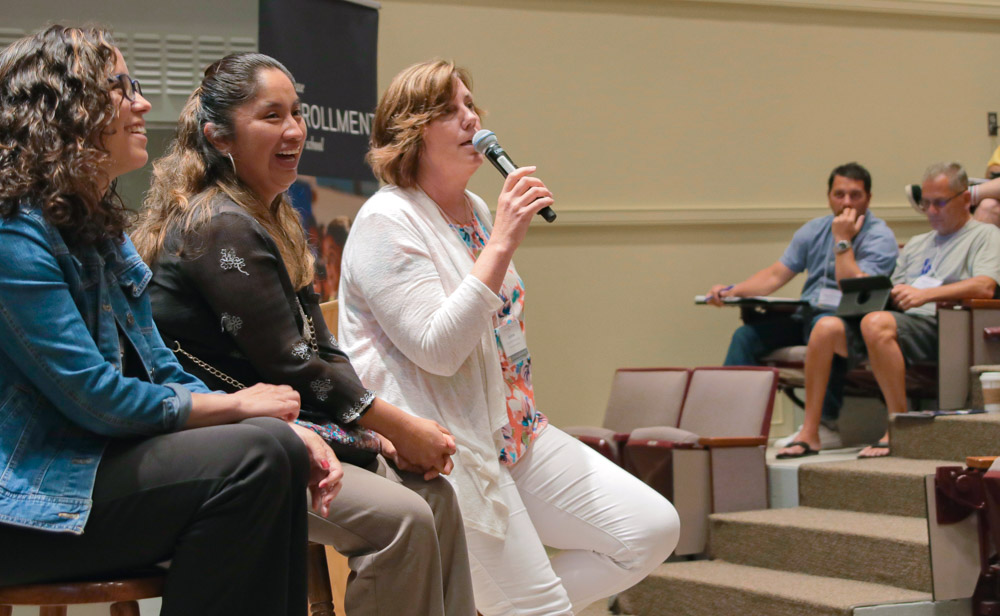 What do you like most about being a principal? 
I love learning and putting together the pieces of a curriculum to create a cohesive education. I was identified in my first year of teaching as a prospective leader and fostered along the way by many great leaders. I am always surprised that people are intimidated to go into the principal's office - it's just me! I especially enjoy mentoring new teachers.
Tell us about your decision to move from Holland, Michigan, to Baltimore, Maryland, and how it came about.
For a while, I knew that I was called to continue to grow as a Catholic leader. Increasingly, my work extended beyond the school, serving on boards, leading strategic planning and mentoring young teachers. I decided to do a national search and focused on independent Catholic secondary schools. I interviewed throughout the country. In the middle of the process, I spent a few days in Baltimore at Notre Dame Prep (NDP), where I am now the Executive Director of Academics. Throughout the interview process, everyone I met shared a passion for the work – educating young women to transform the world. I left knowing I would be blessed to be a part of the NDP Leadership team. As Executive Director, I lead the inclusivity efforts, which is really an expansion of my work through the LEI.
Before becoming a principal, what was the most unusual or interesting job you've ever had? 
I worked at the University of Michigan Museum of Art as a guard for three years during college. I learned that what appeared to be passive work was an amazing opportunity to observe the human condition. From students rushing to complete assignments in classes they adored or loathed, to the homeless population who simply needed a warm place to stop in for a while, to the amazing Directors and leaders of the museum, each one taught me something I would not have learned had I simply been present to "guard the art". So much goes on behind the scenes. When we opened an installation of Native American Artifacts, we had to host a sacred blessing ceremony, so the local tribal leaders could sanctify the space. It was unbelievable and my role allowed me to be standing close by looking in.
If you could meet anyone in the world (alive or deceased) who would it be and why?
My grandmother, May Drusilla Swan, was the head of the volunteer fire service in North London during WWII. She was knighted by King George. She took Eleanor Roosevelt around London and met the young Queen Elizabeth. I knew her until I was 11, but I would love to have gone around with her as a young woman, single mother, leader, and advocate for those who were often at risk and overlooked. I know she would be deeply invested in the work of the LEI if she had been of our time.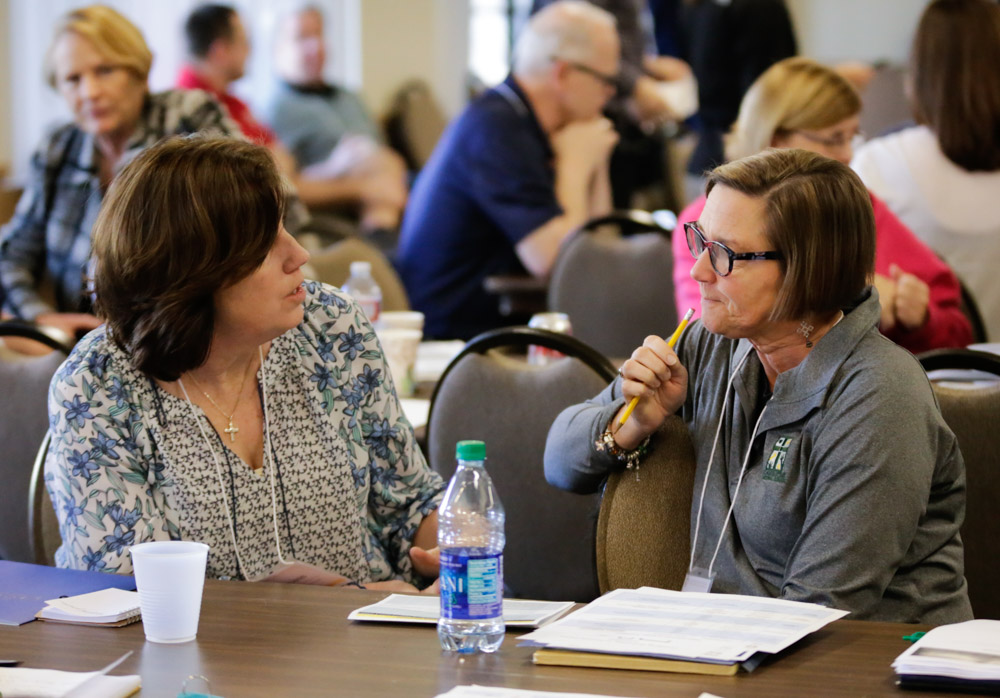 What is the best place you've traveled to and why?
Ireland - more specifically Miltown Malbay, County Clare, Ireland. I was 21 traveling with my aunt before studying at Oxford. In a single day (24 hours), I met cousins who still lived where my mother's family had lived for a very long time. They stopped everything to visit with us, took out their china and served tea. The floor of the home was dirt. Their property, all of about one acre with livestock, was located in the village. That evening my aunt and I ate dinner at a butcher shop and were invited into a "knock" – private pub where you are selected to enter. We got horribly lost in the pitch dark traveling back to our B & B – pulled into a long driveway where a light was on at midnight and were guided home by strangers who quickly became friends. The next day, we went to mass along with the entire town. After mass, everyone walked directly to a pub and gathered in the green space behind - again, along with the entire town. Looking for a family cottage, we asked directions from a stranger who walked with us the rest of the way, only to be greeted by neighbors who shared their freshly baked pie and tea with us. I learned a lot about the golden rule in Ireland.
Where is your hometown and what is one must-see there?
If you know anyone from Michigan, we have multiple hometowns. My hometown is Farmington Hills, MI. But like everyone within range of Detroit, I consider myself a Detroiter. If you are ever in the area, stop into a Coney Island restaurant, and if you have time to spare, get in your car and drive the lakeshore all the way to the top of the mitten. I can usually be found on Mackinac Island or in Harbor Springs. 
Tell us something that might surprise us about you.
When I was younger, public speaking was terrifying to me.  Something clicked by college and I have been comfortable with it ever since.
If you won the lottery, what is the first thing you would do?
If I won the lottery, I would gather my family and create a charitable trust. Likely, I would want to support education and workforce development.
Describe yourself at 10 years old. 
At ten years old I was likely to be found waist-deep in the creek across from my home collecting frogs, or perhaps at the edge of the lake by my cottage doing the same thing. Mostly, I could range in my free time – out of earshot of my parents until "well before dark". I loved to read until past midnight, an indulgence my parents permitted on the weekends. My siblings and I are close in age and spent nearly every weekend up north as a family. We would be on the water during the day and playing cards each night.
---
About Jo Jones and Corpus Christi School
In 2013, under Jo's leadership, Corpus Christi School participated in the Latino Enrollment Institute at Notre Dame to learn how to help their growing Latino population feel more at home in their school, as well as gain new strategies to reach out to and engage more Latino families seeking a quality Catholic education for their children. It wasn't long before Corpus Christi's Latino enrollment reached its highest level in the school's history.
Watch the story of Corpus Christi School's transformation under Jo Jones and some of the little things they did that had a big impact.
If you're interested in learning how to recruit, enroll, and better serve Latino children in your school, as well as work with an incredible mentor like Robert LeGros, consider joining the LEI. Applications are open now!