Mentor principals have played a critical role in the success of the Latino Enrollment Institute (LEI) since the program's inception in 2012. The experience, accountability, and personal attention that these leaders provide has been a defining characteristic of the LEI, helping Catholic school principals—and their teams— institute lasting changes. 
After schools attend the LEI summer conference, mentor principals maintain regular contact with the 4-6 school leaders in their group through monthly video conference calls. These conversations, which focus on various themes related to Latino outreach, recruitment, and enrollment, are an opportunity for school leaders to learn from one another and receive real-time consultation and feedback from their mentor on some of the things that they're doing in their school. 
The commitment of our LEI mentors, most of whom are still active Catholic school principals themselves, is truly the engine that drives the LEI. These Mentor Spotlight pieces are intended to be a fun way to help you get to know these incredible school leaders—both professionally and personally—who dedicate so much of their lives to this mission.
This month, we highlight Patrick Jefferies. Patrick originally attended the LEI in 2015 as a member of Cohort 4. At that time, he had just completed his first year as principal of St. Andrew School in Riverton, Utah. He arrived at St. Andrew a year earlier with a mandate and a plan to turn the school around, which had been experiencing a rather substantial and alarming decline in enrollment. By implementing a number of proven LEI strategies, committing to doing the little things right, and working to restore the trust of the Latino community, Patrick was able to significantly grow his school's enrollment, quickly drawing the attention of the LEI leadership team. Not long after, Patrick joined the LEI team of mentors and has helped guide other school leaders along this same path.
Read the full interview with Patrick Jefferies below.
---
When you came to the LEI in 2015, you said you were already doing some things to reach out to and serve the Latino community, and that the LEI inspired you to do even more. What made you realize that your school needed to serve your Latino community better?
I arrived at my school with a mandate to increase enrollment. My first step was to get to know the parish community, who they were, and how they saw the school. The parish had a strong and vibrant Spanish-speaking community with two of four masses being said in Spanish. One of my first conversations with a parish member who identified as Latinx was that the school was "for Anglos, not for Spanish families." That hit home, especially after I saw that the vast majority of families who left when enrollment dropped were families that identified as Latinx. It was clear that the parish needed a school that was welcoming and open to who they were. This was going to be the key to growing the school.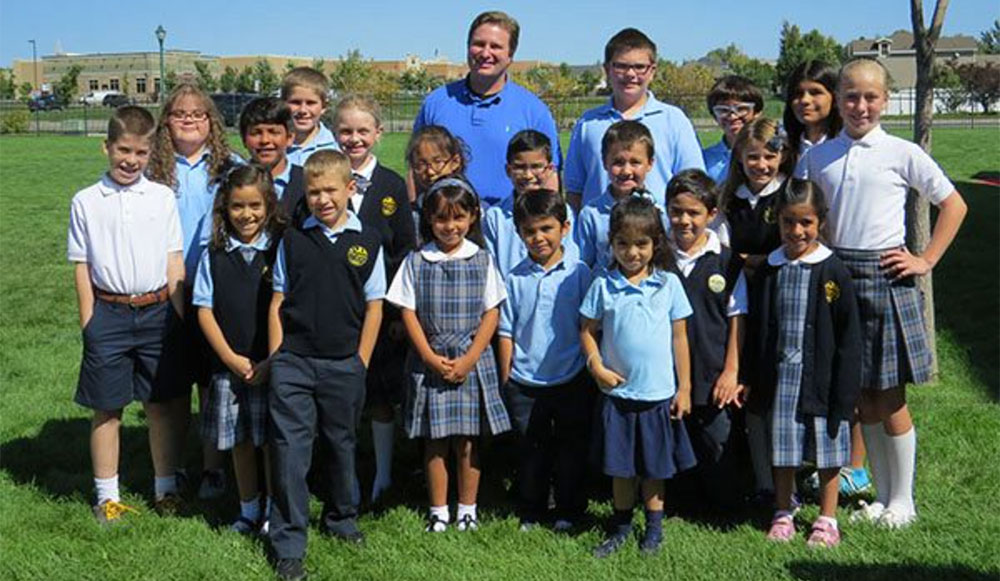 Before becoming a principal, what was the most unusual or interesting job you've ever had?
I was a certified master bagel baker while I was doing my teacher training! I would get up at 4 a.m. and head to the bakery, work until 9 a.m., and head to class. I would head back to the bakery in the late afternoon to prep bagel dough for the next day. It was a ton of fun, but there is no way I could keep those hours now!
After spending some time in Portland, you recently moved back to your home state of Utah. What is something that you realized you missed about Utah on your reemergence into the state? 
After living in a microbrew-centric place like Portland, it was interesting to come back and see the diversity of microbreweries here in Utah. It was surprising how much more diverse the offerings were here. I know no one is surprised that I have an affection for microbreweries, but it was good to see there were good places here.
Your wife works for the hospital at the University of Utah. How has the COVID experience affected your family's life this past year?
When COVID hit, my wife, Kristy, had to switch to working from home and access to her work locations (hospitals and clinics) changed dramatically. She works for the biggest health care system in the state. I went up to the main hospital not long after the lockdown started and it was a weird feeling. Kristy gets to hear the COVID update from the hospital each day, which contains data on cases and predictions that aren't part of the public conversation. I think that made more of an impact to have that information as part of our family conversations (on how we needed to proceed in our daily lives).
Can you tell us something that might surprise us about you?
The most surprising thing would probably be that I performed on stage with the band Weezer in 2008 at a concert here in Utah. I was lucky enough to be selected as part of a group invited to join the band during part of the show. I got to stand right behind the lead singer. It was truly surreal!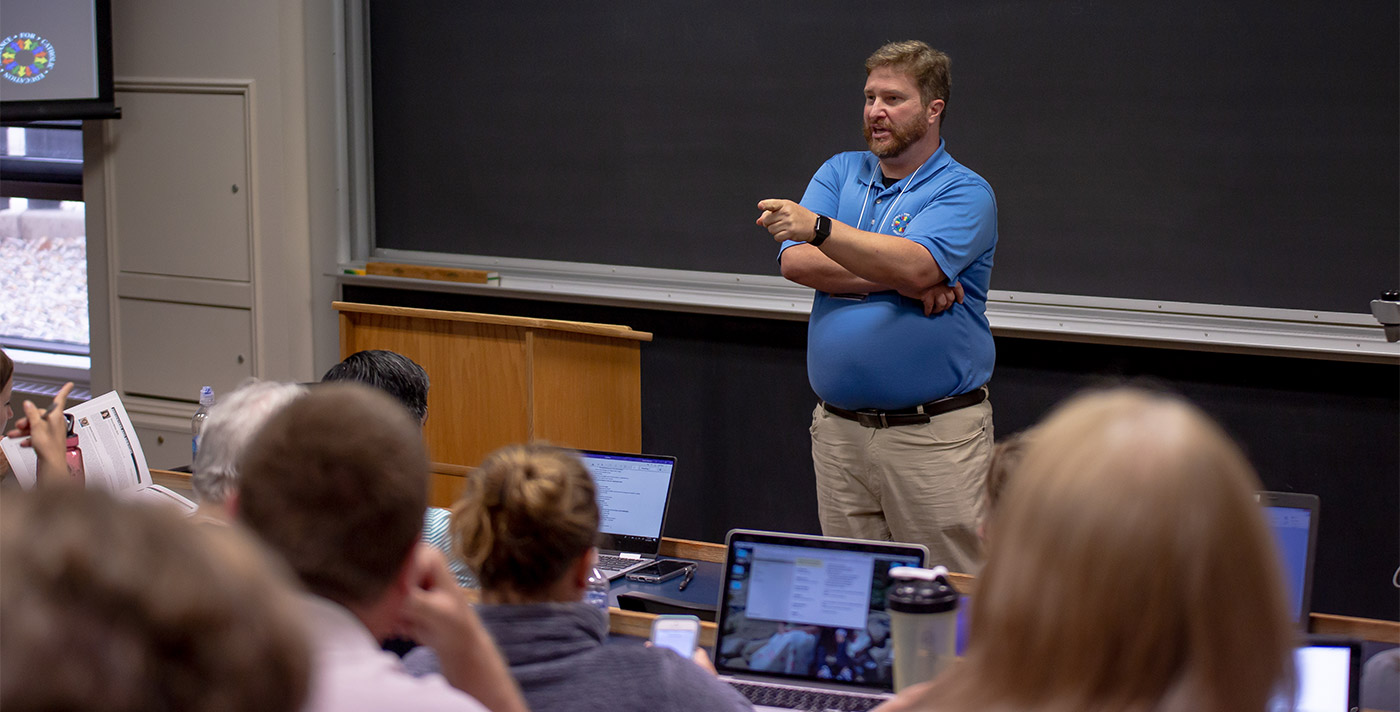 Who is someone who has been a hero to you, and why are you choosing this person?
My father is a hero to me. He is an amazing man who did everything he could for his family. He is imperfect, as all dads are (yes, that means mothers are perfect!), but he was always devoted to doing the best he could for our family. He is an amazing artist and I wish he could have pursued an art career. We have grown closer in the last few years and I truly admire him.
If you could witness any historical event, what would you want to see and why?
Asking a history teacher what historical event they would want to witness is probably one of the hardest questions ever! Do I have to choose just one? If I have to choose one, it would be to witness the celebrations at the end of either of the World Wars in the 20th century. I would love to have experienced the sense of relief and the profound grief they brought. I don't think it's possible to truly understand those aspects from reading histories or watching films of the time.
What is your favorite part about being a dad?
My favorite part of being a dad is getting to help my amazing daughter and son develop into whoever they are meant to be. Each day brings something new and it is a real sense of joy to be so up close to their development. It is challenging to have an almost middle-schooler and 2nd grader, but every moment is worth it.
What is your favorite family vacation, and why?
My favorite family vacation was going to Disneyland when I ran in the "Star Wars Half Marathon and 10k". It was so much fun to get to experience Disneyland with my kids while they were still young. And then an added bonus was to have them cheer me on as I did the 10k and half marathon. Two major bucket list items in one trip!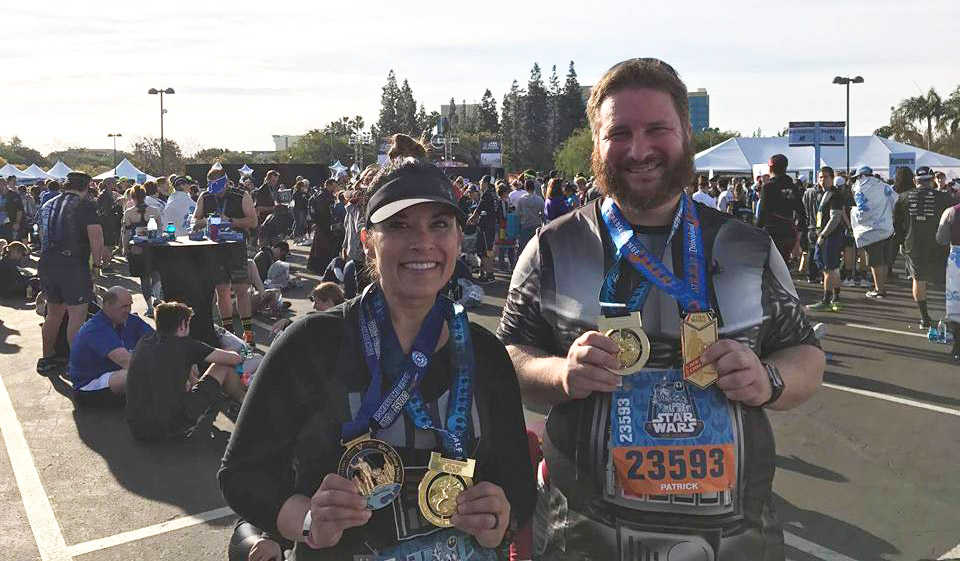 What is the best part of being an LEI mentor?
The best part of being an LEI mentor is getting to work with amazing and talented people. My fellow mentors are some of the most accomplished school leaders I have ever met. I am in awe of them all the time. I am also thrilled to get to work with school leaders from around the country that have so much to offer in Catholic education. Working with committed educators looking to make the world a little more just makes it worth every moment!
---
More about Patrick Jefferies...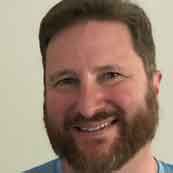 Patrick Jefferies has nearly 20 years of experience in both Catholic and public education leadership. He currently serves as assistant principal of Utah Connections Academy. Prior to that, Patrick was principal of Christ the King Catholic School in Milwaukie, Oregon. He established a modern advancement program to support the long term financial stability of the school. Before that, he was principal of Saint Andrew Catholic School in Riverton, Utah, which opened as a parish school in 2008 and was the newest school in the Diocese of Salt Lake City. It served a diverse community with a large Spanish-speaking community. Patrick has also taught middle school in Catholic schools and has worked at the district level in public education. Prior to becoming principal of Saint Andrew, he was the academic assistant principal at Judge Memorial Catholic High. Patrick received his doctorate in Educational Leadership and Policy at the University of Utah. His research area is on teacher evaluation in the Catholic school context. He also holds a master's degree from the University of Utah and a B.A. from Gonzaga University.
 Check out these additional stories featuring Patrick Jefferies and his work in Catholic schools:
---
If you're interested in learning how to recruit, enroll, and better serve Latino children in your school, as well as work with an incredible mentor like Patrick Jefferies, consider joining the LEI!