Mentor principals have played a critical role in the success of the Latino Enrollment Institute (LEI) since the program's inception in 2012. The experience, accountability, and personal attention that these leaders provide has been a defining characteristic of the LEI, helping Catholic school principals—and their teams— institute lasting changes. 
After schools attend the LEI summer conference, mentor principals maintain regular contact with the 4-6 school leaders in their group through monthly video conference calls. These conversations, which focus on various themes related to Latino outreach, recruitment, and enrollment, are an opportunity for school leaders to learn from one another and receive real-time consultation and feedback from their mentor on some of the things that they're doing in their school. 
The commitment of our LEI mentors, most of whom are still active Catholic school principals themselves, is truly the engine that drives the LEI.  
This month, we highlight Yvonne Schwab, one of our longest-serving mentors in the LEI. Yvonne is the former principal of St. James the Less School in Columbus, Ohio, where she was recognized nationally for her outstanding leadership. She has also served as a mentor principal for the LEI since the program's inception in 2012.
---
You are retired now, but what did you enjoy most about your job as principal?
One of my favorite parts of being a principal at St. James the Less School was attending our end of the year family picnic. I truly cherished getting to know and connect with the 500 or so students at St. James. The bonds we formed throughout the year made our end of year celebration that much sweeter. Plus, I could share my pride in my students and their achievements with their families. On the last day of school, the staff provided hot dogs, chips, and water, and our families would bring additional food to share. Everyone would bring lawn chairs and we would all eat together outside on the grounds. There was a DJ, dancing (which I LOVE), soccer games, and everyone just having fun. It really was a celebration of our diverse little community, and I really miss that.
Before becoming a principal, what was the most unusual or interesting job you've had?
My job before becoming a principal was as a PE teacher. The job itself is not unusual, but it's the reason behind my taking the job that makes it unusual. When you tell someone you are a PE teacher the first thing they ask is, "What sport did you play in college?" The truth is, I didn't play college athletics. I was even cut from my high school team! I was a PE teacher specifically because I was not good at sports. I wanted to make sure that gym class was a place to encourage the less athletic students and not simply a place for the already athletically gifted to shine. So, I made it my mission to impress upon my students the importance of physical activity for their health and wellbeing and not just as a means to succeed in a sport. This was not easy, but it was well worth it.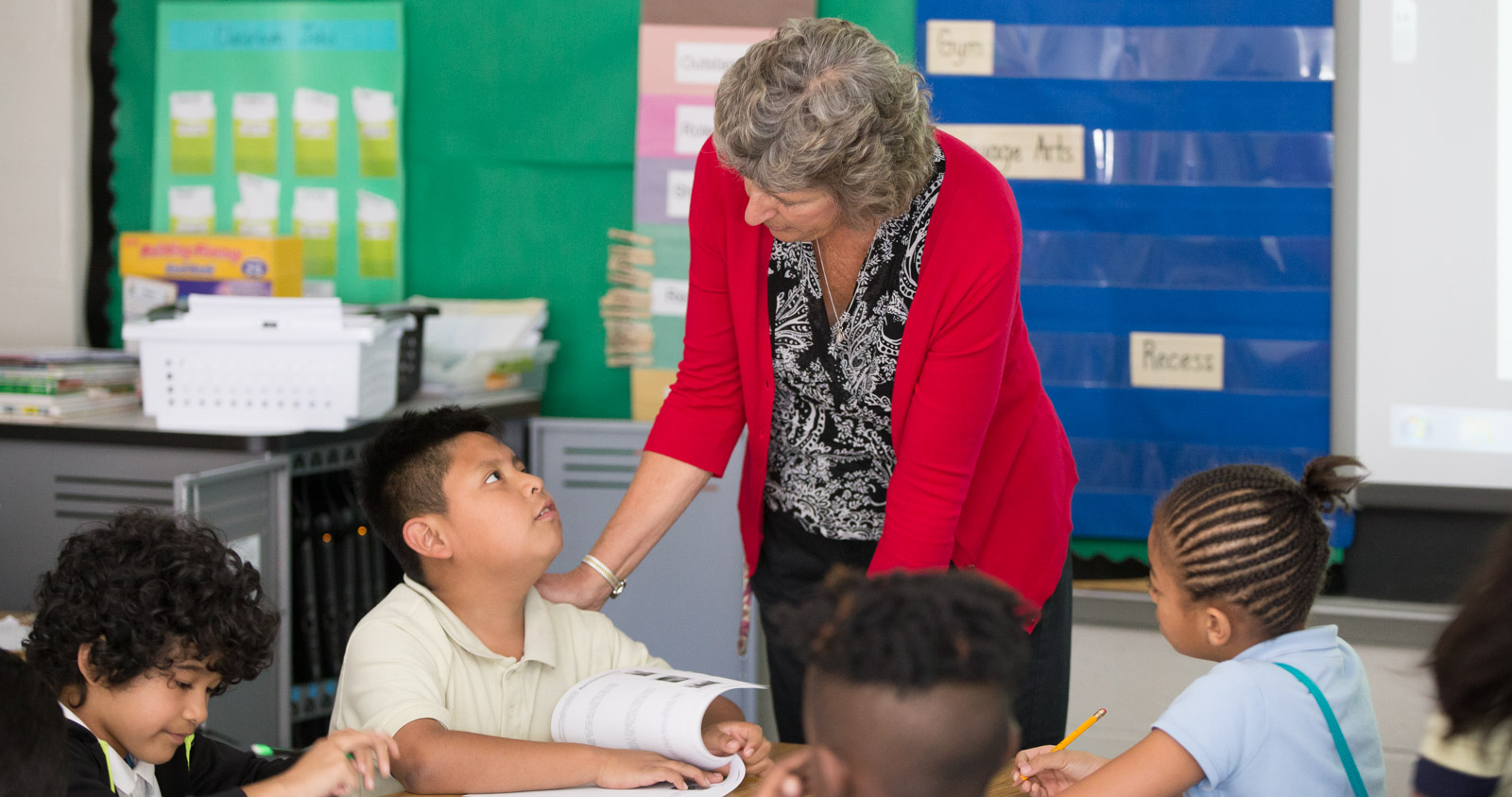 Who is someone who has been a hero to you and why? 
My mother, Bertha Reutman, is my hero. My mom grew up in the Appalachian Mountains. She was one of 8 children - 3 girls and 5 boys. Her mother died in childbirth and as a result, the girls were all sent to foster homes and the boys stayed to work in the coal mines with their father. As an adult, my mother was a waitress because she left school after the ninth grade. But she was determined for my two brothers and me to go to college. My oldest brother is a doctor, while my other brother and I both became teachers. We all graduated from college debt-free because of her determination. I am so thankful and proud to have her as my mother and I know that I wouldn't be where I am today without her.
What makes you especially happy?
I am a social person and am happiest when I am around my friends and my family. I enjoy helping at my friend's school, working on plans with her, and being her sounding board. I take great pleasure with substitute teaching because I enjoy working with the children and being a part of their journey. I also really enjoy camping. You get to see the beautiful natural sights that make up our country and you get the fun and friendly community at the campground.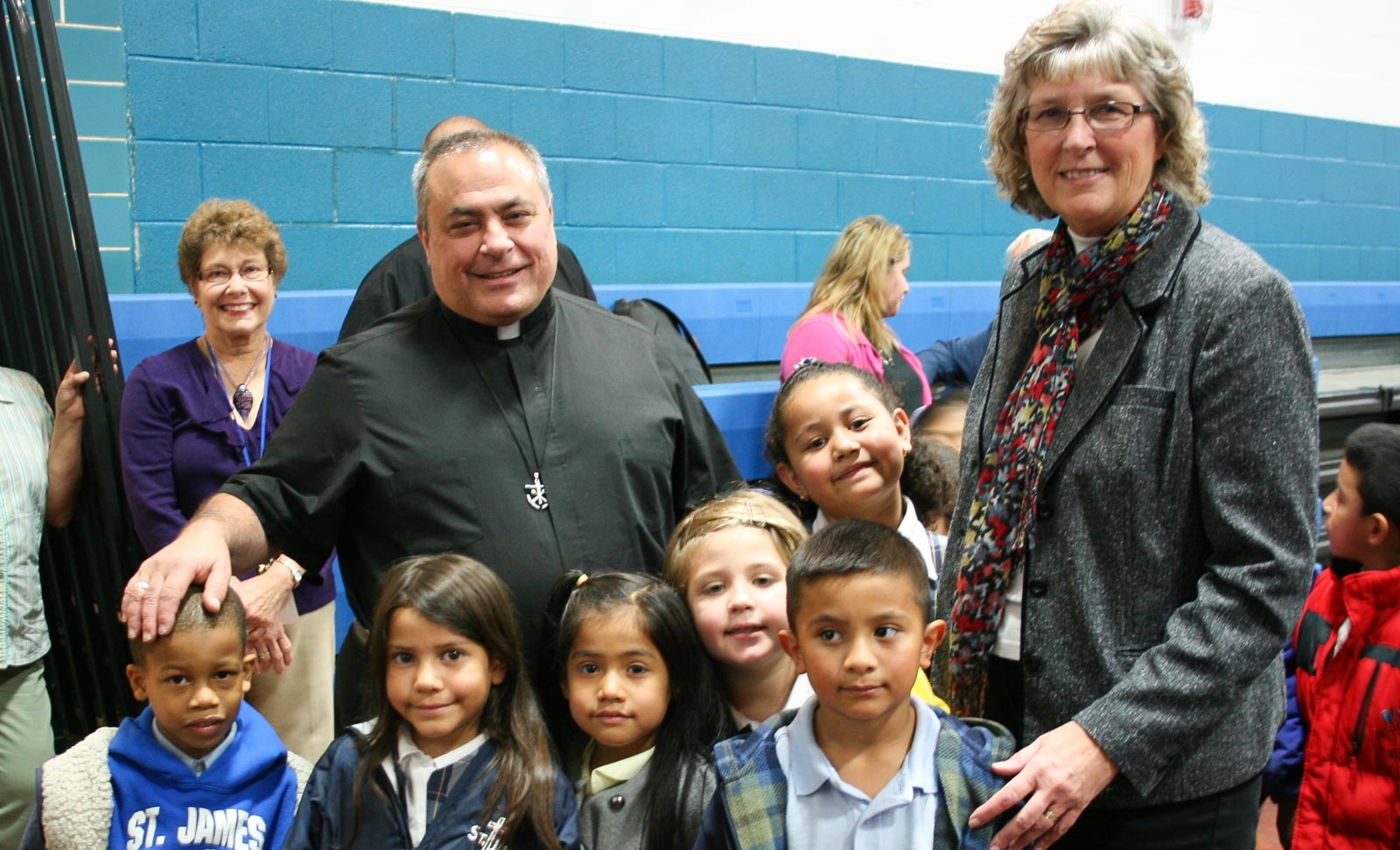 Yvonne Schwab with Fr. Joe Corpora, C.S.C., during a visit to St. James the Less School
What is something that might surprise us about you?
People who know me now may not believe this but I did not talk at all in grade school. I was so quiet that my mother used to wish that I would get a bad grade in conduct because at least then she knew that I would be talking! It was junior high before I really started talking in school and by then my mom regretted that she wished so hard!
What is the most significant impact COVID-19 has had on your life? 
Because of the risk that COVID 19 carries for my age group, I had to make the difficult decision to resign my teaching assistant and substitute teaching positions. This year is the first time since I was 5 years old that I am not preparing to go to school! This major change in my routine has been difficult and somewhat depressing. But, there are positives to being (basically) quarantined. The usual things that everyone talks about - such as now I know all my neighbors' names and I have cleaned every room and closet in my house and donated the items to a local charity. But I have also had the time to have some truly good conversations with God that have helped me through these truly challenging times.
What was your favorite family vacation and why? 
When my children were little, we took many fun vacations to places like Disney World, Myrtle Beach, and the Jellystone Campground near SeaWorld. But as our children have grown up and moved away to Colorado, Virginia, and North Carolina, it's more difficult to find the time for us all to come together. That is why my favorite family vacation was one taken two years ago to Lake Erie. My entire family, including my two sons-in-law and my granddaughter, gathered to celebrate my 40th wedding anniversary to my husband, Paul. We had a "Christmas in July" party complete with presents, games, and a Christmas tree! We also explored a national park, rode roller coasters at Cedar Point, and played in the pool. It was such a special time and great to get back that family fun we had when they were children.

Tell us something interesting about your childhood?
When I was little, my entire family and everyone in my neighborhood called me "Sissie." No one, not even my mom, used my real name. So when I entered first grade, and Sister Maria Goretti, my teacher, called out. "Yvonne," I didn't answer. I had no idea she was talking to me!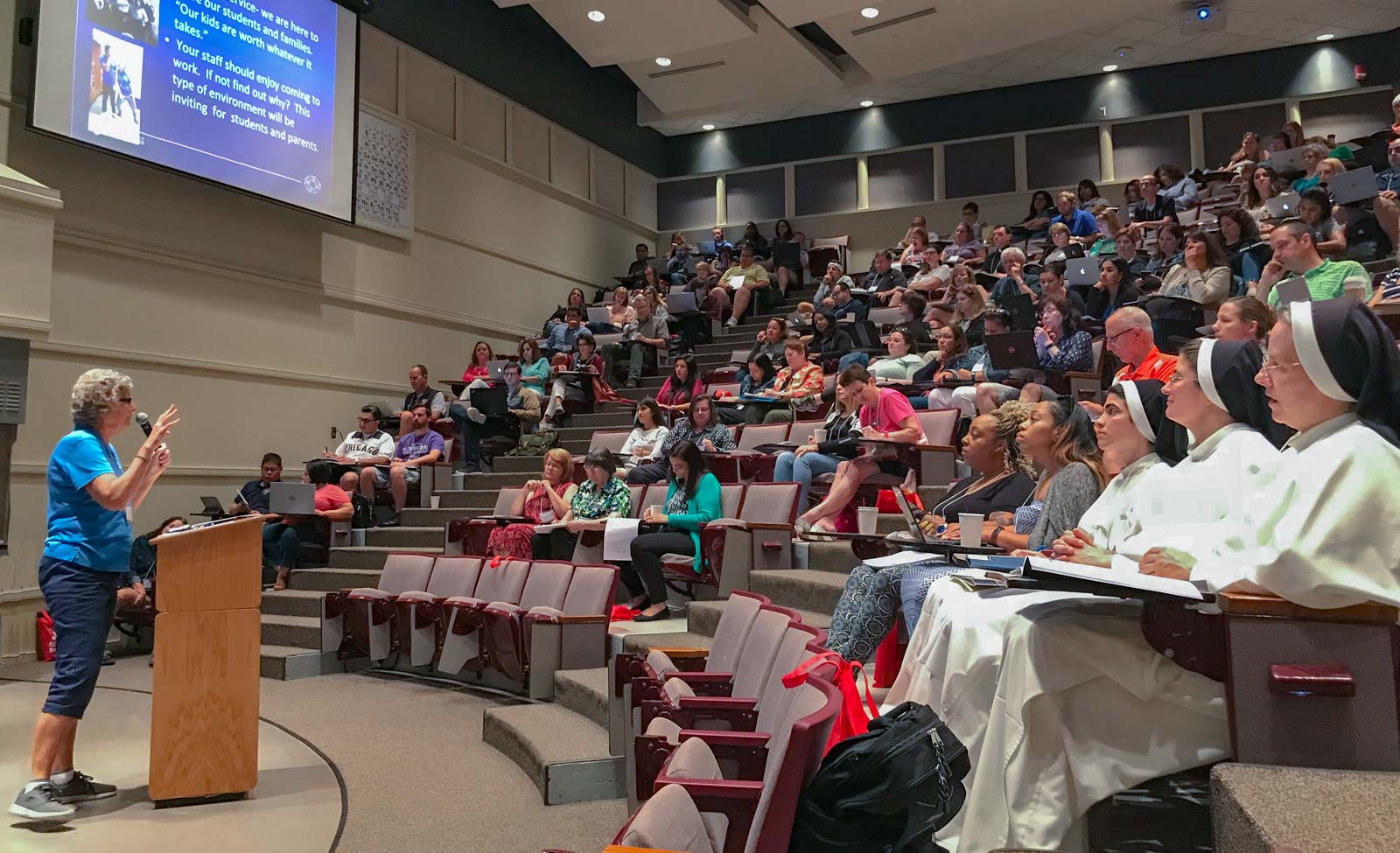 Yvonne Schwab presenting at the LEI summer conference in 2018.
If you could have dinner with any three people in the world (living or deceased) who would it be and why?
I would love to have dinner with Michelle Obama, Teddy Roosevelt, and Robin Williams to thank each of them for making this world a better place. Michele Obama is such an advocate for our children. She made sure that the nutrition programs and free lunch programs continued. She led the "Let's Move!" campaign to reduce childhood obesity by encouraging healthy eating and participation in regular activity. I think she and I would have a lot to talk about since childhood health is a passion of mine as well. Teddy Roosevelt, the 26th president of the United States, was a conservationist and set aside more than 230 million acres of land across the United States for its citizens to enjoy. He believed that as a nation, we should all have equal access to our country's natural splendor. As an avid camper who has been to several national parks, I would love to thank him for all that he has done. Robin Williams was such an amazing actor and I love every one of his movies. He breathed life into crazy characters like Mork from Ork and the genie who lived in Aladdin's lamp. He was so talented he made us laugh in movies like Mrs. Doubtfire and RV and cry in others like Good Will Hunting. He is a man who left this world too early. I would just want to tell him that his work made a difference to people like me and let him know he made a connection with his audience through his craft.
You have been a dedicated LEI mentor for almost a decade now. What motivates you in your role as a mentor?
I love being a mentor! As a mentor, I have grown professionally and personally in countless ways. I learn from each of the principals as I try to help guide them through the demands of our profession and gather from the experiences that each of us has lived through. I may be the mentor, but I gain constantly from other people and the experiences help all of us. Our LEI participants are such dedicated and talented people. I am so blessed to have met them!
---
More about Yvonne Schwab...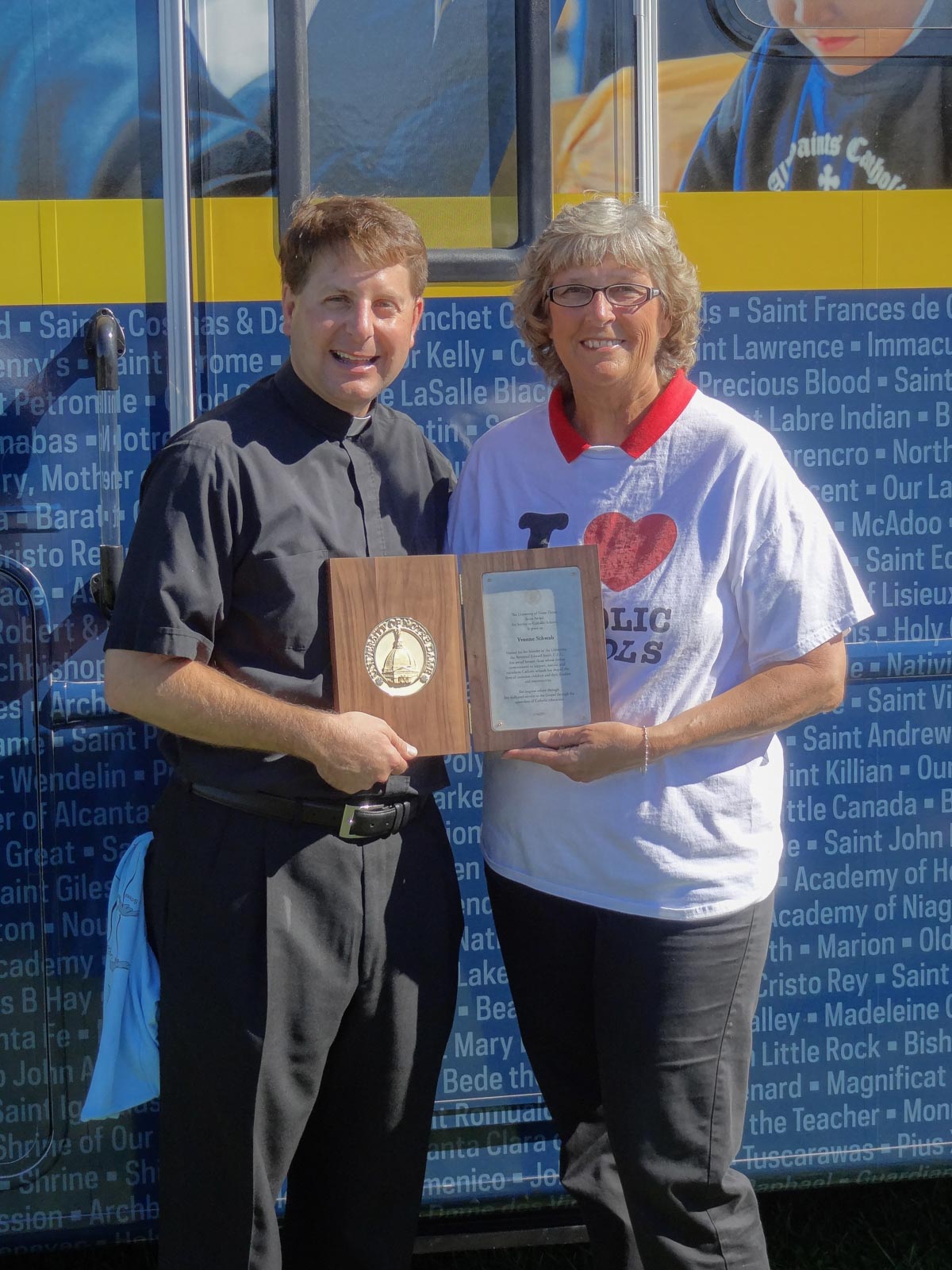 Yvonne Schwab receiving the Sorin Award for Service to Catholic Schools in 2013.Yvonne Schwab has been a tireless advocate for Catholic schools for many years, and she remains one of our most dedicated mentor principals in the Latino Enrollment Institute, serving in this role since the program's inception. 
Yvonne served as the principal of St. James the Less Catholic School for twelve years. At the time she moved into administration, the school's population had been in serious decline. Mrs. Schwab worked closely with the parish administrator to encourage the Columbus Latino population to attend St. James the Less. As a result of her efforts, the population of the school doubled, test scores rose, and the school became a model of differentiation and inclusion. Teachers have been trained to address the needs of bilingual students and children of poverty.
Yvonne Schwab received the 2011 National Catholic Education Association Distinguished Principal Award. She was also chosen as a 2011 National Distinguished Principal Award Winner, an award given to only four private school principals in the country. In 2012, she was named a White House Champion of Change under President Obama's Winning the Future initiative, and in 2013, she received the Sorin Award for Outstanding Service to Catholic Schools from the Alliance for Catholic Education.
---
To learn more about Yvonne's incredible story of service to Catholic schools and the transformation that she led at St. James the Less School, watch the video below.
---
If you're interested in learning how to recruit, enroll, and better serve Latino children in your school, as well as work with an incredible mentor like Yvonne Schwab, consider joining the LEI!