Mentor principals have played a critical role in the success of the Latino Enrollment Institute (LEI) since the program's inception in 2012. The experience, accountability, and personal attention that these leaders provide has been a defining characteristic of the LEI, helping Catholic school principals—and their teams— institute lasting changes. 
After schools attend the LEI summer conference, mentor principals maintain regular contact with the 4-6 school leaders in their group through monthly video conference calls. These conversations, which focus on various themes related to Latino outreach, recruitment, and enrollment, are an opportunity for school leaders to learn from one another and receive real-time consultation and feedback from their mentor on some of the things that they're doing in their school. 
The commitment of our LEI mentors, most of whom are still active Catholic school principals themselves, is truly the engine that drives the LEI.  
This month, we highlight Jeannie Courchene, who has worked in education for over 40 years and has served as a mentor principal for the LEI since the program's inception in 2012. Prior to joining the LEI team, Jeannie served as principal of St. Rose of Lima School in Denver, Colorado, for ten years. When Jeannie became principal of St. Rose of Lima in 1999, the school was in physical disrepair and in dire need of renovations. She and the pastor began the long road to cleaning up the school, while also seeking ways to attract more students. Under her leadership, Jeannie, along with the development board that she established, turned a failing inner-city Catholic school with declining enrollment into an incredible success story. Because of the school's success, especially in serving the Latino community, St. Rose of Lima was the feature school in the University of Notre Dame's 2009 publication, To Nurture the Soul of a Nation: Latino Families, Catholic Schools, and Educational Opportunity, which served as the impetus of the Catholic School Advantage Campaign.
Although technically retired from her role as a school leader, one would be hard pressed to find an individual who gives more of their time, talent, and energy to Catholic schools than Jeannie Courchene. She remains a tireless advocate for the mission to improve educational opportunities for Latino children, and she continues to share her expertise, knowledge, and passion with Catholic school leaders around the country through the LEI. 
Read the interview with Jeannie below.
---
You are currently retired, but what did you enjoy most about your job as a school leader?
I most enjoyed working with the families to find enough financial support to meet their dreams of sending their children to a Catholic school. Building relationships with families and experiencing their openness and willingness to sacrifice for their children was inspiring. The public school alternative in our neighborhood was not meeting their basic needs, let alone their academic and spiritual needs. I also enjoyed interacting with the students on the playground and in the lunchroom, hearing their talk of family, their concerns, and their happy chatter about their lives.
You are well-known for your work with foundations and donors, as well as creating a tuition-flexibility plan for low-income students. What is something else that you and your team accomplished that you are proud of from your time as principal?
The team you refer to was my development board, and they were an idea born of my desperate need for help. Realizing that I couldn't do all I wanted to do for the school on my own, I called a few donors and friends of the school together, and that team became a godsend. We started small and came up with a slogan for our first marketing brochure. It read: We've turned old lumber into computer tables, cardboard boxes into window shades, and hundreds of at-risk children into high school graduates. It's our modest attempt to follow a man who turned a few loaves and fishes into a meal for thousands.  
A few years and lots of hard work later, we all agreed that we had participated in a miracle. With much help from the Holy Spirit, we built a gym in the inner city when all the odds were against us. The archdiocese was justifiably skeptical that we could raise the money and when we did, they were shocked. It was a very grace-filled effort and there was no doubt in any of our minds that someone far greater than us was at the helm. We collectively placed the effort in God's hands and agreed to be His hands one day at a time. When one of us had a doubtful day, there was always someone to revive our hopefulness.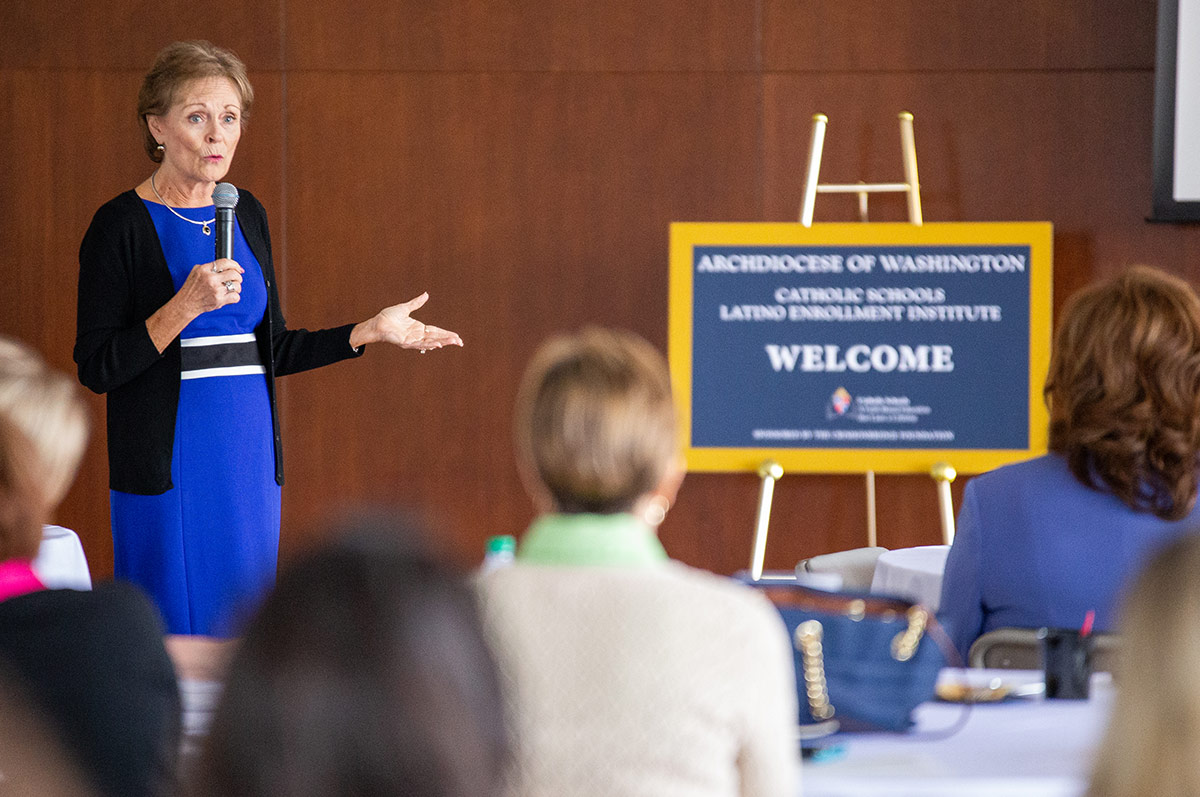 Jeannie Courchene presenting at a regional LEI in Washington, DC
What in life makes you happiest? 
I am happiest when I am with any of my eight grandchildren, and I am so fortunate to have wonderful relationships with all of them. The first seven range in age from 22 down to 13. Over the years we have all skied together, visited Disney parks (without their parents), and spent lots of time in the mountains. We also spent holiday time together despite the distances that separate us. One family lives in Minnesota, one here in Colorado, and one in Germany. Every other year, they all gather in Colorado. The eighth grandchild and newest addition to our family, Aidan, is nine months old. My husband of 50 years, Bruce, passed away in 2019 and we all suspect that he sent this little late-in-life surprise. Aidan lives in Germany, and I miss him!
The pandemic has presented us all with unprecedented challenges and forced us to make changes to our daily lives, but can you think of any positive things or hidden blessings that have come out of this time?
One of the positive outcomes of COVID-19 is that my new grandson, Aidan, has had his dad working from home and his older sister and brother home attending school online, which has given the family the opportunity to bond with that baby in a significant way. I was fortunate to get to Germany in February before they closed their borders to Americans when Aidan was only four weeks old. I had five weeks of bonding time with him. Now I speak to him each morning on What'sApp and he breaks into the biggest smile when he sees me and crawls over to the iPad to give me a kiss. I cannot wait to get back over there to see him in person.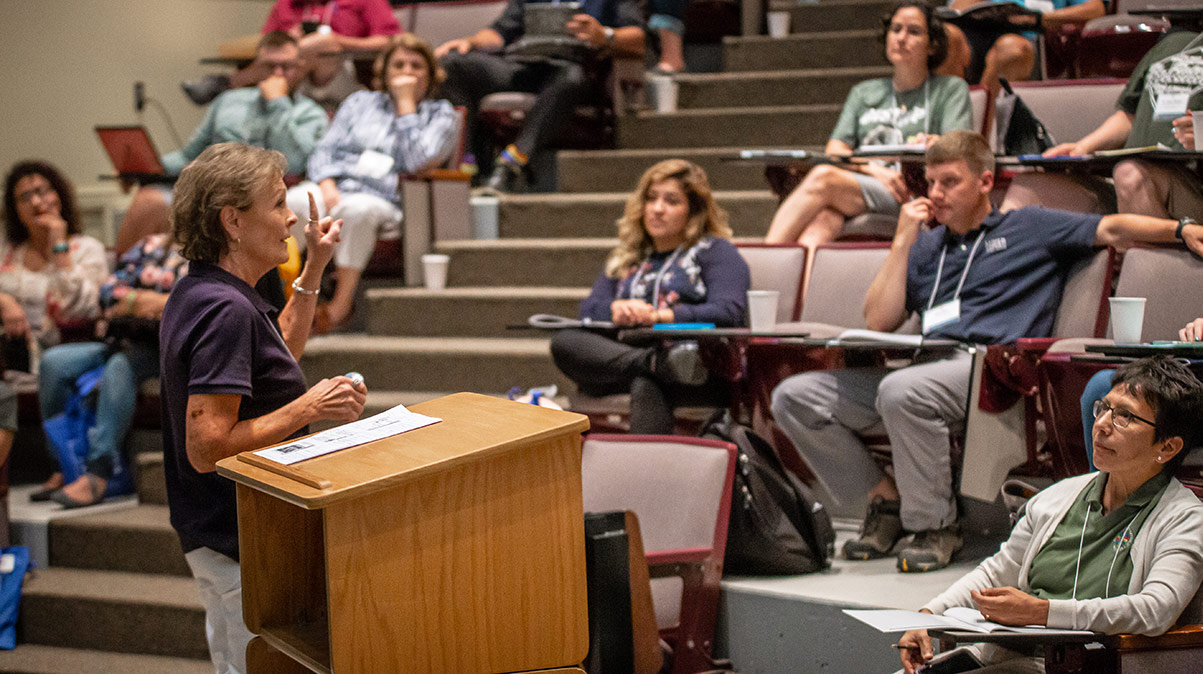 Jeannie Courchene presenting at the LEI summer conference in June 2019
If you could witness any historical event, what would you want to see and why?
I would like to have witnessed Vatican II and participated in that Council. While a student at Loretto Heights College in Denver, Sr. Mary Luke Tobin, SL, was a guest lecturer in one of my theology classes on several occasions. She was the only American woman at Vatican II and the only American woman of the three women religious permitted to participate in the council's planning commissions. She was "on fire" with her passion for what she had experienced there and shared from the documents she had saved from her time at the Council. I believe that she strongly influenced the person of faith I am today. She challenged us to continue to study and inform our faith throughout our lives. But she also encouraged us to use our energy in advocating for peace and justice.
What is is your favorite family vacation and why? 
My favorite vacations were our yearly family ski trips. We raised our three children in Missouri because my husband had a 30-year career at McDonnell Douglas in St. Louis, MO. We spent spring break every year skiing in Colorado. Fortunately, I grew up in Colorado, so my family was there. I can think of absolutely nothing more exhilarating than feeling God's presence and experiencing His vast wonderful creation while skiing down a powdery slope anywhere in Colorado. We'd return each summer for more "mountain time."
Can you tell us something interesting about your childhood?
I grew up in a suburb of Denver and attended Catholic schools through college. At 11 years of age, I started playing the organ for my parish and school. I was a church organist for over 40 years until we retired to Denver. By then most churches had replaced the organs with pianos, and although I played the piano too, St. Rose was more than a full-time job. I did enjoy subbing for the music teacher at the school Mass when she couldn't be there.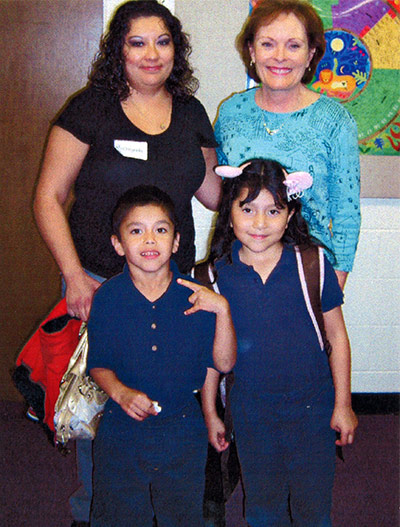 You have worked with many foundations and donors in the past to help out not only your school but the Archdiocese of Denver as well. Are you still active in that area, and if so, can you explain a bit about what you are currently doing?
When I retired, one of my donors asked if I would help coordinate a scholarship program they initiated in nine additional schools to St. Rose. This involved visiting each school twice a year and working with the principal, pastor, and the middle school staff to help these inner-city students select the best Catholic high school for them. I also worked with another donor to help sell the "Fill the Seats" idea to our archdiocese. Both of those involvements concluded this year, so I will have some additional free time.
Who is someone who has been a hero to you and why?
Obviously, from a previous answer, one of my heroines is Sr. Mary Luke Tobin, SL. My current hero is Pope Francis. His choosing to live in a simple two-room apartment instead of the luxurious papal accommodations speaks volumes about his character. I admire his courage in taking on the Italian Curia and many longstanding Cardinals as well as the Vatican Bank, and making long-needed changes with grace and humility. He has personally modeled his leadership on Jesus, calling for simplicity and humility. I read everything I can about him and everything he writes. His encyclicals, Lumen Fideli, Laudato Si', and Fratelli Tutti, are powerful and thought-provoking, especially the third one that was just released. I think he has sparked the greatest impetus for the rebirth of faith since Vatican II. His writings instill the passion for our faith that I felt listening to Sr. Mary Luke Tobin back in the late '60s. And when he shows up in his little economy car following all the limousines of the Cardinals, my heart cheers!
You have been a dedicated LEI mentor for almost a decade now. What motivates you in your role as a mentor?
I love working with principals and helping them think about decisions that will hopefully keep their inner-city schools open and serving our most vulnerable children. I also love hearing their stories and their passion for the families they serve. I believe that the work of LEI could quite possibly be one of the most important contributions to our Church at a time when we need better catechesis for all Catholics, and the best way to do this is to support our Catholic schools. This motivates me to help in any small way I can. I pray every day that our Catholic schools survive, not just in our affluent suburbs, but in our inner cities where they are desperately needed. The pandemic has actually allowed Catholic elementary schools to show public school parents how much more Catholic schools can help their children. For the most part, our schools have shown their ability to continue to serve the greatest needs of our students. I believe the passion of our principals and teachers has been a beacon of light that will attract more students to our inner-city Catholic schools.
---
More about Jeannie Courchene...
Today, in addition to her work with the Latino Enrollment Institute, Jeannie remains an active member of the St. Rose of Lima School Development Board, as well as a consultant to the Martin Family Foundation to provide scholarships to students in urban elementary schools in the Archdiocese of Denver. Her expertise in navigating the financial challenges faced by Catholic schools today has been an invaluable component of the LEI. To learn more about Jeannie's incredible story of service to Catholic schools and the transformation that she led at St. Rose of Lima School, watch the video below.
---
If you're interested in learning how to recruit, enroll, and better serve Latino children in your school, as well as work with an incredible mentor like Jeannie Courchene, consider joining the LEI!