From classroom teaching to fighting fires, Daara Jalili has taken his own path since graduating from Notre Dame and becoming an ACE teacher. He was named one of the Domer Dozen this fall, an award given by the Notre Dame Alumni Association to honor Irish graduates ages 32 and younger for their significant contributions and extraordinary dedication to faith, service, learning and work.
A friend from ACE, Drew Martin, nominated Daara for the award, writing, "Daara is the pinnacle of what it means to be a servant-leader. From teaching, to firefighting, to being a friend for others, his capacity to care for others is unmatched. He also leads by example without ever purporting to know more than others."
We asked Daara a few questions about his journey to Notre Dame, to teaching high school math and science at Cantwell-Sacred Heart High School in Los Angeles, to fighting fires in Sonoma County, California. 
(The interview has been lightly edited for length and clarity.)
What was your reaction to being named one of the Domer Dozen?
I was honored to be in the company of some true accomplished and committed Domers, but I also thought about the people who got me to where I am today. My ACE community, friends and professors in ACE, former teachers, and family - both by blood and in the fire service. These are the people who have made me a better man and modeled a call to service that impels action.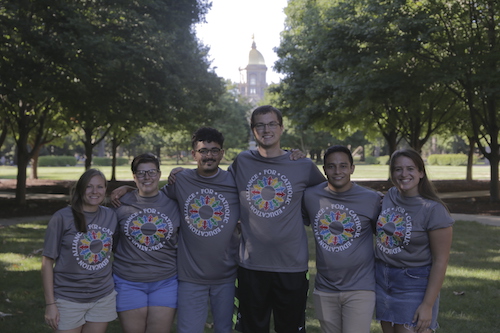 How did you hear about ACE?
I learned about ACE through Matt Rhodes [a Notre Dame grad who was in ACE before Daara.] I was on the rowing team, and he was my captain. He told me about ACE when I was a freshman, and it percolated in my mind for the next four years. Up to that point in my life my teachers were some of my greatest role models, and I wanted to follow in their footsteps.
 
I studied science at ND and have always loved the scientific process, so teaching science is something I wanted to get into. Once I began teaching, I realized I loved working with high schoolers. They have so much personality, and you know they have a sense of humor. The wheels start turning, and they start challenging authority, and where they fit in the world. My kids in East LA, I loved those kids. I keep in touch with a good number of them, and a number of them are engaged in STEM. There's a number of them that are trying to become firefighters.
Where did your interest in firefighting come from?
What little guy doesn't love seeing a fire engine roar by with lights and sirens? I seriously began feeling the call to serve my community when I was 15 years old. Nearby there was a hand crew, a group of 14-20 guys who deployed to wildfires both around the state and locally to fight the fireline. They cut a fireline where the bulldozers can't go. When there are no fires, they complete vegetation management projects. Working outside and making an impact sounded like a great fit.
What changed between being 15 and now?
The Tubbs Fire in 2017 burned down a lot of Santa Rosa. I knew some of those folks affected by it. Then in 2019 when I was living up there, I evacuated for the Kincaid Fire. I wanted to make a direct impact and was done sitting on the sidelines. I began serving as a volunteer firefighter in the county soon after.
Can you describe a day in your life on the hand crew?
At 10 p.m., we get a phone call from the assistant chief saying, "Hey, there's been a order put in for a hand crew, you guys need to roll to this fire." We were up at 2 in the morning so we could make it to a briefing at 7 a.m. You go to the briefing in the morning, you get lined out for your assignment, you drive out to the fire line, and a plan is formulated at the line. In this case, you might cut a handline, or do a firing operation. A firing operation could be putting some proactive fire on the ground that could stop the fire from going over a control line or impacting a community. You could be doing mop up, which is just putting out hot spots. As a nimble resource, we are able to respond to a variety of threats and can operate in a number of modes – so day to day, things are pretty variable.
Being an ACE teacher and being a firefighter might not seem naturally congruous. Have you found any overlap between the two?
There is a certain level of sacrifice. You have to go all in for both programs. You're in for whatever comes onto your plate. I would also say the team aspect and the support aspect. I think the ACE pastoral team in South Bend – we have that level of support on the fire crew. You lean on each other pretty heavily.
An idea that I have always been drawn to is the pilgrimage. ACE was a pilgrimage. Of course, in East LA, I fully invested. But at some point, a pilgrim is a guest or a visitor, and you know you're a guest or a visitor at these schools that are going to continue after you leave. But you have to really be in that place and present in that time as a pilgrim. We're in the mountains (now), but in some way it's a pilgrimage. You're leaving a piece of yourself out there as you work shoulder-to-shoulder with your brothers and sisters.