This story was originally published on Notre Dame's Office of Public Affairs website.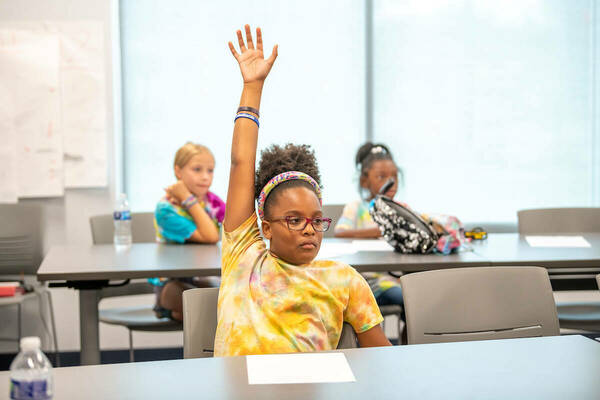 While school was out for summer, kids attending the Robinson Community Learning Center's Summer Scholars camp got a jump-start on the 2023-24 academic year.
The children, going into grades 2-8, reviewed math and literacy material and were regularly tested to monitor their progress. Some kids' test scores climbed 20 to 30 percentage points — with the average gain being 12 percentage points — by the conclusion of the six-week program.
"The program helps students accelerate their learning in the summer so when they go back to school, hopefully they are on or above grade level," Susan Devetski, RCLC's director, said.
The morning portion of the day was facilitated by Alliance for Catholic Education (ACE) Teaching Fellows. Afternoon programming, provided by RCLC staff, also offered the kids fun, creative and often outdoor activities.
The ACE Teaching Fellows Program is a two-year graduate teaching fellowship and formation experience at the University of Notre Dame in which participants serve in under-resourced Catholic schools during the academic year while earning a master's degree.
During the summer, first-year ACE teachers take classes on campus and serve in the community at practicum sites. RCLC was the practicum site for a group of 12 ACE teachers. They worked alongside three ACE cooperating teachers — who graduated from the ACE Teaching Fellows Program — conducting enrichment lessons for local South Bend students while preparing to run their own classrooms in Catholic schools across the country this fall.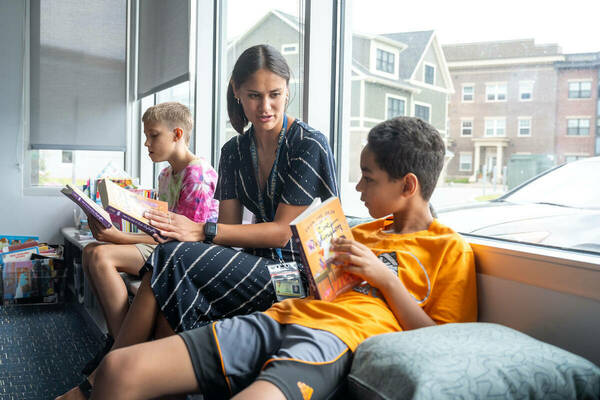 "This is, for most of them, their first experience in the classroom. My role is to mentor the new ACE teachers," Ella Wood, an ACE cooperating teacher, said. "I do a little bit of modeling for them in terms of what it looks like to set up a classroom and run a lesson. From there I observe them as they teach and offer them feedback in terms of how they can grow and improve in their teaching practice before they go to their placements in the fall."
Thirty-two children participated in RCLC's summer enrichment program, which was open to elementary and middle school students in South Bend, with priority given to those who live in the 46617 neighborhood where the RCLC is located.
"Our parents have commented on how much their kids enjoyed (Summer Scholars Camp). The first week, a few kids had a mindset that 'it's summer and I don't want to be here.' But by the third or fourth day they're jumping in and out of their seats, excited for the day ahead," Devetski said.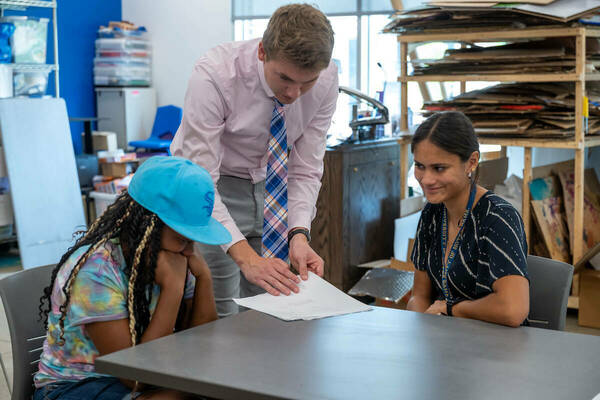 The timing of the Summer Scholars curriculum could not be better. The pandemic disrupted learning for students everywhere, including the South Bend region. Some students could not fully participate when instruction went virtual during the lockdown. Erratic internet connections and/or distractions at home were problematic, and many students experienced lack of motivation as a result of the loss of in-person interactions with peers and teachers.
ACE cooperating teacher Weston Dell described the learning gaps he witnessed as a fellow teaching math at Bishop McLaughlin Catholic High School outside of Tampa.
"When I started as an ACE Teaching Fellow in 2021, there was a fair amount of remediation needed in the math classes I taught at the high school level. Even now, we are not just putting students on a preset curriculum. We look to see what each student needs from us in order for them to get where they need to be," Dell said.
First-year ACE teacher Rachel Ehrhart has observed that post-COVID, teachers are fostering an environment in which students work together to solve problems. It's a method she has adopted.
"It is actually helpful when someone gets something wrong, because then there's an opportunity to go through it all together. We look at being wrong as an opportunity to help the whole class rather than just the individual. It builds that community aspect because we are all figuring it out together. Especially when we are in partner work and one student does not understand the problem — it gives the other student an opportunity to help them through it," said Ehrhart, who will be teaching middle school science at St. Mary's Cathedral School in Miami.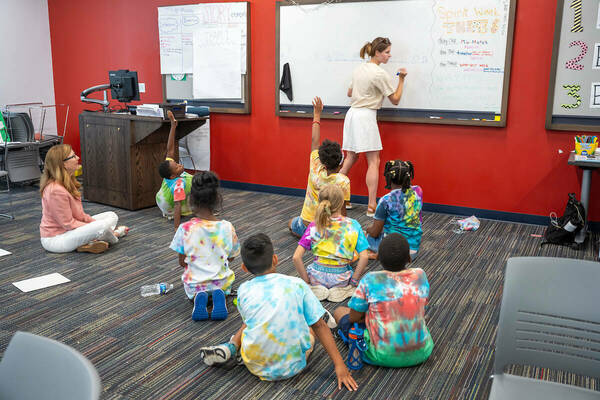 RCLC's partnership with ACE is exciting to Devetski, who joined the center last summer and was named the director in April. As an expert in school design, curriculum, governance and leadership in the field of education, she has had a long relationship with ACE, serving as a faculty member and partnering with ACE as she launched the elementary education program at Holy Cross College. Devetski's motivation as an educator is to help students reach their full potential academically, socially and emotionally.
"This program gives kids the confidence boost they need," Devetski said. "They've had exposure to a variety of topics they'll encounter in the fall. They're hopefully going to go into the classroom and say, 'Oh, I have seen this before and I had someone explain it to me.' Our students got a lot of one-on-one and small-group teacher time here."
RCLC and ACE plan to resume the Summer Scholars program in 2024.
About the Robinson Community Learning Center: The Robinson Community Learning Center is an off-campus educational initiative of the University of Notre Dame founded in 2001 in partnership with residents of South Bend's Northeast Neighborhood residents. RCLC offers early childhood, youth, Shakespeare and adult programming. The center has a state-licensed preschool and is a state-recognized tutoring site. RCLC is located in Eddy Street Commons across the street from its original site. Learn more at rclc.nd.edu/about.