The 2023 Christ the Teacher Award was presented yesterday to Chrissy Trinter, the director of the ACE Ascent Program who teaches mathematics education courses as a member of ACE's faculty. 
Each year, ACE Teaching Fellows Program gives the award to a member of the faculty who "through his or her teaching and interaction with students, exemplifies qualities modeled on the life of Christ that we read about in the Gospels."
As Kati Macaluso, the academic director for ACE Teaching Fellows, said as she presented the award during Mass in Dillon Hall's chapel, Trinter is known as: 
an academic supervisor whose love for instructional coaching and work ethic led her to seek out more of a supervision load in the past year,
a leader described by her colleague and supervisor Sister Kathleen Carr, CSJ, as someone who "holds herself to high standards and invests incredible amounts of time and energy exploring opportunities and resources to ensure the highest quality outcomes," 
and a teacher beloved by her students, not only for her thoughtful instruction in the methods of math education, but also – as her former student and now colleague Bridget Liesman said – for being "someone who combines academic expertise with lived-out devotion and faith."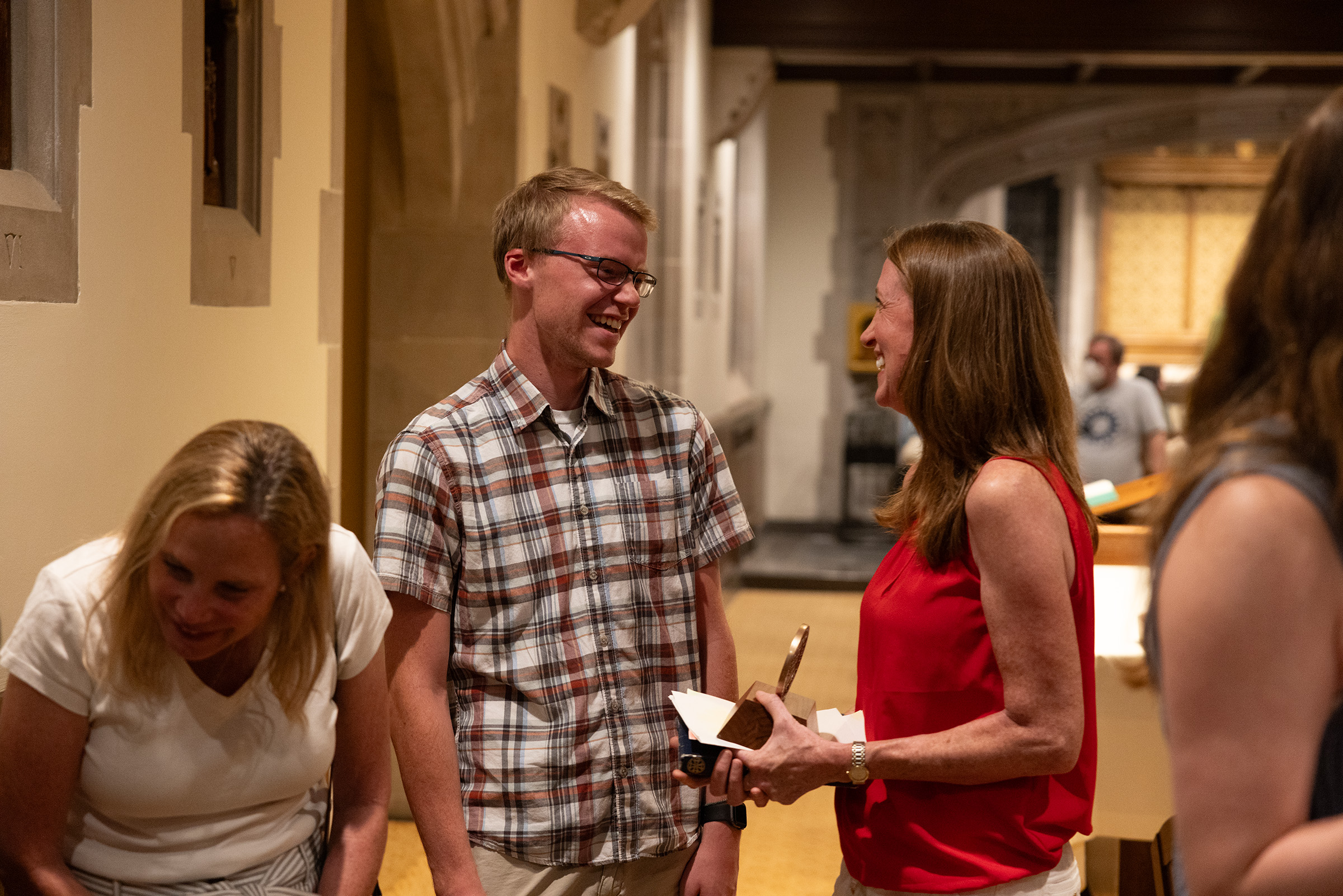 After earning her B.A. from Fordham University, Trinter served in the Jesuit Volunteer Corps then taught in Catholic and public middle and high schools in Massachusetts and New York. She went on to earn an M.A. and a Ph.D. in mathematics education from Columbia University and the University of Virginia, respectively. Her research and scholarship focus on factors associated with teacher development, specifically related to teacher leadership and the integration of Catholic spirituality and mathematics education and the ways this integration contributes to the flourishing of both teachers and students. She joined ACE in 2017.
"I'm grateful to be part of this community," she said. "I've never experienced such a beautiful community of people."
Since coming to ACE, Trinter has launched the ACE Ascent Program, which helps schools and dioceses form master teachers and leadership teams to drive academic improvement in core subjects such as math while enhancing Catholic culture. She is particularly driven to show the intersection between faith, reason, and math.