Lost Classroom, Lost Community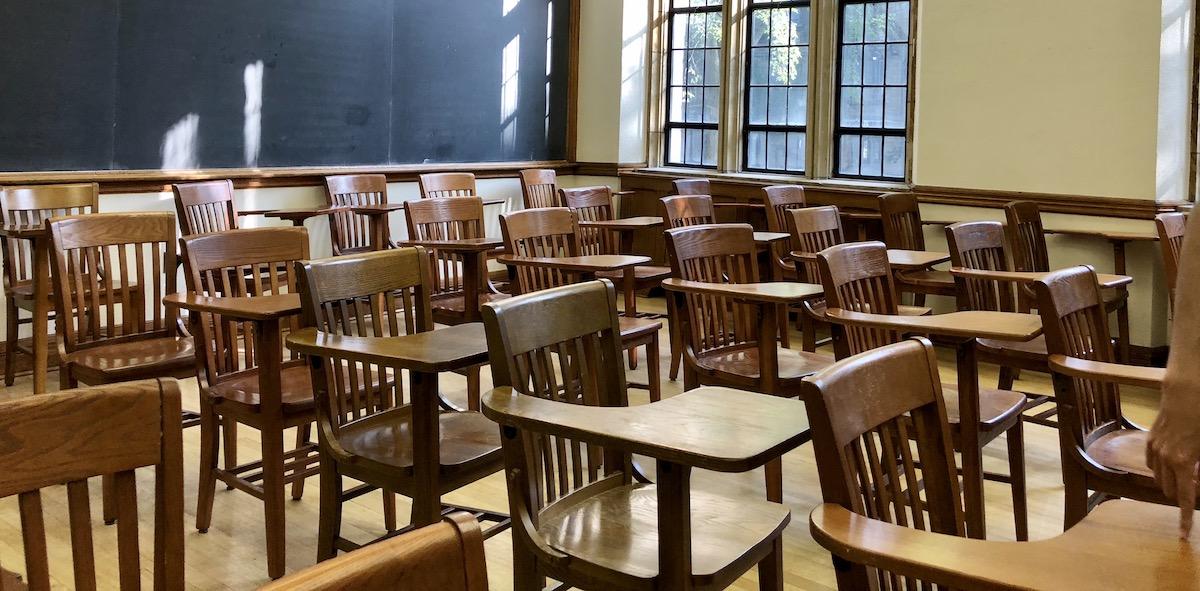 About the Book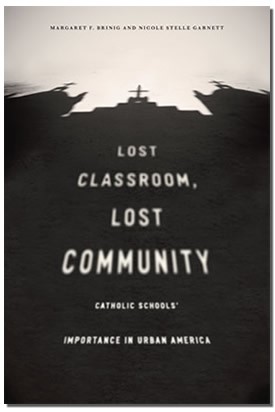 In the past two decades in the United States, more than 1,800 Catholic elementary and secondary schools have closed, and more than 4,500 charter schools—public schools that are often privately operated and freed from certain regulations—have opened, many in urban areas. With a particular emphasis on Catholic school closures, Lost Classroom, Lost Community examines the implications of these dramatic shifts in the urban educational landscape. (See the full press release)
More than just educational institutions, Catholic schools promote the development of social capital—the social networks and mutual trust that form the foundation of safe and cohesive communities. Drawing on data from the Project on Human Development in Chicago Neighborhoods and crime reports collected at the police beat or census tract level in Chicago, Philadelphia, and Los Angeles, Margaret F. Brinig and Nicole Stelle Garnett demonstrate that the loss of Catholic schools triggers disorder, crime, and an overall decline in community cohesiveness, and suggest that new charter schools fail to fill the gaps left behind.
This book shows that the closing of Catholic schools harms the very communities they were created to bring together and serve, and it will have vital implications for both education and policy debates.
Key Data from the Book
Catholic school closures in Chicago between 1984 and 1994 predicted substantial between-neighborhood variance in the levels of social cohesion and disorder in 1995. Using data obtained from a survey conducted by the Project on Human Development in Chicago Neighborhoods in 1995, the authors show that residents of neighborhoods where Catholic schools closed had less cohesive and more disorderly communities than residents of neighborhoods with open Catholic schools.
 
While serious crime declined across the city of Chicago between 1999-2005, it declined more slowly in police beats where Catholic schools closed. In contrast to the city-wide average of a 25 percent decline, serious crime fell by only 17 percent in police beats experiencing a school closures.
 
Between 1999 and 2005, the presence of an open Catholic school in a police beat was consistently associated with a statistically significant decrease in crime. Although the percentage difference varied by year, the crime rate in police beats with Catholic schools was, on average, at least 33 percent lower than in police beats without them.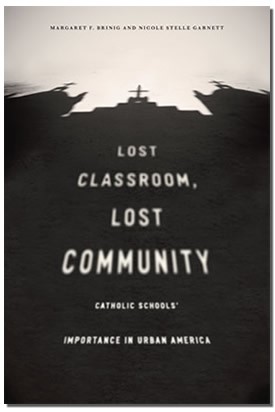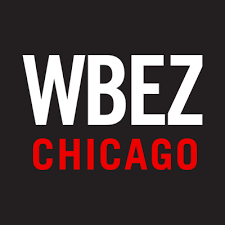 WBEZ, Chicago's NPR station, interviews the authors on October 30, 2014 (14 minutes)
About the Authors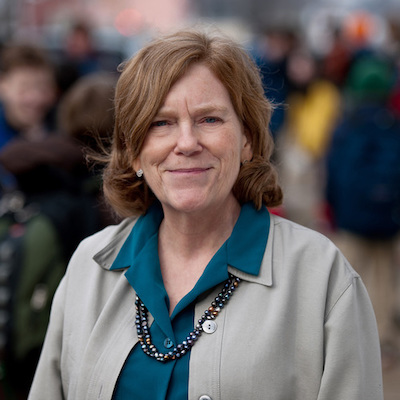 Margaret F. Brinig is the Fritz Duda Family Chair in Law at the University of Notre Dame Law School. She holds a Ph.D. in Economics from George Mason University and a J.D. from Seton Hall University. Her research integrates law and social sciences in empirical studies of families, social capital, and social welfare legislation. She serves on the executive board of the International Society of Family Law and is a Fellow of the Institute for Educational Initiatives at the University of Notre Dame. In addition to more than a hundred shorter works, her most recent book is Family, Law, and Community: Supporting the Covenant (University of Chicago Press, 2010).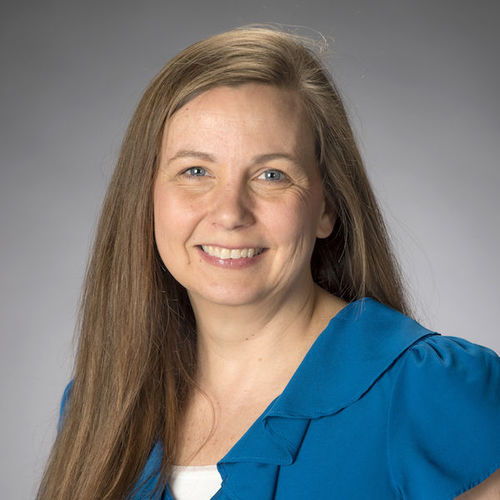 Nicole Stelle Garnett is Professor of Law at the University of Notre Dame. Her teaching and research focus on property, land use, urban development, local government law, and education policy. She is the author of numerous articles on these subjects and of Ordering the City: Land Use, Policing and the Restoration of Urban America (Yale University Press, 2009). At Notre Dame, Professor Garnett also is a Fellow of the Institute for Educational Initiatives and the Senior Policy Coordinator for the Alliance for Catholic Education. From 2008-2010, she served as Provost Fellow at Notre Dame, and, in 2007, was a Visiting Professor of Law at the University of Chicago Law School.
Selected Reviews and Interviews
Sacred Architecture Journal. "A Neighborhood's Quality of Life" by Will Seath.
Journal of School Choice: International Research and Reform. A review of Lost Classroom notes implications from its research for cities like Chicago.
Choice-Connect. This publication of the Association of College and Research Libraries says in a review that Lost Classroom highlights the need to see Catholic schools as impactful community institutions.
Catholic Herald.com. Marquette University's conference on Catholic schools includes discussion with Lost Classroom  authors.
Education Week. "Charters and Choice" blog includes reference and link to WBEZ interview about Chicago school closures and social capital.
Chicago Sun-Times.com, posting review previously published in City Journal from the Manhattan Institute. (Mention in 10/30/14 editorial: See link below in the Additional Mentions section.)
The Washington Post, Interview with Profs. Brinig and Garnett, from RNS
Review: "Lost Classroom, Lost Community" by Nathan Glazer, Education Next magazine
Review: "Lost Classroom, Lost Community" by Michael Sean Winters, National Catholic Reporter
Teachers College Record, reviewed by Karen A. Johnson, Associate Professor of Education in the Department of Education, Culture & Society at the University of Utah
Fordham Institute "Flypaper" blog, Noting the need to recognize the role of Catholic schools in the nation's education reform conversation
EWTN News Nightly, National broadcast conducts interview with Profs. Brinig and Garnett
CatholicPhilly.com, Scholar John DiIulio joins panel discussion on Catholic schools with Profs. Brinig and Garnett 
City Journal, "Irreplaceable," A review by Matthew Hennessey notes the value of Catholic schools in neighborhoods.
AEI Ideas blog, Review by education reform expert Michael McShane
For City Kids and City Neighborhoods by George Weigel, First Things
Sojourners, US Catholic, and National Catholic Reporter post RNS interivew
Religion News Service, Interviews with Profs. Brinig and Garnett
Our Sunday Visitor, William Bole interviews Professor Garnett
Catholic New World, in Chicago Archdiocese, Editor Joyce Duriga interviews Professor Garnett
Radio interview of Profs. Brinig and Garnett on Relevant Radio by host Drew Mariani and a segment with Professor Garnett from Son Rise Morning Show, National Catholic Radio
New book: Higher Neighborhood Crime Follows Closing of Urban Catholic Schools, Catholicculture.com
Additional Mentions:
Media Information
Media may contact Theo Helm at thelm1@nd.edu with questions and requests for interviews.