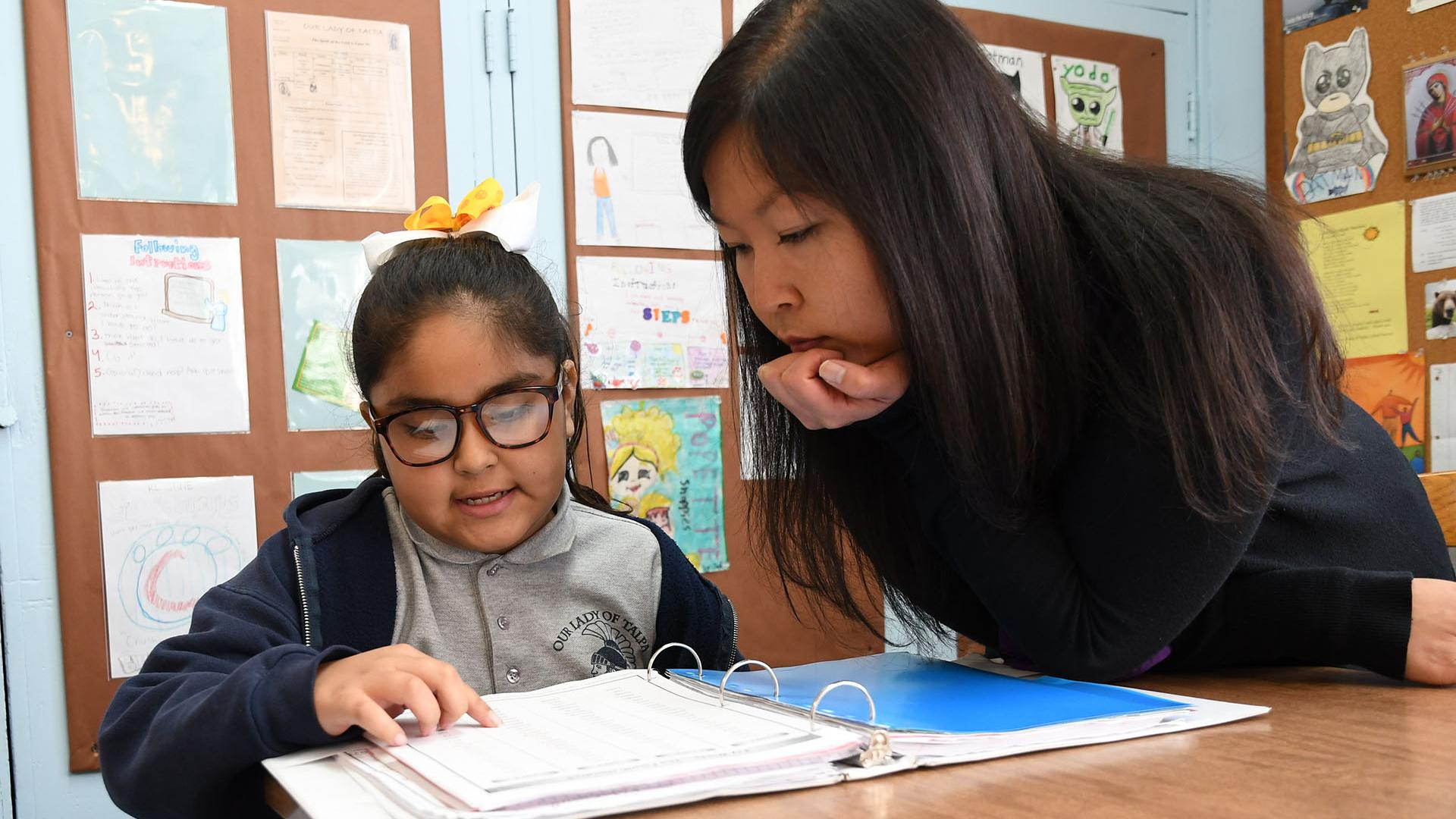 English Learners in Catholic Schools
Our Legacy and Our Future
Catholic schools in America were founded over a century ago to serve immigrant and marginalized communities in a Gospel-centered environment that honors the inherent God-given dignity, gifts, and culture of each child. Linguistically and culturally diverse students deserve to benefit fully from this legacy of Catholic education, which is uniquely positioned to serve their academic and cultural needs.
English learners (ELs), students who speak a language other than English at home, are the fastest and largest growing population in U.S. schools. ELs, often called the "silent minority," now represent one out of every four children in America's schools. According to the U.S. Census Bureau, the Hispanic school-aged population will outnumber the non-Hispanic Caucasian school-aged population by the year 2025. 
The Need
The need for teachers formed in ENL best practice in Catholic schools is urgent. While the number of ELs is sharply rising, the number of teachers and leaders prepared to teach and care for them lags. Researchers in language acquisition, deJong and Harper (2013), report that less than twenty-five percent of teachers have ENL formation, and underscore that teachers prepared to address the unique challenges of language learners is key to the academic success of these students. Catholic schools are faced with an urgent moral imperative to form teachers to affect student retention, motivation, confidence, and academic outcomes–all challenges faced by ELs.
ELs by the Numbers
---
381
Languages that are spoken at home by children in U.S. schools
For the 2009-2010 school year, 80% of Limited English Proficient students spoke Spanish as their first and only language (NCELA, 2013).
7-10
Average number of years it takes an EL to acquire academic language
In contrast, it takes a student 1-3 years to acquire proficiency in social language (Cummins, 1991). Students may sound fluent in English on the playground while experiencing language barriers in the classroom. Consider the role that content-specific academic language plays in lessons and begin intentionally supporting language growth with scaffolding and language objectives.
51%
Increase in the percentage of ELs in schools from 1998-99 to 2008-09
English learners are the fastest growing population of students in the United States (NCELA, 2011).
75%
Percentage of EL students who are born in the United States.
Utilize home language surveys to identify English learners and discover more about a student's home language. Language diversity enriches your school.
Our Response
The English as a New Language (ENL) program at the University of Notre Dame is in its 17th year of serving Catholic education. ENL's mission is to ensure that English learners are thriving in Catholic schools. ENL has a three-strand approach to preparing teachers to meet the needs of English learning students. ENL helps teacher leaders develop expertise in the following:
 
Second language acquisition

Research-based instructional strategies

Culturally sustaining pedagogy
 
ENL's offerings are crafted with the unique needs of Catholic schools in mind, such as the need for a teacher leader with ENL expertise in each school, the need for sheltered instruction practices in which students learn language and content simultaneously, and the need for teachers who nurture the cultural heritage and faith of all students.
ENL conceptualizes its outreach and impact levels with a theory of change that is tiered according to depth of contact, with the Hernandez Fellows licensure program being the most impactful for school level change. We invite you to explore our website and learn more about the comprehensive suite of services and resources offered by the English as a New Language program.
---