Join us in taking a look back at one Catholic school's celebration of Black History Month, and continue reading for suggestions on extending your celebration throughout the year.
On the second Friday of Black History Month, the humming of change could be felt throughout the walls of Holy Cross Grade School in South Bend, IN. Students, teachers, parents, and members of the local community gathered in honor of Black History Month to celebrate Mass, listen to poetry and music, and enjoy a shared meal prepared by Executive Chef Calvin Metts and his team at the Morris Inn at Notre Dame. While the celebration took place at school, it was a gathering of the local community and highlighted the importance of engaging community members in school celebrations.

In the morning, students, teachers, and parents gathered in church for Mass. Holy Cross priest Fr. Tom Zurcher and school pastor Fr. Jim Fenstermaker, along with special guests Deacon Mel Tardy and Deacon James Summers came together to celebrate a Mass that highlighted St. Josephine Bakhita, a Black saint who loved creation and marveled in the beauty of the sunrise, sunsets, and flowers. As they processed in, a student carried in an original painting of St. Josephine Bakhita created by Holy Cross art teacher Zack Okello. The painting was on display at the front of the church throughout the Mass, and it even served as a helpful teaching tool for Deacon Mel, who referenced the flowers in the painting as a sign of St. Josephine's love for creation during his homily.
"Every month should be Black History month in Catholic schools. But, in February, we celebrate in a special way, marking with purpose all the ways God has been and continues to be at work through our Black students and the community."

"How many of you want to be saints?" Deacon Mel asked at the start of the homily. After students, teachers, and parents raised their hands, Deacon Mel shared about the life of St. Josephine Bakhita and reiterated throughout his homily that God had a plan for St. Josephine, just like he has a plan for everyone who was present in the church that day.

Following Mass, the community moved to the school gym for performances by students and special guest singer Pamela Harris. The second grade class took the stage first to recite the words from poet and award-winning author Amanda Gorman's book Change Sings. The students' voices proclaiming the poem in unison was such a powerful experience that after the closing line—"Won't you sing along?"—a student in the audience was moved to cry out, "Yeah!" Julie Van Meter, the music teacher, and guest vocalist, Pamela Harris, promptly answered the call by leading the entire community in Lift Every Voice and Sing, which the school had been practicing in preparation.
 


School pastor Fr. Jim Fenstermaker and art teacher Zack Okello then presented Chef Calvin Metts with a painting of St. Josephine Bakhita to thank him and his team for providing lunch for the school community. In addition to Mr. Okello's painting of St. Josephine, student depictions of St. Josephine were prominently displayed near the stage at the front of the gym.


"We recently celebrated St. Josephine Bakhita's feast day so a lot of the students know about her," said Mr. Okello. "We didn't just choose any Black saint, but we chose her because her story is still fresh, even now. Black History Month is about learning about Black excellence, so I started by teaching the students the story of St. Josephine, and then the students worked on drawing and painting."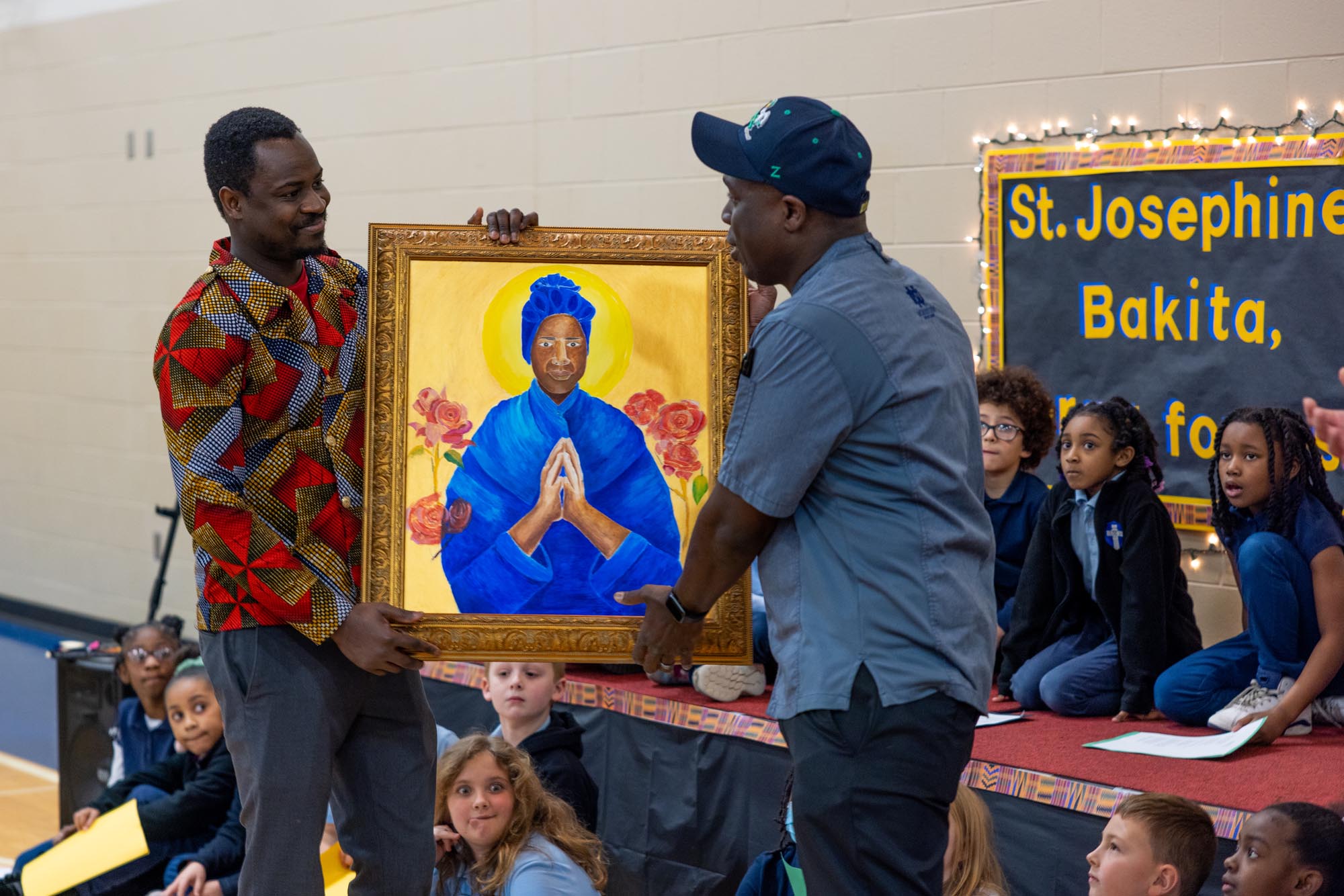 Chef Calvin and his team served Nigerian food, including braised beef, farro in jollof sauce, and roasted carrots and plantains. Chef Calvin was so excited about participating in the celebration that he took the day off of work to serve lunch and visit students' classrooms.

"My grandmother was a teacher's aide and we were with her all the time for holidays," Chef Calvin recalled. "She would prepare breakfast and lunch for us, and I started cooking because I was the little kid who was always hungry."

Getting to serve lunch for the students was an important way for Chef Calvin to honor Black History Month. "I really enjoy connecting with the community," Chef Calvin said. "The biggest thing for me is ensuring that we're being a blessing for everyone else and we had to come out to celebrate Black History Month. Holy Cross keeps asking, so I keep coming."
 


The Mass and shared celebration was just one of many ways Holy Cross celebrates Black History. Throughout the month of February, members of the community are invited to come and read a story or lead a discussion with the students. There's at least one visit scheduled for every class at every grade level, including local judges, college professors, police officers, artists, and Holy Cross graduates.   

According to Gail Dukes, longtime librarian at Holy Cross, "Every month should be Black History month in Catholic schools. But, in February, we celebrate in a special way, marking with purpose all the ways God has been and continues to be at work through our Black students and the community."  
 
---
Suggestions for Celebrating Black History Throughout the School Year:
Invite, involve, and engage members of the local community to be part of your school activities and events. For example, you can invite parents or members of the community to be guest speakers or classroom readers.
 
Eat and sing. Take a look at the menu for school lunches or special celebrations and see if there are days when you can incorporate the cultural foods and culinary talents of parents or community members. Consider inviting a local singer to cantor at Mass or perform at a school event.
 
Highlight a Black saint or saints in prayers and Masses. Holy Cross School highlighted St. Josephine Bakhita during their Black History Month Mass because her feast day was on February 8th. On March 30th, we remember the legacy of Sister Thea Bowman, who was the first African American to join the Franciscan Sisters of Perpetual Adoration in Wisconsin. 
 
Celebrate the talents of Black Americans through artwork and performances. In art class, share the works of Black artists such as Robert Seldon Duncanson, Alma Thomas, or Jean-Michel Basquiat. Learn about the artists' lives and the inspiration behind their art, then have students create their own artwork inspired by these famous artists.