A recent observation of a K.W.L (What I Know, What I Want to Know, What I Learned)  session in a seventh-grade Spanish class provided the inspiration for our December 2022 post. In preparation for the Feast of Our Lady of Guadalupe on December 12, these students were discussing the story of Our Lady of Guadalupe's appearance to Juan Diego at Tepeyac Hill in 1531. As part of the K.W.L. exercise, students shared their wondering questions about who Our Lady of Guadalupe is and what her message was. This class asked some truly thoughtful questions! Their inquisitive conversation provided interesting insight into ways that Our Lady models building inclusive connections.  
As we begin the Advent season this year, PIE is excited to share a few lessons from Our Lady of Guadalupe with the help of our ENL colleagues, Sarah Butch and Kenna Arana. Many thanks to Sarah and Kenna for their expertise!
---
Our Lady of Guadalupe met Juan Diego where he was. As teachers, we need to meet our students where they are.
One of the stunning elements of the story of Our Lady of Guadalupe is the great attention to detail apparent in the image Our Lady left on Juan Diego's cloak. The famous image has been studied and analyzed for the rich cultural and symbolic relevance of everything from her appearance to her clothing. Much like other apparitions of the Blessed Mother, Our Lady of Guadalupe appeared to Juan Diego in a form that he recognized. She also spoke to him in his native language. Undoubtedly the familiar appearance and words Our Lady used helped put Juan Diego at ease in their encounter. As we consider building relationships with our students, Our Lady's efforts to approach Juan Diego with familiarity can provide some inspiration. We don't necessarily need to dress like our students, but efforts to truly see and know them can foster comfort and trust. 
In the classroom, it's essential that our students see themselves and their cultures represented in our lessons. One way we can do this is by providing our students with access to texts and resources that are a reflection of who they are. Betsy Okello's We Are All Readers and Writers series is a great resource that spotlights books with diverse characters for students of various grade levels.
We can also establish a culture that allows students to struggle, make mistakes, grow and be supported where they are academically. Texts that explore physical and learning differences also help to affirm the belief that we can all grow. 
Our Lady of Guadalupe recognized Juan Diego's capabilities and challenged him to step beyond his comfort zone and provided the support he needed. As teachers, we need to follow her example and empower our students to practice new skills and stretch themselves in the classroom.
Another beautiful element of the story of Our Lady of Guadalupe is that she appeared to a man not expected to be the bearer of her message. Juan Diego was a humble Aztec man who appeared inconsequential to those around him. When he first approached Bishop Zumarraga at Our Lady's request, the bishop refused to acknowledge Juan Diego's message. Our Lady provided the proof that Juan Diego needed to convince the bishop by giving him roses and imprinting her image on his cloak. 
In the classroom, we can provide our students with confidence and opportunities to be partners in learning and leaders. We can do this by asking our students to share their gifts and talents with their peers:
Pair older students with younger students as reading or Mass buddies

When your students complete a class project, invite another class or grade level to do a class gallery walk and learn from your students about their projects

Leverage students' interests and expertise. For example, if you're learning about frequency, wavelengths, and oscillation, tap into students' interest in music by having them share their favorite songs and determine the connection between their song and the class concepts
Our Lady of Guadalupe persisted in calling Juan Diego to fulfill his role in building God's kingdom on earth. As teachers, we are concerned with content mastery, but we are also focused on helping students find and answer God's call in their lives.
In addition to the intentionality of her appearance, language of communication, and selection of a humble messenger, Our Lady of Guadalupe modeled persistence in her mission. Our Lady appeared to Juan Diego numerous times in order to establish a relationship with him and share her message. When the local Bishop asked for signs to confirm the truth of his message, she also provided miraculous signs to support his understanding and belief. 
According to tradition, Bishop Zumarraga had prayed for Our Lady to intervene in a tense situation with the native people. In his journal, the bishop requested a sign that would indicate his prayers would be answered. He specifically asked for roses from his homeland of Castile, Spain. When Juan Diego returned to the bishop a second time, he carried Castilian roses with him in his cloak. It is miraculous that he found these growing in Mexico in December, but the roses were not a simple decoy to hide the miraculous image. They were also a personal message from Our Lady of Guadalupe to Bishop Zumarraga in response to his private prayer. 
Just as Our Lady persistently appeared to Juan Diego until he successfully accomplished her mission, we as teachers are called to persevere in guiding our students along their academic and spiritual journeys. 
It is our role to find ways to provide good quality Tier 1 instruction and Tier 2 interventions, and in some cases to deliver individually designed Tier 3 supports for our students that need the extra support. 
It is also our role to lead by example, model our faith in the classroom, and to provide opportunities for students to experience God's presence in their lives. As we begin this season of Advent, consider starting class with a prayer of thanksgiving for the coming birth of Christ or a brief reflection on hope, peace, love or joy.
Our Lady of Guadalupe also offers an interesting example of Universal Design for Learning (UDL).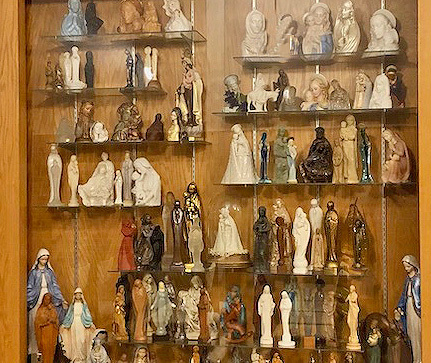 St Mary Catholic Church in Spring Lake, Michigan, has a side chapel with a beautiful collection of images of Our Lady from around the world. The image Our Lady of Guadalupe chose to present herself to Juan Diego is one of the many beautiful and diverse cultural representations of Jesus' mother treasured by Catholics around the world. No matter what image we see or feel a connection to in all that she does, Mary continues to point us back to her son. In fact, in everything we read about her in scripture and tradition Mary finds numerous ways to point us to Jesus remaining us to "Do whatever he tells you." (John 2:5)
As teachers, we too can embrace the UDL principles of multiple modes of engagement (written word, spoken word, images) and also representation (through a variety of images and media) to help our students access the important information we aim to help them learn. Especially when it comes to helping them learn about and ultimately internalize the Catholic faith!
 
---
Register here for A Little Slice of PIE and hear more from the ENL team on Tuesday, December 13, 2022 at 7 pm EST.  
Interested in becoming an inclusive educator? PIE 7 Applications are open! Apply on the PIE Website: https://ace.nd.edu/programs/inclusion/apply