The Program for Inclusive Education (PIE) is grateful to have mission-driven inclusive educators participate in the PIE cohort program. Across the years, our cohorts have been blessed with diverse participants – teachers, principals, paraprofessionals, and resource directors and coordinators. Kristin Venberg completed our 4th cohort and continues to do God's work of reaching out to the margins and supporting students with different abilities. We are pleased to share her perspective on the critical role of parent involvement. Many thanks to Kristin for her story and for saying yes to inclusion!
~Christie Bonfiglio, Ph.D.; PIE Director
---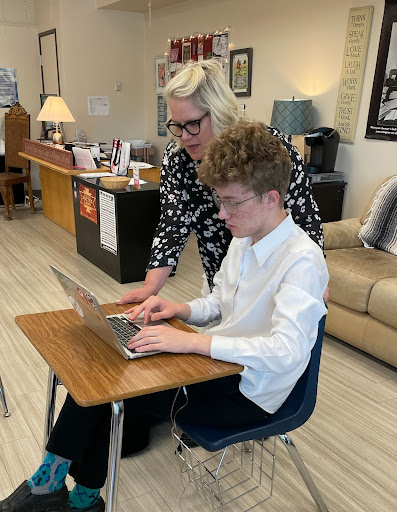 Do nothing from selfish ambition or conceit, but in humility count others more significant than yourselves. Let each of you look not only to his own interests, but also to the interests of others. (Philippians 2:3-4)
We spend so much of our time and energy planning, solving problems, and supporting our students and teachers that sometimes we forget another important partner – parents. Parents want the best for their children. Parents worry, celebrate, and are one of their children's (and our) biggest cheerleaders. Parents also want to know how they can support our work and their students outside of school. This is especially true of parents with children who are neurodiverse. Good parent relationships are key to successful progress with our students. It truly does "take a village." 
Recently, I was reminded of this when I received an email from a parent after a presentation I conducted about my school's Academic Resource Center (the ARC) to our Mother's Guild. My presentation shared tips and strategies to support student academics and different methods to study. The information shared was for all types of learners, including those who are neurodiverse. As we know, when we make learning accessible to all, all students prosper. Her email also reminded me that both our students and our parents want to be empowered, appreciated, and accepted. 
The email read:
This evening was the first Mothers' Guild meeting I've attended. I cannot express how grateful I am that I chose to attend the night of your outstanding presentation. You see, I have been feeling so worried about my son's progress in school lately. He recently started visiting the ARC every Tuesday and Thursday afternoon. I remember the night before he visited the ARC for the first time. He was feeling especially discouraged and tearfully stated, "Mom, there isn't one teacher who cares about me." When I picked him up at school the next day, he said, "Mom, it went really well. She is so kind, mom. And she really cares, I can tell."
Initially, my son was very reluctant to visit the ARC. He was in special education from preschool-seventh grade. He dreaded going to resource class and told me how worried he was that others would think he was back in special education again if he attended the ARC. He now has a very different opinion and needs no coaxing to visit. Last week he was invited to a ski trip with friends but told the parents, "I can't leave until after 4:30 because I'm going to the ARC."
Thank you for helping my son feel confident and successful again at school. I've seen the transformation in him even though it's only been a few weeks.
Thank you for giving me strategies and resources to support him at home and ensure that he thrives academically. I felt like you were speaking directly to me, as I could relate to so many scenarios you shared. I took notes while you spoke… I've learned so many great tips tonight; I can truly say my cup runneth over with gratitude.
As much as she was grateful for the information and the care her son received in the ARC, I was equally as grateful for her, and her support of her child, our school, and the positive parental partnership. Her son continues to flourish because he is loved, supported, and included by the school and his parents.
---
The Program for Inclusive Education is grateful for the much needed collaboration between educators and parents. For additional conversation about positive parent participation with Kristin and the PIE Team, join us for A Little Slice of PIE on Tuesday, May 10th @ 7 EST.