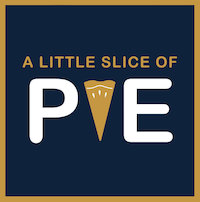 Join the Program for Inclusive Education (PIE) each month for "A Little Slice of PIE"! You'll meet members of the PIE Team, as well as friends of PIE, and learn practical strategies to help welcome, serve, and celebrate all students in your school community!
Upcoming Events
Tuesday, October 12th
7:00-7:30 pm ET
---
Previous Recordings and Materials
Tuesday, September 14th
It Only Takes a Spark!
Lynn Hire, the executive director of the FIRE Foundation (firefoundation.org), joined the Program for Inclusive Education to talk about advocacy and funding for inclusion!
---
Tuesday, June 8th
Opening Doors for All Students
Sean Jorgenson (President), Kyle McElvany (Director) and the Goda family (Steve, Aimee, and Jacob) share the successes they've experienced in the St. Mary Catholic Central High School's St. Andre Bessette Open Doors Inclusion Program since its inception three years ago, and offer an example of how other schools can create similar initiatives to welcome, serve, and celebrate all students in Catholic schools. 
---
Tuesday, May 11
Digital Solutions for Today & Tomorrow
Dr. Sean Smith from the PIE faculty will provide practical ways to make your classroom more inclusive through the use of technology. 
---
Tuesday, April 13 
Inclusion...Just Say Yes!
Beth Foraker, the founder and director of the National Catholic Board on Full Inclusion, and her son Patrick share their inclusion journey and why saying yes to inclusion is so important for the future of our Catholic schools. 
---
Tuesday, March 9 
5 Myths of Inclusion
---
Tuesday, February 9 
PIE & Why
---
Tuesday, January 12 
Tips for Using Title Funds
Tips for Tapping Title Funds PDF 
---
Tuesday, November 10
An Overview of the Program for Inclusive Education
---
Wednesday, September 30 - 7:00-8:00 PM Eastern
Planning and Designing for an *Inclusive* Hybrid/Online Learning Experience
This interactive session features ways educators can plan and design for the needs of ALL learners in the ever-changing hybrid/fully online classroom. Using SMARTER planning and the Universal Design for Learning (UDL) Framework, educators can embed effective strategies and digital solutions to allow students options in understanding content, sharing what they know, and enhancing their level of engagement. This proactive approach removes learning barriers, herein reducing stress at home while learning. Participants obtained critical concepts and strategies and engage in thoughtful conversation about future implementation.