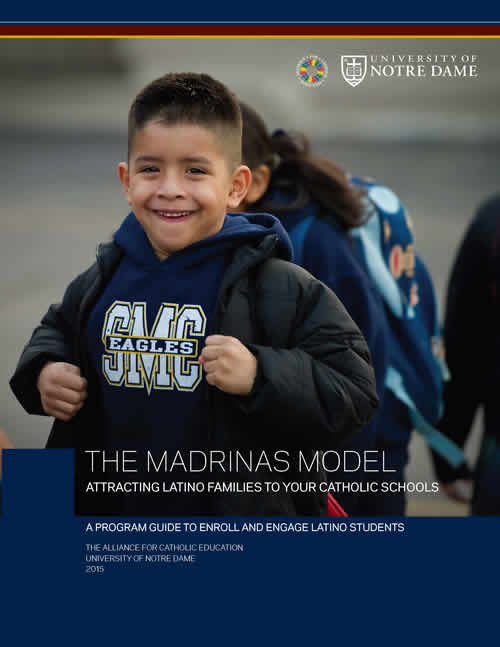 An outreach program to recruit and retain Latino families in Catholic schools, the Madrinas Model is designed to increase Latino enrollment by creating and strengthening the connection between Latino families and the school, while fostering a culture of support for children's academic education and spiritual formation.
The model employs a grassroots marketing approach in which Madrinas connect Latino families to a strong neighborhood Catholic school. By spreading the good news of Catholic education and its impact on the educational and personal successes of Latino children in America, madrinas become ambassadors who can create a positive ripple effect for the school within the Latino community.
A network of Madrinas can assist Catholic schools by taking on three vital roles: marketing, recruiting, and mentoring new families. 
The Madrinas help school leaders develop a set of messages and a plan to convey them in person (through visits and at events among their communities) and through written materials that are distributed more broadly.Working closely with the team of Madrinas, the Catholic school must articulate its "value proposition" for Latino children, including the key facts and figures of academic achievement data, the robust Catholic environment, the availability of financial aid, and the process to enroll. The Madrinas must be conversant with these facts; they will serve as the primary communicators.
With the messages and materials prepared, Madrinas identify and reach out to Latino families, educating them on the advantages of Catholic schools, inviting them to visit the parish school, serving as tour guides on open-house days, explaining the process of applying, and helping prospective families with the application.
Madrinas serve as mentors to parents interested in becoming involved in their Catholic schools. By providing parents with the proper tools and resources, Madrinas can help them take full advantage of all the school has to offer. They also become additional advocates for the benefits of a Catholic education to their community. As a result of their work, a wide network of people who are generating interest in Catholic schools is built in the community.
The Madrinas Model: Attracting Latino Families to Your Catholic Schools, can be found on this page and is available for download or purchase. We hope that this guide offers helpful suggestions as you undertake a program to attract Latino students to your schools, and that it will be the beginning of an ongoing dialogue. We will continue to build this site and will be adding more tools and resources, including an online forum where good ideas can be shared.