Jesus falls the second time

We adore you, O Christ, and we praise you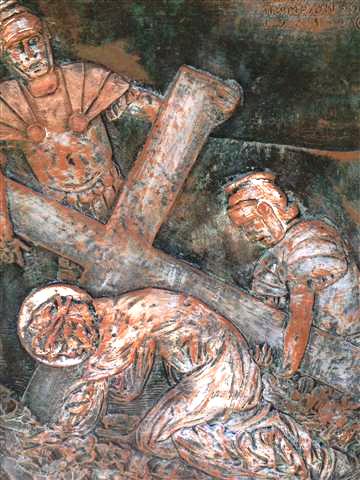 Because by your holy cross you have redeemed the world.

Psalm 22:6-7: But I am a worm and not a man, scorned by men and despised by the people. All who see me mock me; they hurl insults, shaking their heads.

Reflection: Earlier in the Gospels, we see images of Jesus as the center of attention: some ascended trees to see him; others reached out simply to touch his garments; still others dismantled a roof to lower their sick friend down to Jesus. Jesus had once been surrounded with love and acclaim; now he is rejected and scorned.

Prayer: Jesus, give us the grace to identify with those who are rejected. Inspire in us compassion for the student who is cast aside and the colleague who is marginalized. May our love of you become a force that heals and unifies.