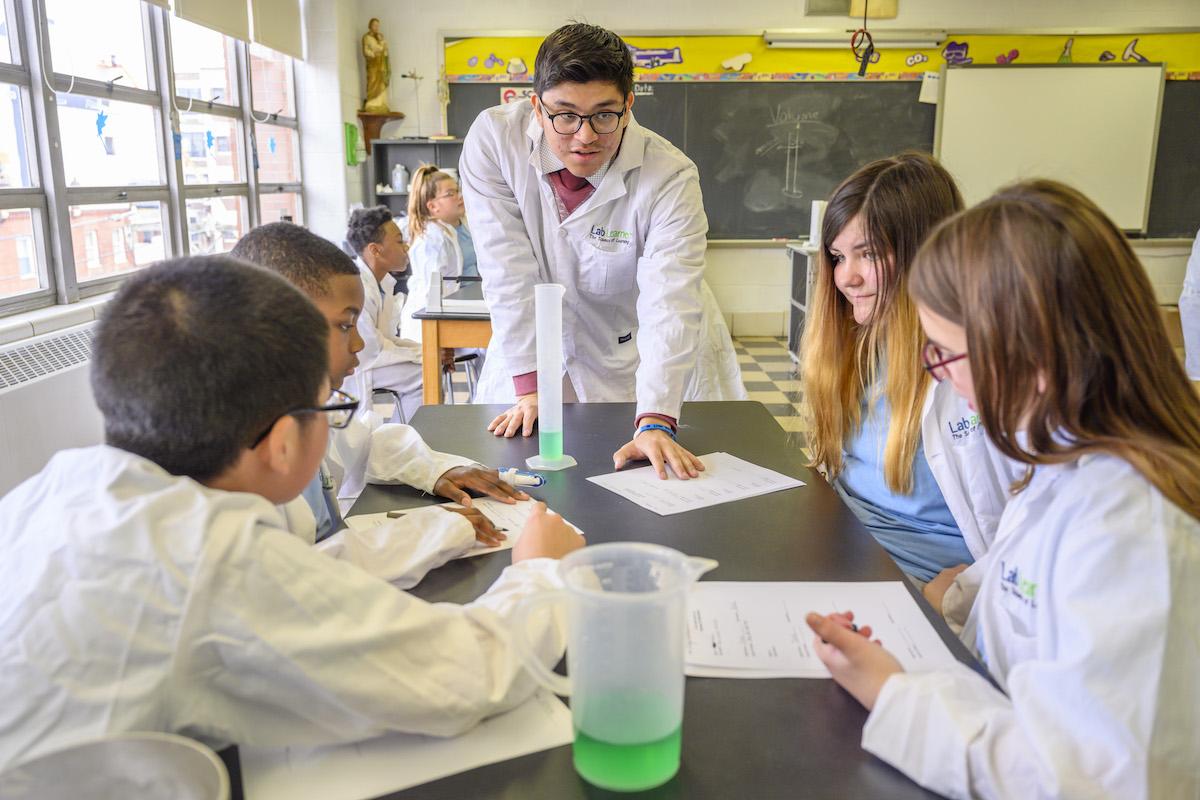 ACE Teaching Fellows
Mission
Education is one of the most important challenges facing our country. Each year, millions of students fail to reach their potential because they lack access to the quality education they deserve. In the Alliance for Catholic Education, we believe that Catholic schools are a vital part of the solution.
Catholic schools have shown unparalleled success in educating children, promoting a lifelong commitment to faith and virtue, and encouraging civic engagement. While leaders across the nation look frantically for programs and initiatives to improve education in America, Catholic schools maintain their track record of serving children and families admirably well, closing the achievement gap for students from marginalized communities.
ACE Teaching Fellows fuel Catholic schools with talented, committed and faith-filled teachers and leaders. We know that outstanding educators establish the environments in which young people want to learn, and make a significant difference in the lives of children and the communities in which they serve.
Who We Look For

We're looking for energetic, passionate leaders who welcome the challenges of beginning teaching, who can maintain a sense of perspective throughout the two-year experience, and who are able to create community both where they live and in the schools in which they work. Effective ACE teachers demonstrate maturity, leadership skills, and the ability to work independently. Strong candidates for ACE will display an excellent work ethic, a solid academic record, and experience in service and extra-curricular activities.
Still, ACE teachers don't fit into a mold – there's no "typical" candidate for the program. We've welcomed graduates from nearly every academic discipline from more than 250 colleges and universities across the country and around the world. As an applicant, we'll get to know you as well as possible, looking beyond your transcripts and resumes as we search for qualified individuals who will bring life and hope to the schools and classrooms we serve.
Benefits
"When I entered ACE, I knew that I wanted to change at least one life. I have changed at least one – my own." - Dave Madden, ACE Jacksonville
What will a participant get out of ACE?
The opportunity to serve others is the principal motivator for ACE teachers. For nearly 30 years, ACE teachers have returned from the field with the same sentiment – you receive far more than you put in. No doubt, the effort can be great, but the rewards of teaching and community life cannot be quantified. Concretely, ACE is able to offer its members professional preparation and unique benefits that will help you engage deeply in service with strong levels of support.
Upon completion of the program, ACE teachers:
Receive a cost-free Master of Education degree from Notre Dame
Are eligible for teaching licensure
During their two years of service, ACE teachers:
Receive a modest living allowance
Are placed in affordable housing, arranged by the diocese in which participants serve
Are eligible for loan deferment and possible partial or complete loan cancellation