Program Overview
ACE Teaching Fellows, an AmeriCorps Indiana and Serve Indiana program, seeks to develop a cohort of highly motivated and committed educators to meet the needs of our country's most underserved K-12 Catholic schools. Established in 1993, ACE now places approximately 180 young professionals in 140+ parochial schools throughout the United States.

To carry out its core teaching mission, ACE recruits talented graduates from colleges and universities across the country. ACE teachers represent a broad variety of undergraduate disciplines, with a diverse set of backgrounds and experiences. ACE provides an intensive two-year service experience encompassing professional development, community life, and spiritual growth. These three pillars are at the heart of the ACE program. ACE aims to provide excellence in education and to maximize opportunities for its teachers' personal and professional growth.
Program Timeline
First ACE Summer
ACE teachers engage in graduate-level coursework to prepare to lead a classroom of their own. They also begin to apply what they have learned through an extended practicum teaching experience in a local school. Additionally, ACE teachers spend time getting to know their immediate community members, as well as the broader ACE community, through various fellowship activities. They are also encouraged to continue their individual spiritual growth through retreats, Mass, and other opportunities for prayer and reflection.
First Year of Teaching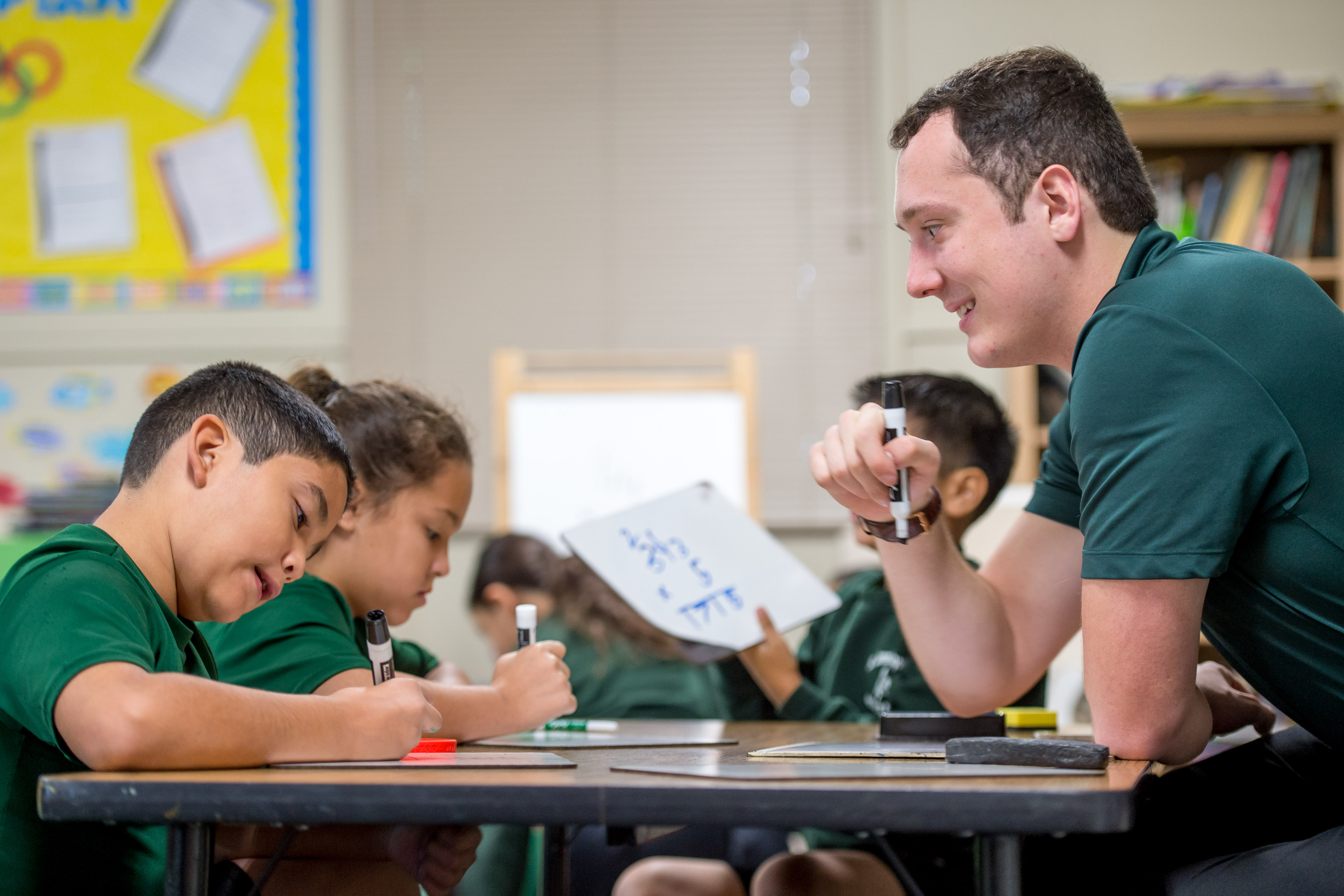 ACE teacher are welcomed into their new school and local communities and are focused on making a successful transition into full-time teaching. They are also invited to participate in the life of the school community beyond the traditional school day - coaching a sport, directing a choir, moderating a student club, etc. ACE teachers live in community with their peers, and gradually learn how to balance community and spiritual life with the demands of first-year teaching. All ACE teachers are supported by their academic supervisor, pastoral administrator, principal, and mentor teacher.
My Daily, Daring Adventure as a HS English Teacher 
Second ACE Summer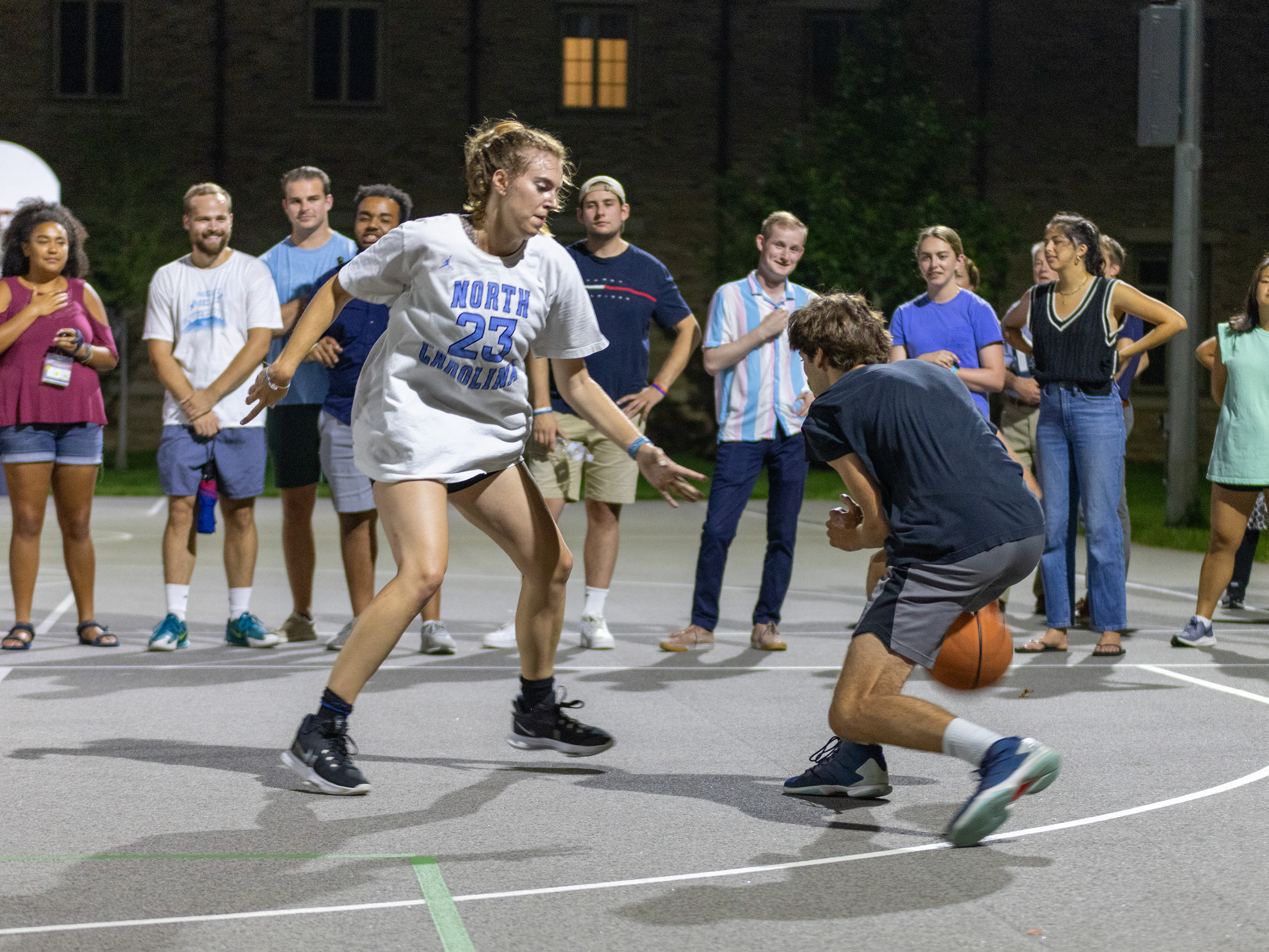 The second summer is designed to help ACE teachers grow in all three pillars - teaching, community and spirituality. The academic coursework helps individuals process their first-year teaching experience with a constant focus on how to improve in order to better serve their students. Through retreats, shared meals, Mass, and other activities, ACE teachers continue to grow in relationship with God and one another.  
Second Year of Teaching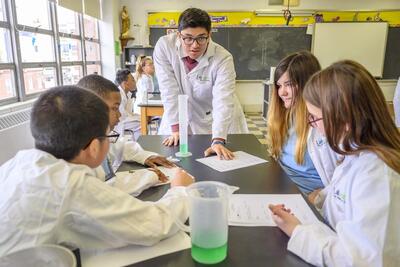 Upon returning to their school community, familiarity enables ACE teachers to improve their teaching, enter more deeply into community life, and make more intentional time for prayer. Professionally, ACE teachers are challenged to grow in new ways by their academic supervisor, principal, and mentor teacher. Meanwhile, their pastoral administrator and fellow community members continue to challenge them to grow personally and spiritually. 
#SeeWhereACETakesYou: Life After ACE
Following their two years in ACE Teaching Fellows, ACE graduates have gone on to lead and serve in some of the nation's most competitive Ph.D., JD, and MD programs; high performing schools and school systems; and prominent ventures in engineering, finance, and other organizations in the non-profit and for-profit sectors. Additionally, several ACE graduates have responded to a call to religious life after their two years of service.
Regardless of the career and vocational paths ACE graduates choose, we hope all remain advocates for children in need, particularly through supporting Catholic schools. For more information about how ACE graduates and others remain committed to sustaining and strengthening Catholic schools, visit ACE Advocates.
Frequently Asked Questions
General
Admissions
ACE seeks energetic, passionate leaders who welcome the challenges of beginning teaching, who can maintain a sense of perspective throughout the two-year experience, and who are able to create community both where they live and in the schools in which they work. ACE teachers demonstrate maturity, leadership skills, openness to spiritual growth, and the ability to work independently. Strong candidates for ACE will display an excellent work ethic, a solid academic record, and experience in service and extra-curricular activities.
Still, ACE teachers don't fit into a mold – there's no "typical" candidate for the program. ACE has welcomed graduates from nearly every academic discipline from more than 250 colleges and universities around the country and world.
Prospective applicants may choose to apply either on our Fall or Spring application timeline. These two application timelines are outlined below:
September 5th: Application Opens
| | | |
| --- | --- | --- |
|   | Fall Application Timeline | Spring Application Timeline |
| Application Deadline | November 1st, 2023 | January 23rd, 2024 |
| Decision Notification | December 8th, 2023 | March 5th - 13th, 2024 (Rolling) |
| Commitment Deadline | December 18th, 2023 | Mid-March to Late-April |
April 12th - 14th: ACE April Orientation Retreat at Notre Dame
May 31st - June 2nd: ACE 31 Move-in & Opening Retreat
June 3rd: ACE 31 First Day of Classes
Note, other important dates for Summer 2024 can be found here. 
The only substantive difference between the two application timelines is that prospective applicants who choose to apply on the fall timeline will be asked to respond to an offer of admission without knowing the specifics of their teaching placement. Those who apply on our spring timeline will be notified of the details of their placement decision prior to their commitment deadline.
Yes. In addition to our fall application timeline, ACE is happy to work with prospective applicants to conduct an expedited application and interview process if another offer conflicts with the presented ACE application timelines; ACE will need written documentation of the offer and its deadline. If this situation is relevant to your application, please contact Michael Comuniello (mcomunie@nd.edu, 574.631.6561) as soon as possible.
Beginning with the Summer 2024 application, applicants will apply through the Institute for Educational Initiatives application system, the academic home of ACE Teaching Fellows. Therefore, when applying to ACE Teaching Fellows, an applicant is also applying to the University of Notre Dame's Graduate School. The ACE Teaching Fellows application is test-optional, meaning standardized test scores (i.e. GRE, SAT, ACT, etc.) are not required for admissions. 
Per the Notre Dame Graduate School, ACE has no specific GPA requirements required for admission. Last year, the middle 50% GPA range for ACE 30 was 3.58 – 3.88. When evaluating applicants, the selection committee considers an applicant's academic history, record of service, leadership experience, community involvement, hunger for spiritual growth, application essays, recommendation letters, among other factors.
ACE welcomes candidates from all academic disciplines, including education majors. We place teachers:
in self-contained elementary classrooms (2nd through 5th grades)
in middle school content areas (6th through 8th grades)
in high school content areas (9th through 12th grades)
Major content areas include English/Language Arts, Mathematics, Religion, Science, and Social Studies.
Yes. ACE invites all applicants for service to Catholic education. All candidates should demonstrate a lived commitment to their faith tradition and be willing to live and work in community. Additionally, candidates should be eager to contribute to the spiritual formation of their students.
It is possible, but it will require some flexibility. The ACE teacher may have to sacrifice his or her final week on campus, take final exams early, etc. Additionally, ACE teachers may come to Notre Dame's campus and then return to their undergraduate institution for graduation. The first week of ACE's summer coursework is essential and cannot be made up. If applicants think this scenario may arise, they are encouraged to contact Michael Comuniello (mcomunie@nd.edu, 574.631.6561) as soon as possible.
ACE encourages underclassmen to speak with current or former ACE teachers, members of the ACE Admissions Team (most of whom are ACE graduates), and others who have a strong understanding of the program. ACE also encourages prospective applicants to gain experience working with students (e.g. through tutoring, coaching, or mentoring programs), seek leadership roles at their colleges and universities, and engage in faith-based service. Underclassmen may also consider attending ACE events on their respective campus or participate in our #SeeWhereACETakesYou programming.
Request More Information          Schedule a Time to Meet with our Team
Placements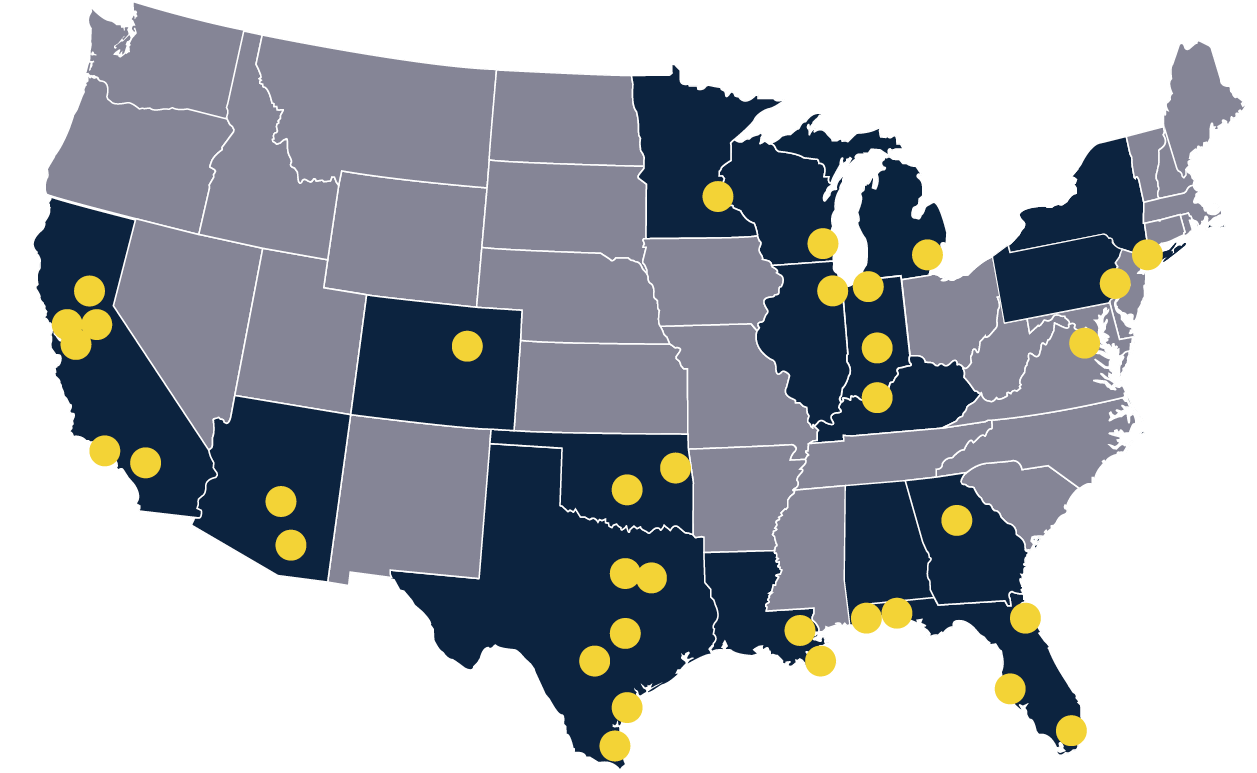 ACE serves 146 Catholic schools in 17 states, as well as Washington, D.C. ACE teachers live in one of 35 ACE communities located in 34 (arch)dioceses. For a full list of our ACE communities, please visit our Where We Serve map.
Applicants rank their preferences for developmental level (2nd/3rd, 4th/5th, Middle School, and High School) and content area (English Language Arts, Mathematics, Science, and/or Social Studies) on their application. The dynamics of placement preclude us from guaranteeing placement preference. This process includes the following considerations:
The specific requests made by our (arch)diocesan school partners; and
An applicant's undergraduate course of study.  
The selection and placement team is wholeheartedly committed to placing participants in environments that will allow them to thrive and will maximize their skill sets. 
Potentially. Placement depends on the applicant's ability to pass the appropriate Praxis Subject Assessment required for licensure per the Indiana Dept. of Education. Typically, one's undergraduate coursework is a good predictor. Applicants are encouraged to contact the ACE Admissions Team for transcript reviews or advice regarding teaching qualifications and requirements as soon as possible. 
Teacher Formation, Community Life, and Spirituality
ACE Teachers spend two summers living and studying with the larger ACE community at Notre Dame. The centerpiece of the summer program is an innovative teacher-preparation curriculum, taught by select faculty and experienced practitioners, combined with a supervised field experience in local public and Catholic schools. ACE Teachers also take a limited number of distance-learning classes during the academic year which directly relate to their classroom teaching experiences. 
All ACE teachers have at least four support resources at their disposal throughout their two years in the program: an academic supervisor from the Faculty of Supervision and Instruction, a pastoral administrator from the ACE Pastoral Team, their school principal, and a designated mentor teacher in their local school community. 
Principals, as well as academic supervisors, provide ongoing formative and summative evaluations of an ACE teacher's teaching. Mentor Teachers serve a non-evaluative role by helping ACE Teachers orient to their new city and school, conferencing with them about instructional and curricular goals on a regular basis, and reflecting with the ACE Teacher about successes and struggles in and out of the classroom.
Local support resources also include other school faculty, the (arch)diocesan superintendent, former ACE teachers who may live in the area, and the Notre Dame Alumni Association who welcome the ACE teachers to their local communities. 
Yes, ACE teachers will regularly assume leadership positions throughout the school, offering their time and talents in areas such as athletics, student government, Campus Ministry, and many others. Check-out these #SeeWhereACETakesYou testimonials from our former ACE teachers regarding the ways they were involved beyond the classroom:
No. ACE teachers do not need to find housing nor do they need a car. 
Housing 
During the summer session at Notre Dame, ACE teachers live in on-campus residence halls where furnishings are provided. ACE teachers need simply bring their personal belongings to campus. On-campus dining halls serve three meals per day at no cost to our ACE teachers. 
During the school year, ACE teachers live in housing provided by the (arch)dioceses they serve in. Similarly, furnishings are provided but will vary based on their (arch)diocesan teaching placement. Similarly, ACE teachers need only bring personal belongings to their communities. 
Transportation
Furthermore, an ACE teacher does not need a car; nor should transportation, or lack thereof, keep applicants from applying! ACE teachers certainly do not need cars during the summer sessions at Notre Dame. Many ACE teachers find it helpful to have a personal car at their sites due to school commitments and extracurricular activities. Still, many ACE teachers carpool. 
As Catholic school educators, ACE Teachers will have the opportunity to form and guide their students in their faith lives, which in turn will shape their own.
Summers at Notre Dame offer a variety of opportunities for spiritual growth including retreats, liturgies, and prayer services. All ACE Teachers will take one of two classes – Introduction to Teaching Religion or Teaching in Catholic Schools – to better prepare them to serve as a spiritual resource for their students.  
Members of each ACE community together develop their spiritual and prayer lives, embracing personal experiences and inviting each other to grow in faith. In addition, ACE Teachers often find spiritual support, direction, and challenge from the ACE Pastoral Team. 
Don't see your question above?
Please contact Mike Comuniello at mcomunie@nd.edu or 574-631-6561.
Meet the ACE Teaching Fellows Team
Recruitment & Admissions Team
One of the unique aspects of ACE is the personal support provided by the ACE Recruitment & Admissions Team. Members of the team provide support to prospective applicants discerning a call to serve with ACE Teaching Fellows. In addition, they also serve to support our current ACE teachers throughout their two years in the program personally, communally, and spiritually. As many members of the team formerly served as ACE teachers themselves, they can relate in a particularly compelling way to the joys and struggles of beginning teaching and community life that ACE teachers often experience. 
M.Ed. Faculty
The ACE Faculty of Supervision and Instruction constitute the full-time M.Ed. faculty at Notre Dame. These university-based faculty teach courses during the summer and visit ACE teachers during the school year, conducting formal and informal observations and evaluations. For adjunct faculty, ACE draws upon talented and committed educators from nationally-renowned programs across the country, as well as from the deep pool of talented researchers with interests in education at Notre Dame, and expert practitioners in the South Bend community.
Connect with ACE
The ACE Teaching Fellows Recruitment and Admissions team will meet with prospective applicants all across the country, attending career & post-graduate service fairs, hosting information nights, and visiting college campuses. You'll have the chance to learn and ask questions about the M.Ed., the application process, community life, and more. To connect with our team, request more information or schedule a time for us to chat. We look forward to meeting you!