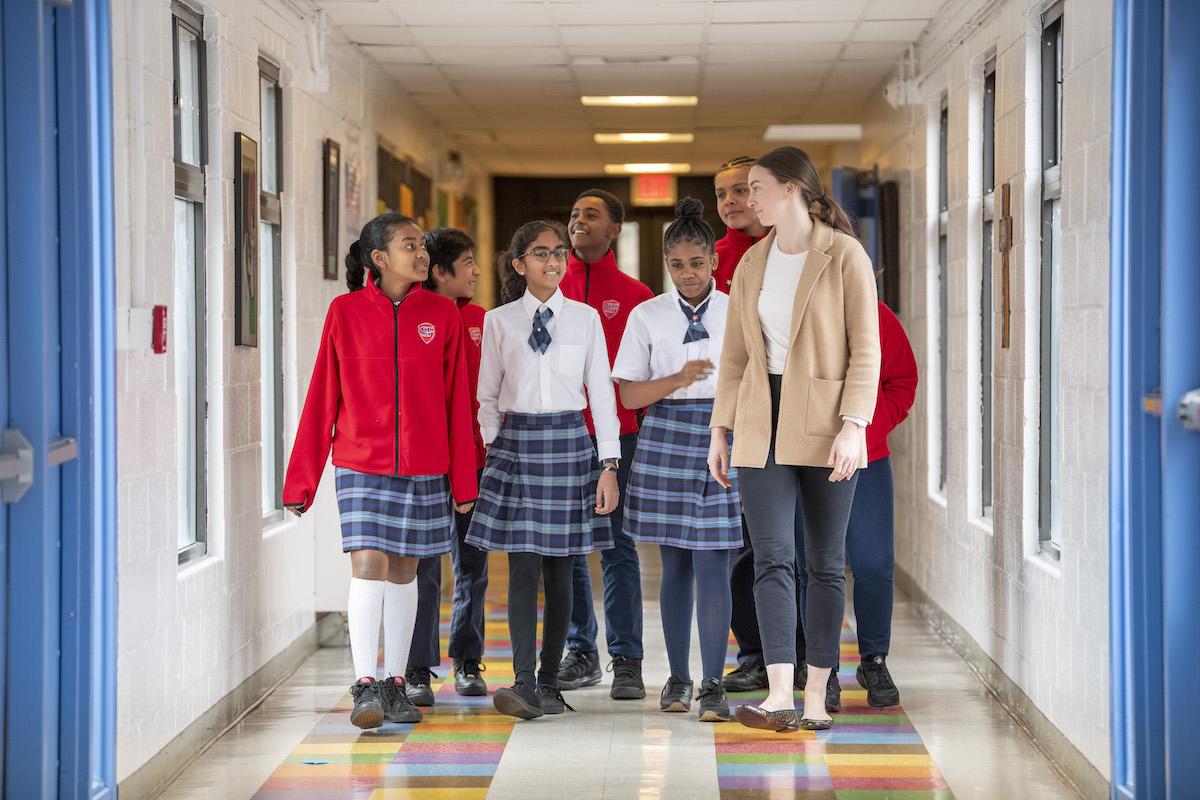 Application Opens September 6, 2022!
Fall 2022 Application Update
Announcement 
Thank you for your interest in becoming an ACE Teacher!
Our application will open on September 6, 2022!
If you have any questions, please contact Michael Comuniello (mcomunie@nd.edu; 574.631.6561).
Important Dates
Sept. 6, 2022: Application Opens
Nov. 1, 2022: Fall Application Deadline
Jan. 24, 2023: Spring Application Deadline
Jun. 3, 2023: ACE 30 Summer Begins
ACE Teaching Fellows
How to Apply
The ACE Teaching Fellows application consists of four parts:
Part 1: Online Application
Biographical & Educational Info
Program Upload
Updated Resume
Photo
Part 2: Unofficial Transcript
Please upload your unofficial transcript to your ACE Application. 
Part 3: Four reference letters
You will need to obtain references from 2 professors, 1 peer, and 1 rector, residence hall director, campus minister, or service project leader who can attest to your success in living and working in a community atmosphere.
References include the following:

An evaluation of the five dispositions successful ACE Teachers possess (Zeal, Coachability, Persistence, Servant Leadership, & Hunger for Spiritual Growth)
A letter of reference

You will be asked to provide the name and contact information of each reference in the online application. An electronic request will automatically be sent to each reference so that he or she might submit all materials online. If a reference lacks email capability, the application will direct you on how to submit the materials by mail.
Part 4: Basic Skills Requirement
Per the Indiana Department of Education, all applicants must provide proof of basic skills for the teaching licensure process. You have multiple options to meet this requirement, including ACT, SAT, or Praxis. You can find the following score minimum requirements here. If your ACT, SAT, or Praxis scores do not meet the minimum requirements, we will ask that you submit GRE scores instead. Please refer to the Application Instructions below for information regarding how to upload test scores to your application. 
Who We Look For
We're looking for energetic, passionate leaders who welcome the challenges of beginning teaching, who can maintain a sense of perspective throughout the two-year experience, and who are able to create community both where they live and in the schools in which they work. Effective ACE teachers demonstrate maturity, leadership skills, and the ability to work independently. Strong candidates for ACE will display an excellent work ethic, a solid academic record, and experience in service and extra-curricular activities.
Still, ACE teachers don't fit into a mold – there's no "typical" candidate for the program. We've welcomed graduates from nearly every academic discipline from more than 250 colleges and universities across the country and around the world. As an applicant, we'll get to know you as well as possible, looking beyond your transcripts and resumes as we search for qualified individuals who will bring life and hope to the schools and classrooms we serve.