Become a Remick Leader

Admissions Timeline - 2023-24
October 1 - Application Available
December 31 - Deadline to apply with $75 fee waiver
February 1 - Deadline to Apply
February/March - Candidate Interviews
April 1 - Notification Letters Sent
June 25 - Cohort 23 Move-In and Orientation
Admissions
Requirements for Admission: 
A Bachelors Degree from an accredited institution
Full-time employment in a Catholic school or (arch)diocese as of Fall 2024
Willingness to commit at least five years to Catholic education
---
Application Components:  
The application itself consists of three parts (Note: GRE scores are not required for those applying for Summer 2024)
1. The online application and supplemental application
2. Transcripts from all undergraduate and graduate institutions
These must be uploaded to your application. Unofficial transcripts are recommended for the application. Official transcripts are not needed until enrollment.  
3. Three Reference Letters (to be submitted through the online application)
Your principal or direct supervisor at your school
A colleague who can speak to your professional strengths
An academic reference (a former professor, professional colleague, or mentor)
If you have additional questions or concerns about the application process, please email the Remick recruitment team.  
Recruitment Events
The Remick Leadership Recruitment Team invites you to join us for a series of events to learn more about the program from faculty, current leaders, and alumni of the program. Any prospective Remick Leader who attends an event will receive a fee waiver for the current application year.

We look forward to meeting you and helping you discern your leadership journey within Catholic education!
If you have questions about our events or the registration process please email acerlp@nd.edu.  
Program Cost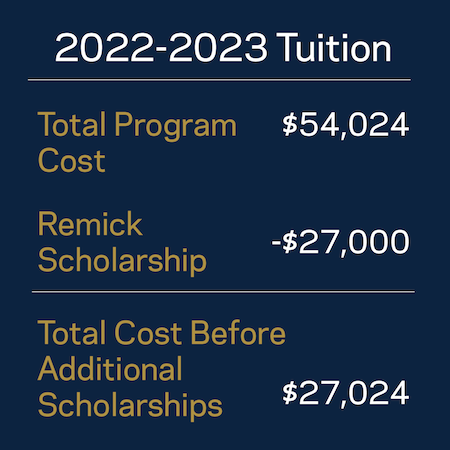 Notre Dame is committed to reducing the barriers that make graduate studies a challenge financially, especially for Catholic school leaders serving in under-resourced schools and low-income communities. We are devoted to helping Remick Leaders secure additional funding.  
The total cost of tuition for the Remick Leadership Program is $54,834 (2023-24). Through the generous support of Mary Ann Remick and the University of Notre Dame, each Remick Leader receives a $27,000 scholarship upon admission, reducing the total cost over the course of the program to $27,834.
To meet this remaining cost, we encourage all applicants to first speak to their schools, dioceses, religious orders, parishes, and/or other charitable institutions regarding financial support. Due to federal regulations surrounding national licensure programs, students in the Mary Ann Remick Leadership Program are ineligible to receive Title IV funding. Students accepted to the program are not able to obtain federal loans to support their participation in the program.
Last year, all incoming Remick Leaders who requested additional support towards their remaining out-of-pocket cost received additional scholarship funding to support their participation in the program. In many cases, this remaining amount was covered through support from the school, diocese, personal education awards or savings accounts. We are also able to offer needs-based scholarships so that finances never prohibit participation in the program.  
Frequently Asked Questions - Admissions
The Remick program is test optional for those applying to join Cohort 23 in Summer 2024.  However, if your cumulative undergraduate GPA is below a 3.0, we strongly recommend that you include a GRE score as part of your application.  
There is a $75 application fee to apply to the program. However, we offer fee waivers to applicants who attend a webinar in Fall 2023 or submit an application before December 31st.  To request a fee waiver, complete your entire application, and email acerlp@nd.edu to request the waiver code when you are ready to hit "submit".  
All Remick Leaders participate in the Mid-Year retreat which typically takes place over a weekend in late-January. However, classes are not held on weekends to allow time for Remick Leaders to focus on balancing your professional and personal responsibilities during the academic year.  
In order to accommodate for leader's busy schedules during the academic year, the program does not dictate regular class meeting times.  Individual courses meet at different times throughout the semester to be as responsive as possible to leaders' variable schedules and time zone differences.
No. Participation is limited to those currently employed full-time in Catholic schools and dioceses.
Yes. Our applicants range from full-time teachers to sitting principals to diocesan leaders.
You are welcome to apply. However, we ask that if you are discerning a move, that you maintain communication with us throughout your discernment process as shifts in employment do impact program preparations for the summer and verification of local superintendent support. Remick Leaders often take on new leadership opportunities in other Catholic schools and (arch)dioceses during their second academic school year in our program.
No. It is a five-year commitment to Catholic education (two as a Remick Leader and three as a Remick graduate). As mentioned above, Remick Leaders often take on new leadership opportunities in other Catholic schools and (arch)dioceses during their second academic school year in our program.
Mentors are considered the on-site supervisors for the internship which occurs during the first school year after the completion of the first summer session. The mentor must be a state certified school administrator. This person is typically a building principal or diocesan leader. We advise selecting a trustworthy individual that will advocate for and support your leadership development.
Schools, dioceses, and religious communities often help support participants by paying a share of their tuition. In return, participants may be required to commit to remaining employed with the sponsoring group for a period of years. This employment agreement is arranged between the candidate and the scholarship provider.
Applications must be complete and submitted by February 1, 2024 to apply for Summer 2024 admission.  
Once our application closes on February 1st our recruitment team begins the application evaluation and selection process.  Almost all applicants are invited to complete a virtual interview, which will take place in February.  Interviews are conducted by two members of the Remick team and will encompass questions about your application and overall interest in becoming a Catholic school leader.  Selection and scholarship decisions are made by April 1st.  
Frequently Asked Questions - Summer Session
Summer Session for Cohort 23 will begin on Tuesday, June 25th and end on Thursday, July 25th.  
Classes are held 8:00 a.m. to 6:00 p.m. Monday through Friday, with appropriate time for other activities such as meals, Mass, and prayer.
Due to the intensity of the summer curriculum, absences are only accepted for serious illness, family illness, or a death in the family. Absence from summer classes that are not approved as excused by the Director will be considered unexcused absences and will result in the lowering of the final grade.
Classes and other programming are not held on weekends to allow time for Remick Leaders to complete class assignments and to enjoy the community developed in the Summer. Participants typically attend Sunday Mass together in the Basilica of the Sacred Heart every Sunday evening.  
Remick Leaders are housed in on-campus residence halls with central air conditioning. They share a room with another cohort member of the same sex. There are shared common bath and shower rooms at the end of each hall. Residence hall room assignments are typically co-educational by floor. Remick Leaders can request a single room at an additional cost.
No, the residence hall room and a meal pass (room and board) are included with acceptance into the program. Most students choose to live on campus for the sake of convenience, working and studying together, and the experience of community life found by living and working with colleagues. Students from the local area have on occasion lived at home while commuting and vowed religious men and women -- priests, brothers, and sisters -- have sometimes chosen to live off campus in their respective religious communities, convents, rectories, or houses.
Yes, and many do! However, family and friends are not permitted to stay with students living in the dorm. There are several hotels close to campus and one hotel on campus. Families and friends of Remick Leaders enjoy visiting campus and are always welcome to come to Mass. There are also numerous outlets on campus for meals, snacks, and recreation.